Forum hears of hydrogen's great potential
20:21 UTC+8, 2020-10-23
0
A report on the future development of the hydrogen released at the Pujiang Innovation Forum says that it has the most potential to replace fossil fuels in the future. 
20:21 UTC+8, 2020-10-23
0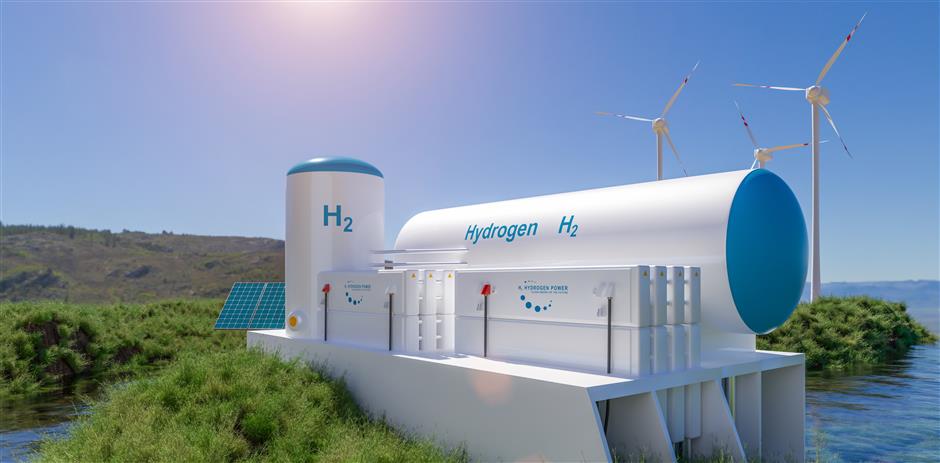 Hydrogen has the greatest potential to replace fossil fuels in the future, the Pujiang Innovation Forum heard on Friday.
A report on its future development was released at the forum by Yu Zhuosheng, director of the Innovation Center for Smart New Energy Vehicles, Tongji University.
Yu's report is one of four made by China's think tanks released at the forum in Shanghai.
The report says energy plays a pivotal role in decarburization and China has said it will play an important part in global decarburization. How to reduce carbon emissions in the energy field is a new requirement for the development of the global energy industry.
Renewable energy is bringing changes for global energy, the report says, but its development is facing an enormous challenge — the large-scale application of renewable energies, whether wind or light, has been greatly restricted due to its instability and non-storability of electricity.
Yu said only 20 percent of electricity made at photovoltaic power stations can access the power grid. The problem of the wasted 80 percent can be solved by hydrogen.
The 80 percent can produce "green hydrogen" by water electrolysis, a technology promoted by the European Union in its Development Strategy for Hydrogen released in July.
Yu said value brought by the hydrogen chain will reach over 12 trillion yuan (US$1.79 trillion) in China in the future. By 2050, hydrogen will account for over 10 percent of China's energy composition. It could reach nearly 18 percent of global energy consumption by 2050 with the support of government policies, according to the Hydrogen Council, a trade group that includes oil-and-gas majors.
Currently, fossil fuels take up less than 20 percent of global energy consumption.
China has rich hydrogen resources and the government is speeding up its use. China's first hydrogen development strategy will be rolled out this year.
Hydrogen will be most used in subways, ships, airlines and automobiles in the future.
Source: AFP Editor: Wang Yanlin Special Reports