The heady creativity of swapping troupes
00:00 UTC+8, 2019-11-09
0
Two choreographers hit upon the idea of exchanging roles in one another's troupe, coming up with two very different pieces of work. They call it "walking out of the comfort zone."
00:00 UTC+8, 2019-11-09
0
Two choreographers hit upon the idea of exchanging roles in one another's troupe, coming up with two very different pieces of work. They call it "walking out of the comfort zone."
Taiwan's Cloud Gate Dance Theater and Beijing's Tao Dance Theater are presenting the two contemporary works — "Multiplication" and "12" — at the Shanghai Oriental Art Center from Thursday to tomorrow as part of the Shanghai International Arts Festival.
Cheng Tsung-lung, designated artistic director of Could Gate, led Tao Dance Theater performers in the creation of "Multiplication." On the other side, Tao Dance founder Tao Ye went to Taipei to work on "12" with Cloud Gate dancers.
The two pieces are being staged together with "Autumn Water," the last work by Cloud Gate Dance founder and renowned choreographer Lin Hwai-min before his retirement. Cheng is scheduled to take over from Lin in two months.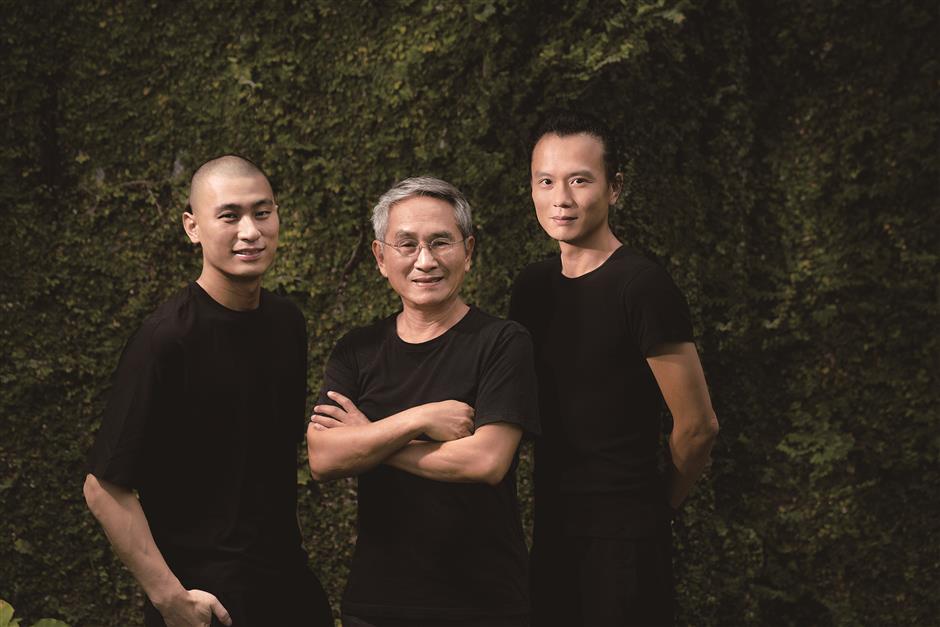 Liu Zhenxiang
The "exchange" idea came from a leisure chat between the two choreographers, who shared a lot in common regarding ideology and approach to art. They even have the same horoscope — Scorpio.
Driven by admiration for each other's work and dance troupe, the pair decided to challenge themselves by creating new works with a different troupe of dancers. They set a one-month timeline.
"I was impressed by the austerity and concentration of Tao dancers when I met them," said Cheng, who spent four weeks in August at the Tao Dance Theater, a 90-minute drive from Beijing city center.
Cheng said he was carrying "an idea" of a dance in his mind when he arrived in Beijing, but he first wanted to see what inspiration he derived from Tao dancers.
"I wanted to add my own understanding of the human body into the existing body movements of Tao dancers," he said. "Each of our four limbs have three joints. A new movement by each joint creates a new motion, and the superimposed motions form a kind of multiplication, which is the name of my work."
He added: "Every day, the Tao dancers had something to surprise me. They have exquisite movements, while each individual has his or her own characteristic. I chatted with them, listened to their personal stories. When working together, I threw an idea out to them, and they responded with their own interpretations of the idea. I enlarged and encouraged their individual features."
Zhang Shengbin
It was an endeavor of mutual inspiration, he said.
"Sometimes their own creations were so good that I got carried from my original assumption of a movement," Cheng said. "And their interpretation of the dance is still growing, like a tree, during the performing tour."
Compared with Cheng, Tao's approach to dance is totally different. He spent more than six months on the choreography for "12" before flying to Taipei's Tamsui District, where the Cloud Gate Dance Theater is located.
"It was a lonely but exciting one-month experience for me," Tao said. "My first impression of the Cloud Gate dancers was 'strictness.' The dancers are trained in mediation and internal martial arts. They are stable in their movements, and extremely concentrated, which is similar to Tao dancers."
Tao is known for naming his dance productions by the number of dancers featured in them. In "12," there are exactly a dozen dancers in a work about clouds.
"Once in northern Europe, I was attracted to the layer upon layer of clouds above me," Tao said. "I spent four hours watching them flowing, alternating and disappearing swiftly. The name of my work doesn't contain 'cloud' in it, but it's as beautiful as the clouds."
Bearing the primary shape of the dance in mind, Tao demonstrated all movements for his dancers. In "12," dancers press themselves close to the floor frequently for turns and twists. Therefore, most of them changed into short-hair styles for the convenience of performing.
Tao Ye
"Unlike Cheng, what I did was more of a subduction because I already knew what I wanted from the dancers," said Tao. "I observed them and removed their small and habitual movements that didn't suit the work. It wasn't easy for them to digest a dance that I had worked on for six months within just one month's time. The dancers were fully devoted, despite an earthquake and typhoon we encountered during that one month."
He added: "I call myself a practitioner of movements, looking for new moving patterns and breakthroughs in the human body in every work. '12' is all about body movement."

He praised the professionalism of the Cloud Gate dance troupe.
"Apart from the dancers, the phenomenon of the 46-year-old Cloud Gate Dance Theater is what I admire and envy," he said. "I don't like to call Cloud Gate a 'successful' troupe because the concept of success is often connected to fame and high income. To me, Cloud Gate is a model of contemporary dance, a troupe that speaks through its productions."
Cloud Gate was founded by Lin in 1973. To show his support for the "exchange" idea, he contributed his last creation, "Autumn Water."
"In one of my visits to Japan, I saw a river in a suburban area of Kyoto," Lin said in an earlier interview. "Red leaves were floating on the quietly flowing water, and I decided to name my last work after that."
He added: "I gathered a lot of veteran Cloud Gate dancers for 'Autumn Water.' Some of them are retiring after this dance. So am I."
In the touring performance, "Multiplication" is presented first, lasting 30 minutes. Then, "12" follows with 30 minutes of dance, ending with the 20-minute "Autumn Water." There are intervals in between dance performances.
Li Jiaye
Source: SHINE Editor: Zhang Liuhao Special Reports