Rare embroidery show to open in Milan
15:49 UTC+8, 2019-12-02
0
In celebration of the 40th anniversary of Milan and Shanghai becoming sister cities in June, 1979, Shanghai is taking examples of the intangible cultural heritage to Milan.
15:49 UTC+8, 2019-12-02
0
Embroidery is an art with a history of thousands of years in China, with almost any image able to be stitched on a piece of cloth. Today it's a fashion symbol used more and more on dresses wore by models on the catwalk.
In celebration of the 40th anniversary of Milan and Shanghai becoming sister cities in June, 1979, Shanghai is taking examples of the intangible cultural heritage it is most proud of to the Italian city.
Supported and guided by the city government and Shanghai United Media Group, Shanghai Daily, the Songjiang District government and the Milano Zhejiang China Friendship Association — a community of Chinese and overseas Chinese people in Milan — eight rare embroidery works will be on display in Milan along with traditional Chinese performances.
On December 9, the "Let's Meet Shanghai: Gu-style Embroidery Exhibition" will be unveiled by Jin Xingming, vice chairman of the Shanghai committee of the Chinese People's Political Consultative Conference, Song Xuefeng, Chinese consul general in Milan, Lamberto Bertole, Chairman of the Council of Milan, general manager of the Shanghai United Media Group and other distinguished guests from China and Italy at the Milan Art and Events Center.

It will run for one week at the center's exhibition hall at Palazzo Durini Via Santa Maria Valle 2 Milano with a themed salon about the inheritance and development of the craftsmanship spirit in the East and the West during this period.
"Shanghai is striving to build itself into an international metropolis of culture, and has set up cooperation mechanisms and alliances on arts festival, film festival, galleries, museums, music creation and intangible cultural heritage preservation along the Belt and Road," said Jin. "The cultural exchanges with other cities in the world is very crucial in promoting traditional Chinese culture."
In recent years, Shanghai has issued several new policies on cultural development. A three-year plan released last year on building "Shanghai Culture" brand shows that it will further promote Shanghai-style culture and lay emphasis on inheriting traditional cultures and enhancing the protection of cultural heritage in Jiangnan.

"Just as Guxiu, the protagonist of this exhibition, tells a story about Gu family's inheritance and preservation of handicrafts from generation to generation," said Chen Qiwei, general manager of the Shanghai United Media Group, "Shanghai is a city where cultures in Jiangnan (region south of the Yangtze River) converge. The remains of history and culture, which contain ancient wisdom, are important symbol of the city's character and charm."
According to Shen Ke, deputy editor-in-chief of Shanghai Daily, Guxiu, or Gu-style embroidery, is very typical and iconic of Shanghai culture. It represents the city's rich history and also the culture of Jiangnan area.
"It's very meaningful for us to show this ancient art to Italian people because, like China, Italy is also a country with long and rich history. And I'm sure that people in both countries will find something in common through this exhibition of Shanghai's traditional art."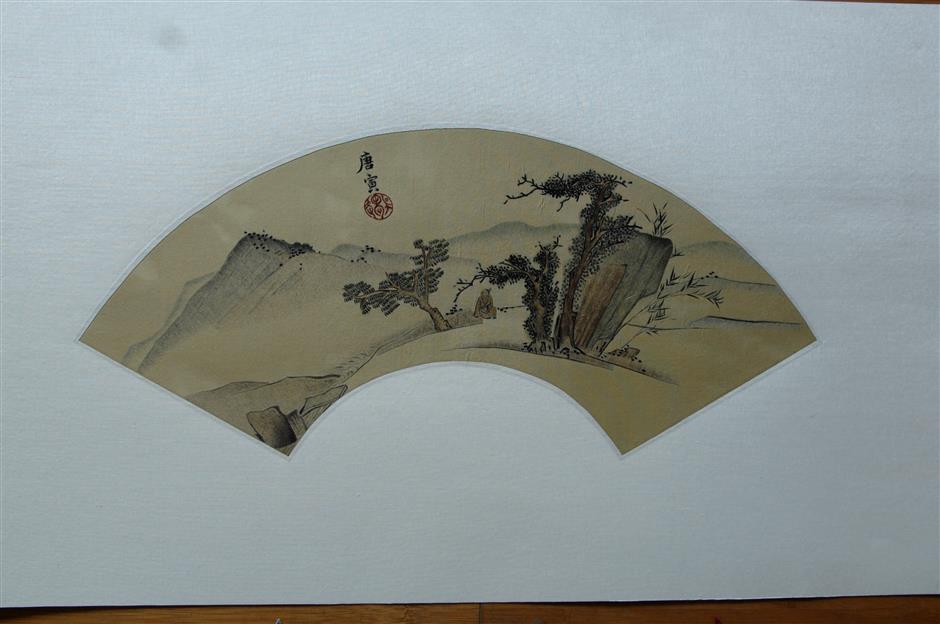 Gu Xiu, a Shanghainese embroidery style created by women in the Gu family in 1559, originated in the city's Songjiang District. It has been passed down and developed for more than four centuries, surviving to the modern times with its unique artistic style and aesthetic characteristics.
Old Songjiang chronicles describe Gu Xiu as: "The birds and flowers can be embroidered on a small handkerchief while the figures can be embroidered on a tiny sachet. Such exquisite skills have never been found in the other areas."
The style is also called Hua Xiu, or painting embroidery, because it incorporates the art of Songjiang-style paintings. For Gu Xiu craftsmen, the needles are pens and the strings are the lines, helping them "paint" the picture in their mind.
The district began to promote the renaissance of Gu Xiu from the past century and has cultivated more than 20 Gu Xiu craftsmanship inheritors. Their embroidery works are popular across Europe, North America and Asia.
The patterns on the eight exhibits, which are hard to distinguish from traditional Chinese ink paintings, include flowers, grass and insects, human figures, fish and weeds, calligraphy, fans and fishing scenes.
Zhang Li, 36, a Xiuniang — one who designs and makes the embroideries — of Gu Xiu, is also going to Milan to demonstrate her embroidery skills at the exhibition.
The work she is bringing to Milan is an embroidery version of "Painting of Peony," a painting from the Southern Song Dynasty (1127-1279) which is now stored in the Palace Museum in Beijing. One difficulty in its embroidery is the overlapped petals, which require various stitching methods.
After it was finished, the peony on it looks even more vivid and glossy than in the painting.
Zhang said she had been making Gu Xiu for 17 years. "I used to be a student of a vocational school in Songjiang and once the Gu Xiu workshop of the Songjiang Electronic Instrument Factory tried to find some inheritors in my school," she said. "I attended the orientation and was deeply attracted by the embroidery at the sight of the Gu Xiu works. Then I signed up for its training courses and make it my career now.
"I feel very honored to show my work in Milan, a world-renowned metropolis and 'City of Fashion.' I hope this exhibition can leave a deep impression in Milan and let foreign friends enjoy the charm of traditional Chinese culture."
The long history and rich culture in Songjiang makes the fertile soil for the folk arts there. The district has three nation-level intangible cultural heritages and 29 district-level ones.
Each year it held more than 400 events, including exhibitions, shows, speeches and trainings, in campus to promote intangible cultural heritage among students. Meanwhile, in residential communities, there are monthly courses given to residents.
It also cooperate with schools and universities to open courses on Gu Xiu and organized traditional activities like Chinese garden party to let people have a close approach to traditional culture.
Source: SHINE Editor: Li Jiaohao Special Reports