Duan Jianwei shows colorful country scenes in solo exhibition
14:15 UTC+8, 2023-09-25
0
"The Departure to Xindian," showing at Long Museum West Bund through October 22, might render different countryside scenes in China than viewers are accustomed to.
14:15 UTC+8, 2023-09-25
0
"The Departure to Xindian," a solo exhibition by artist Duan Jianwei showing at Long Museum West Bund through October 22, might render different countryside scenes in China than viewers are accustomed to.
Curated by Yang Zi, the exhibition features more than 20 works on the theme of rural residents created by Duan during the past 10 years. From the beginning of the 1990s until now, rural figures have been the iconic subjects of the artist's practice.
The title of the exhibition, "The Departure to Xindian," is a reference to Duan's beloved short story, "Abashiri Made," famous for its meticulous depictions.
Born in 1961 in Xuchang, Henan Province, Duan graduated from the Fine Arts Department of Henan University in 1981.
What Duan creates are non-realistic examples of realism. He retains the shell of realism, where viewers can easily recognize the images, movements, and relationships of his painted subjects. Yet, these elements do not serve the narrative of which they comprise, instead escaping from the narratives and the incentives behind them.
For example, in "Do the Laundry II," created in 2022, two young girls in rainboots by the lake wring out their laundry together – one with her face shown to the viewer directs her eyes toward the twisted garment without focusing on it, and a faint smile lingers on her face. The lake's mottled green surface, the voluminous shrubs, and the circular water basin in the foreground in which clothes are soaking all correspond to the figures' apparent trance states.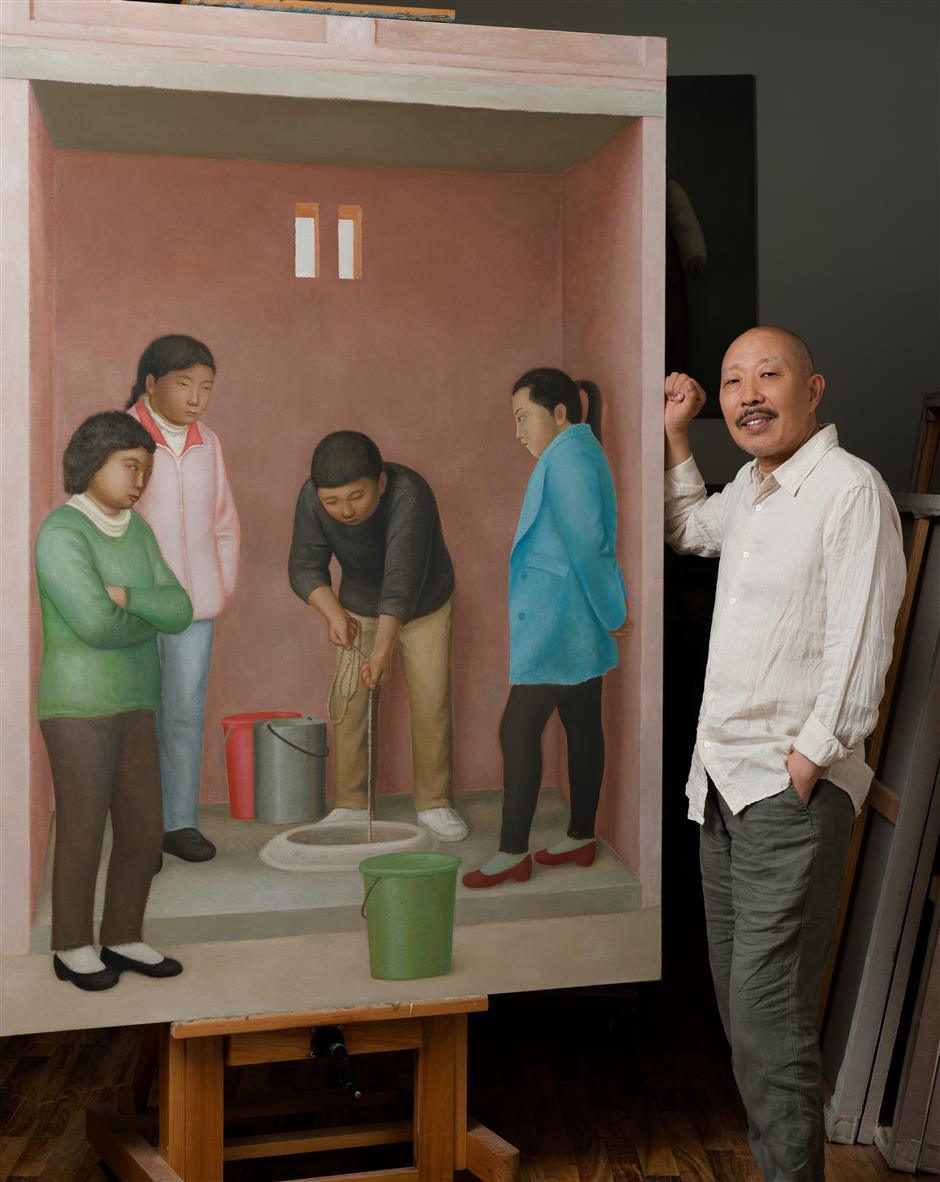 Q&A
Q: What does your hometown mean to you?


A: My hometown is a place that I left and that I often miss. It is rich, heavy and vivid.
Q: Although you were born and raised in Henan Province, you also witnessed great changes in society, so why do you still choose countryside scenes under your brushstrokes?
A: When I was a child, I was sent down to a village with my parents and lived there for quite a long time. However, when I returned to the city, I always went back to the countryside to live with my grandparents during the holidays. Actually, these childhood memories have a deep influence on me.
Q: The faces of your figures are unwittingly reminiscent of those of Botero characters, diminishing their facial features and expressions – what do you mean by such expressions?
A: I want to show the profundity and complexity of people, leaving more space for the imagination of the viewers.
Q: Usually such adoption in reflecting a character is more difficult, but apparently you easily depict their habitual state of life on canvas. Is such expression based on your frequent observation and recording of village life for years?
A: You might say so. Every year, I go to the countryside, draw sketches and take photos. Even in Beijing, I can see a lot of farmers. I know how to express these characters through these observations.
Q: Many Chinese artists often use brown or dark colors to deal with rural subjects, but your colors are more elegant, why?
A: Today the "yellow earth" almost becomes a basic symbol, but I prefer to show the brightly clothed rural people that I see. However, this is somewhat in conflict with the principles of color that I am familiar with, and I am trying to resolve this in my works.
Q: Some say that "easel painting is dead," what is your view?
A: Painting is an ancient technique, and the saying that "easel painting is dead" has been around since the birth of photography. However, there are always some artists who believe in the validity of painting as a traditional medium and redefine it through their own works, breaking its stereotyped concept.
I love it, and still find it irreplaceable.
Q: China's urbanization resulted in the "hollowing" out of many villages, how do you see this phenomenon?
A: Urbanization has been inevitable due to economic development. However, the process of urbanization has also brought a lot of problems. The various changes brought by these effects are also what artists are focusing on and expressing.
Q: Your paintings are fused with some narrative feel, do you love reading and cinema in your spare time? What is your favorite film and book?
A: I watch films and read novels. My favorite film is "The Double Life of Veronica" and book "La Peste."
Exhibition info:
Date: Through October 22 (closed on Mondays), 10am-6pm
Venue: Long Museum West Bund
Address: 3398 Longteng Ave
龙腾大道3398号
Source: SHINE Editor: Shi Jingyun Special Reports