Magical moments: Plenty on in Jing'an to savor and learn from
09:00 UTC+8, 2023-03-28
0
From cherry blossoms in a park to a car boot charity bazaar in a high-tech park, Jing'an District has plenty on offer for people to have a good time while also gaining knowledge.
09:00 UTC+8, 2023-03-28
0
Imaginechina
Cherry blossoms
Cherry flowers have burst into a carnival of pink at the Jing'an Sculpture Park.
The park is adorned with more than 70 cherry blossom trees near Shimen No. 2 Road.
Currently in full bloom is a new variety hybridized from prunus campanulate, a native to China's Taiwan region, and prunus speciosa, commonly known as Oshima cherry, a native to Japan.
After it ends, the somei-yoshino strain will take over the park and create a white sea of flowers.
Huang Jingjing
Be green fingers
A community gardening center opened this month in Caojiadu Subdistrict, allowing residents to have classes on how to be green fingers, enjoy coffee surrounded by flowers and take part in community gardening activities.
The center is located at Caojiadu Garden, a hydrangea-themed garden tucked away at the intersection of Yuyao Road and Kangding Road.
A flower fair was held on March 10 to celebrate its opening, with a variety of flowers for sale. Meanwhile, a photography event kicked off, encouraging local residents to take photos of the green, welcoming community. It will run through the end of May.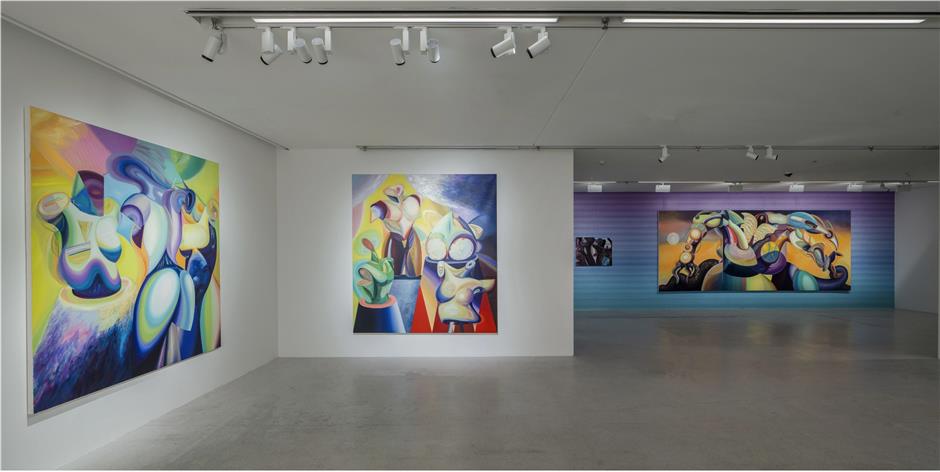 Painting Unsettled
"Painting, Unsettled," the first exhibition of the UCCA Edge this year, opened on March 11.
Eight Chinese-born artists — Han Mengyun, Ce Jian, Li Ran, Li Yongxiang, Qiu Xiaofei, Wang Xiaoqu, Wang Zhibo and Xie Nanxing — try to explore the possibilities offered by painting in today's era of fractured information and reinvigorate the art amid the global uncertainty in the status quo.
The exhibition will last until May 21.
Imaginechina
Design Miami
The Design Miami/Podium x Shanghai fair, in its second year, opened this month at Zhangyuan, a shikumen-renovated cultural and commercial landmark in the city.
The fair, known as the twin exhibition of the top international art fair, presented nearly 200 works by renowned art galleries and institutes from all over the world, such as Gallery Sohe, Objective Gallery and Pearl Lam Galleries, under the theme of "Transcendence."
It also offered a subtle blend of contemporary art and historical buildings.
New waterfront area
A new waterfront area has opened to the public on the north bank of the Suzhou Creek.
The 250-meter section is located along Beisuzhou Road, between Zhejiang Road N. and Fujian Road N.
It used to be an enclosed area barricaded by high anti-flood walls. After renovation, it has become a waterfront garden, covering nearly 8,000 square meters.
It is sowed with trees and flowers, some with special flower landscapes, and paved with wavy-patterned pavements so as to echo with the river. In particular, under the Fujian Road Bridge, grating decorations and glass lamp boxes were built to deck the place and create a feeling of ripples.
Besides, a rest house was built for passersby to take a rest.
Brewing cultural heritage
An event to empower the ethnic minority rural women and promote China's traditional craftsmanship was held on March 7, on the eve of International Women's Day.
Two rural women from southwestern Yunnan Province — Zhang Hanmin, an ethnic Bai, and Duan Wanjun, an ethnic Yi — wore ethnic dresses and presented ethnic crafts at the Starbucks Intangible Culture Heritage Concept Store in Shenyuli, a former shikumen neighborhood and heritage-listed site incorporated into the Shanghai Suhewan MIXC World.
Specifically, Zhang from Zhoucheng Village of the Dali Bai Autonomous Prefecture, known as the hometown of Dali-stye tie-dyeing, was revolutionary in using traditional handicraft techniques and recycled coffee grounds to create tie-dye artworks.
Duan, also from Dali, gave a class, teaching participating guests to use Yi-style embroidery skills to embroider the pattern of magnolia, Shanghai's official city flower.
It's part of the "Rural Mother Accelerator" charity project launched by Starbucks with the aim to empower rural women and skilled craftswomen, and promote China's intangible cultural heritages and rural revitalization as well.
Gu Wu
Car boot charity bazaar
A car boot charity bazaar was held at the Shibei High Technology Park on March 3, two days ahead of "Lei Feng Day."
Chinese solider Lei Feng is a national icon symbolizing altruism and voluntarism, and late Chairman Mao Zedong designated every March 5 as "Lei Feng Day," calling on the public to learn from his spirit.
Seventeen companies such as XPeng, Bright Food and Baozun Inc., the park's operator and local workers donated clothes, electronic gadgets, health products and other items.
The money was raised to buy water purifiers for primary schools in the remote mountainous Guangnan County in southwestern Yunnan Province. Every water purifier is able to supply clean drinking water to 300 to 500 children.
It was a new charity project launched by the park, which began operations this year.
Source: SHINE Editor: Cao Qian Special Reports