A selection of city-walk tours in Jing'an
09:00 UTC+8, 2023-08-29
0
Whether your interest is in art, urban architecture, or history, Jing'an offers a walking tour to satisfy your tastes.
09:00 UTC+8, 2023-08-29
0
Walking around the city has become a popular pastime among young people in Shanghai. Here, we present three walking routes on which you can explore the essence of Jing'an.
Art tour along Suzhou Creek
MadeIn Gallery – UCCA Edge – Jing'an International Center – Sotheby's
The art tour's first stop is MadeIn Gallery, at Lane 9, Qufu Rd, which was established by Chinese contemporary artist Xu Zhen.

On September 2, it will open an exhibition "What Kind of Us Does Painting Need" with the work of 13 artists from around the world. It will run through October 27.
The next stop is UCCA Edge, part of the renowned UCCA constellation, at 88 Xizang Rd N.
Currently on display is "Modern Time," an exhibition held in collaboration with the Museum Berggruen of Berlin to trace the evolution of European modern art in the 20th century. The exhibition will last until October 8.
Sotheby's, the world's oldest auction house, in May unveiled Shanghai Sotheby's Space along Shanghai's Suzhou Creek in celebration of its 50 years in Asia.
An exhibition tour of Sotheby's Hong Kong Autumn Auctions will soon be presented at the Space, showcasing nearly 120 items, in categories such as Modern and Contemporary Art, Chinese Paintings, Chinese Works of Art, Watches, and Jewelry.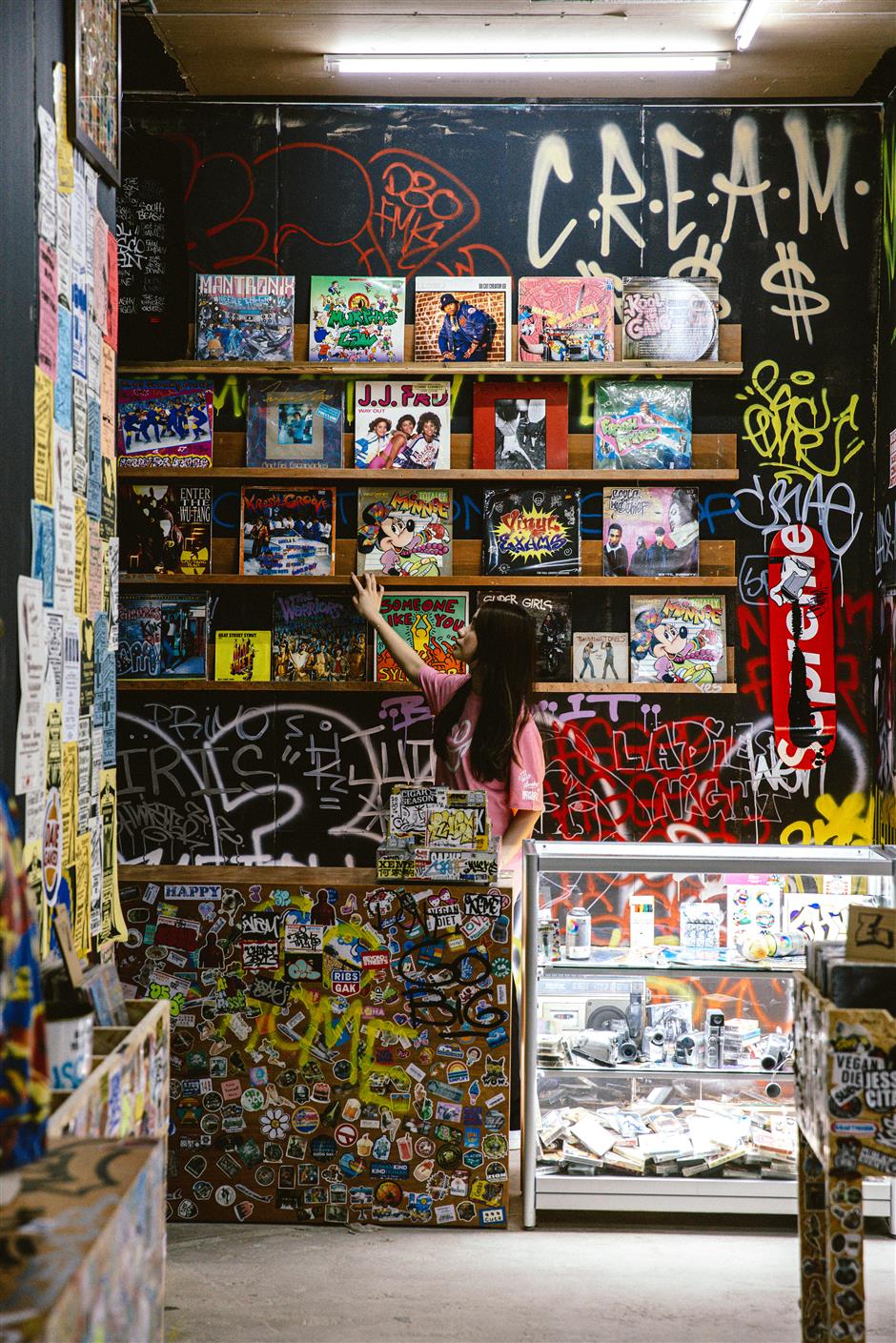 "Beyond the Streets," the largest graffiti and street art showcase to ever take place in China, is now on show at the Jing'an International Center at 89 Yutong Road, and will last until October 7.
The exhibition covers an area of over 100,000 square meters with immersive installations, paintings, sculptures, photos and other works by more than 100 of the world's best graffiti artists, street artists and mark-makers.
Urban tour in Jing'ansi
Changde Apartment – Paramount Ballroom – Jing'an Park – Shopping time!
The tour starts at the historical Changde Apartment at 195 Changde Road, the former residence of Shanghai author Eileen Chang (1920-1995).

The building, a fine example of Art Deco in the city, was restored to its original look more than 80 years ago, with the door handles, windows, staircases and other interior decor preserved.
Today, it is a private residence but still many of Chang's fans drop by to pay tribute to her.
The legendary Paramount Ballroom, at 218 Yuyuan Road, is another fine example of Art Deco.
The Paramount opened its doors in 1933, becoming one of the most glamorous and luxurious dance halls in the Far East. In its heyday, politicians, tycoons, and adventurers of all kinds flocked to the building. Visitors included the comedian Charlie Chaplin and Kuomintang general Zhang Xueliang.
After a major overhaul in 2013, it reopened in 2017 as an upmarket entertainment and dining venue. Now, visitors can dance to jazz bands, watch performances, meet for drinks, and dine in the hall.
Jing'an Park, at 1649 Nanjing Road W., is a green oasis tucked away in the concrete jungle. It features a large lawn, a rockery, a traditional Chinese pavilion and other landscape items, as well as a Thai restaurant and coffee shops. Street performances are often staged at the entrance.
Finally, walkers can shop in nearby malls, such as Jiuguang Department Store, Réel Mall and the Jing'an Kerry Center. An array of luxury brands, designer outlets and fancy eateries are on offer.
A historical walk on Shaanxi Road
Moller Villa – Rong Villa – Juliet's Balcony – Pacific Garden – Ohel Rachel Synagogue
Shaanxi Road N. was built in the early 1900s and was initially named Seymour Road.
It runs about 1 kilometer from Xinzha Road to Yan'an Road M. and has long been regarded as an epitome of the city's inclusive spirit and international atmosphere.
Let's start at the Moller Villa, at 30 Shaanxi Road S.
The Scandinavian-style villa was completed in 1936 as a gift from British businessman Eric Moller to his daughter. It features brown and multicolored tiled Gothic and Tudor steeples, gables and spires, and resembles a castle in a fairytale.
Rong Villa, at 186 Shaanxi Road N., is the former residence of Rong Zongjing (1873-1938), an industrial tycoon from Wuxi in Shanghai's neighboring Jiangsu Province, who built a commercial empire in China.
The century-old villa features classic Beaux Arts style, Eclectic and Art Deco Styles, as well as traditional Chinese elements.
Juliet's Balcony, at Lane 342, Shaanxi Road N., is an urban sculpture honoring Shakespeare's "Romeo and Juliet." Keep walking straight and you will find the Pacific Garden, at Lane 470.
It comprises red-brick townhouses built in the early 1920s. Their developer, then-Chinese foreign minister Wu Tingfang, used the houses to shelter Jewish refugees free of charge.
The Ohel Rachel Synagogue, at 500 Shaanxi Road N., is another legacy of that era when Shanghai gave refuge to tens of thousands of Jews in the 1930s and '40s.
The ivy-covered synagogue is considered the best-preserved of the seven synagogues in Shanghai and also the largest remaining in the Far East. Now it only opens its doors to the local Jewish community for major events.
Source: SHINE Editor: Cao Qian Special Reports