The latest in fad and fashion on show in NY
10:52 UTC+8, 2017-09-17
0
With celebrities in the front row, some of the best names in the fashion business put up a show for them at the New York Fashion Week 2017. 
10:52 UTC+8, 2017-09-17
0
With celebrities in the front row, some of the best names in the fashion business put up a show for them at the New York Fashion Week 2017. From midriff-baring jackets to outlandish outfits to the street style were all on display here.
AFP
Tom Ford
No one ever said Tom Ford didn't know how to make an entrance, or in this case, how to launch Fashion Week with a bang. Ford's show at the cavernous Park Avenue Armory was a celebrity event of major proportion, drawing everyone from Kim Kardashian West to Julianne Moore to Liev Schreiber to Chaka Khan to Ciara to Cindy Crawford. No wonder the opening song on the soundtrack was David Bowie's "Fame."
Guests entering the vast space, which felt like a luxurious living room bathed in rose-hued light, were offered a vodka cocktail or flute of champagne. On the sides of the room, two massive bars were being readied for the after-party.
The lights dimmed, and Ford's models emerged, first wearing casual clothes like slouchy, satiny trousers, paired with billowing jackets or blazers with exaggerated shoulders. There were leather trenches in bright orange or brilliant white. Some of the trousers hung low enough to expose the wearer's hip bones, under their clingy bodysuits. A few mini-dresses were bathed in bright sequins and short enough that they revealed way more than legs.
Then the mood went from casual to glamorous; suddenly a parade of elegant gowns appeared, sheer and ruched, with bright sequins on the arms, for just enough bling.
AFP
"I always like to use a little something that catches the light," Ford explained afterward in an interview, "because they're also red carpet dresses." He also wanted to create a contrast between day and night.
"You know the way women dress today is very different. Day clothes as we knew them don't exist anymore. Women wear jeans, a T-shirt, a great jacket ... and as they go out to lunch or dinner, they pop on a pair of high heels." His gowns, he said, were a different thing entirely — which is why he paused the music, lowered the light and then brought out supermodel Gigi Hadid in an elegant ruched gown in dusty rose, with long sequined sleeves.
Ford said he was going for a 1990s vibe, "for the kind of energy that my collections had at Gucci (then). And there are a lot of sort of '90s things floating around in fashion right now. There's another thing in fashion now which is 'more is more is more is more' ... but I wanted to have something slicker, sleeker, more streamlined. Really, just to capture the energy of that period."
Ford is a busy man; aside from being a successful designer and now filmmaker, with the lauded 2016 "Nocturnal Animals," he's just launched a new fragrance, which has a title we can't write here — but the second word is "Fabulous."
"You know, face it, we're in 2017," he said, explaining the profane title. "It's modern parlance today." He explained that he came upon the title when he was working on the fragrance and smelled just the right combination — and uttered the future title.
"It's only available in our stores," he noted. "We haven't advertised it, so a child is not going to encounter the bottle and say, 'Mom and Dad, what's this word?"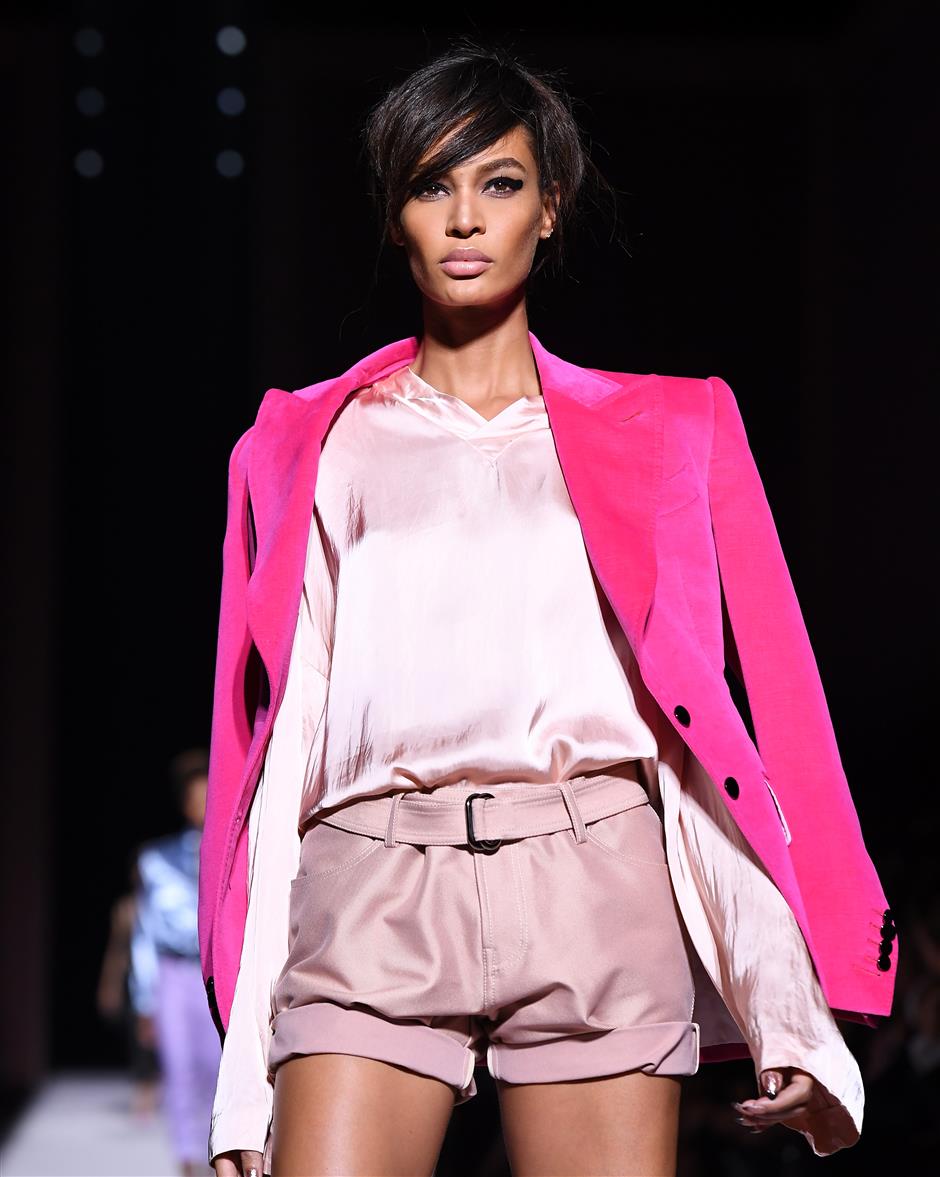 AFP
As for his growing film career, Ford noted that there's a lot of similarity between working in film and fashion.
"Whether you're designing a brand or a film .... you have to have a vision, you have to have something to say," he said. "The basic instincts that I've had in fashion for a long time also worked in film."
Actor Liev Schreiber said he'd come to honor Ford as a friend, as well as a designer and a filmmaker.
"This is the first fashion show I've ever been to," he confessed beforehand.
As for Kardashian West, it certainly wasn't her first fashion show — but it was her first Ford show.
"I'm such a big fan of the brand," she said in an interview. "I've worn him for so long. Such a fan since (his) Gucci days and beyond. So I'm really excited to see what this collection is going to look like."
AFP
Oscar de la Renta
There was a whiff of change at Oscar de la Renta, where new designers Fernando Garcia and Laura Kim presented a whimsical collection featuring casual garments like midriff-baring denim jackets and roomy windbreakers.
It also was what you would call a signature collection — literally. Many of the garments bore the signature, in various forms, of the label's late, legendary founder, de la Renta — either in script, or even in large, sparkly letters spelling out his name.
"We're celebrating him unabashedly," Garcia said backstage.
The designers noted that the only time until now that de la Renta's signature appeared on his clothes was on a gown that Sarah Jessica Parker wore to the Met Gala in 2014. It had been the actress' idea to embroider his signature on the back.
Garcia added that he and Kim had updated the image of de la Renta's signature after looking around and finding that "the signatures he actually left behind were much more legible, and true to his handwriting."
AFP
The designers, presenting only their second Fashion Week collection for the label after taking over following the sudden departure of Peter Copping, began their runway show with a series of looks with a paint splatter motif.
They were telling a story, they explained, of a woman trying to decide what to paint. Once she paints, she signs the canvas.
While dresses and skirts had a paint splatter effect, the theme even extended to the stiletto shoes: The heels looked like the stems of black paint brushes.
New techniques used by the label this year included laser-cut leather, Garcia said, along with the denim, part of an effort to expand the clientele and the appeal of the brand.
But there was something for the traditionalists, too: Toward the end of the show came the red carpet-ready gowns that define the brand's image, like strapless gowns in tulle with full skirts and even a ruby-dyed mink coat.
Guests at Monday's show, held at Sotheby's auction house, included Paris Hilton, Nicky Hilton Rothschild and Nicki Minaj. They were all getting a double dose of Garcia and Kim, having attended their show on Friday for the duo's fledgling label, Monse.
AFP
Marchesa
Design duo Keren Craig and Georgina Chapman of Marchesa say they were inspired by the travels of an heiress adventurer when dreaming up their latest collection.
"We were looking at a rather incredible Edwardian (era) woman called Aimee Crocker who wrote a book called 'And I'd do it Again' and she had a rather fabulous life," Craig said backstage on Wednesday.
"Ultimately it's a very quintessentially Marchesa collection," added Chapman. "I think we view our collections as a storybook continuing from one season to the next. ... Our pieces we want to see as timeless, not as pieces that are done for the season."
AFP
Looks on the runway featured a one-shoulder ball grown in blush and a tulle gown with cape sleeves, pearl necklace embroidery, and a plunging neckline. There was also an ivory cocktail dress with a satin bodice and ostrich feather skirt.
Craig and Chapman co-founded the Marchesa label in 2004.
"It makes it so much easier working with your best friend," said Craig. "We always have a laugh together so I think that always takes the edge off. Sometimes something gets really stressful and then you can just end up laughing about it and being like, "Well this is a ridiculous situation.'"
Actresses Jennifer Morrison, Victoria Justice, Dylan Penn, Olivia Culpo and Nina Dobrev sat in the front row.
AFP
Marc Jacobs
Marc Jacobs is known for beginning his shows exactly on time, so at 6:01 pm on Wednesday, the last few ticketholders were scurrying frantically on their stilettos, heels clacking on the wooden floor to avoid getting caught in the center of the cavernous space as the models began their journey. This fashion show was waiting for no one.
Like he did in February, Jacobs held his runway show in a spare, undecorated Park Avenue Armory, rendering it utterly unrecognizable from the beginning of the week, when Tom Ford had turned it into a luxe nightclub setting bathed in purple light, with waiters serving vodka cocktails. Jacobs also had his models walk slowly and deliberately in total silence, playing music only at the finale, when the aria from "Diva" was piped into the space.
But the clothing was anything but spare: Jacobs' models wore brilliant colors like orange and yellow, and big, bold floral prints. Silhouettes, as he explained in his show notes, were "exaggerated, decadent and exotic" — a result of a vacation over the last few months.
But it was a vacation of the mind only. "While friends vacationed, we took a holiday in our heads and went somewhere," he said, adding that the collection had come from a reimagining of previous seasons, "somewhere beyond the urban landscape of New York City."
AFP
The most notable look: Turbans. Everyone had them, and they came in all colors — partly inspired, Jacobs said, by Kate Moss, who famously wore a gold one to the Met Gala with Jacobs in 2009.
As they were at Calvin Klein, tassels were definitely a favored touch for accessories like bags and shoes. Speaking of bags, some were enormous, and some were tiny — part of those exaggerated shapes Jacobs spoke of. Some were fanny packs.
Much-followed models Kendall Jenner and Gigi and Bella Hadid all walked, but the honor of closing the show went to the week's breakout star, newbie Kaia Gerber — daughter of supermodel Cindy Crawford.
In the audience: Zosia Mamet, Courtney Love and Nicki Minaj, in a revealing black bustier. "It just seemed super surreal," Minaj said on her way out. "Everything was next level. Colors! I loved it."
Source: Agencies Editor: Fu Rong Special Reports