Lockdown gives birth to new skills and stronger family bond
14:18 UTC+8, 2020-05-07
0
An unexpected side effect of the novel coronavirus outbreak was that it gave people lots of time to develop new hobbies so they could fill the empty hours of isolation at home.
14:18 UTC+8, 2020-05-07
0
For Lu Shenyan, cooking was never a first choice. So when the Shanghai mother recently acquired baking skills, she didn't expect much success.

But when she took out freshly baked egg tarts from the oven, her husband immediately stuffed himself with six while her 4-year-old boy could hardly wait to eat them, pronouncing them "tasty" and even grabbing a few when his parents weren't looking.
Their reactions gave Lu a strong sense of satisfaction. She always thought cooking at home was complicated and troublesome, especially since she and her husband usually returned home late after work. They normally dined out or ordered takeaways.
Following the novel coronavirus outbreak, however, the couple started dabbling in the kitchen.
"With travel canceled, restaurants closed, even deliveries not allowed into communities, we had to hole up at home for a long time. During this period, we saw that our WeChat Moments were awash with photos of homemade delicacies. It's then that we decided to learn to cook," Lu said.
Her husband learned to cook home-style meals while Lu became interested in baking.
"After several trials, I found that cooking was easy, and home-cooked meals are not only more healthy and affordable than deliveries, but also gave me a sense of achievement," she said.
Lu is not alone. Many Chinese people forced to spend an unexpected lengthy time cooped up at home since late January due to the pandemic, took up new hobbies or skills.
A survey by China Youth Daily found that more than 94 percent of 2,003 respondents said they learned new skills. Among them, life skills such as cooking took up 65.8 percent.
Ti Gong
Fang Yijun, who works for China Construction Bank, greatly improved her baking skills during the past three months with the help of online resources such as recipe app Xiachufang, social networking platform Xiaohongshu and video-sharing platform Douyin (known overseas as TikTok).
She can now make a variety of delicacies, from Western breads, cakes and biscuits to traditional Chinese qingtuan (a traditional snack usually eaten around the Qingming Festival). Her signature work includes birthday cakes and dried meat floss bread rolls.
The Shanghai native used to spend at least two hours, sometimes even five, during self-isolation around the oven which she had rarely used before the epidemic. Now that things are back to normal, she still uses the oven at least three times a week after work.
"It takes a long time to ferment bread when I do it after work. Sometimes it is as late as 10pm by the time it is ready," she said.
But it's now something she enjoys. "I no longer go to bakeries because homemade food is more healthy and I can choose better-quality ingredients and customize the recipes according to the tastes of my family.
"The most interesting part of cooking, for me, is when I see my son waiting by the oven, with his mouth watering, and gulping down the food as soon as it is ready," the 33-year-old said. "Moreover, this hobby allows me to stay connected with like-minded people and broaden my social circle."
Ti Gong
Ti Gong
Like many an unmarried "only child" in China, Bian Xiaoyan, who is in her 30s, lives with her parents. Her mother did the cooking before the outbreak. But things changed during the pandemic, with Bian taking up cooking as a new hobby.
"My mother was pleased to see I can cook because she believes now I am more independent and can take care of myself.
"One should have certain hobbies about what they love to do, so that they can stave off loneliness and boredom, especially during a crisis like this pandemic," she added.
A Beijing-based journalist surnamed Lan found that picking up long-forgotten hobbies or skills has helped him find a silver lining and stay calm when faced with the grim reality of the pandemic.
He told Shanghai Daily that he bought a copy of "Sheng Jiao Xu," one of veteran calligrapher Wang Xizhi's masterpieces, a few years ago for practice, but soon abandoned it. He revived the lost passion by spending all his free time practicing since the Spring Festival. Even now, when work is back to normal, he spares at least one hour on it when he gets home.
Another long-lost skill he has revisited is making noodles.
"I learned to make noodles 30 years ago when I got married. But I have forgotten it for many years. During the pandemic, we had to cook for ourselves at home. While my wife was mixing the flour and water, I was trying to make noodles and dumpling skins, and then found I picked up the skills again!" said the Hebei Province native, who is in his 50s.
"Doing housework actually was a solace for me during the pandemic. On the Chinese New Year's Eve, a traditional time for family reunion, our community reported one new confirmed COVID-19 case. It was just one day after Wuhan was locked down, and it was snowing, my dog was sick, all this made us feel overwhelmed with anxiety and fear.
"We were advised to stay at home. I got tired of watching TV all day long, so I had to find something else to do to kill my time. Practicing calligraphy and cooking relieved my anxiety, emptiness and stress, and gave me some petty pleasures of life."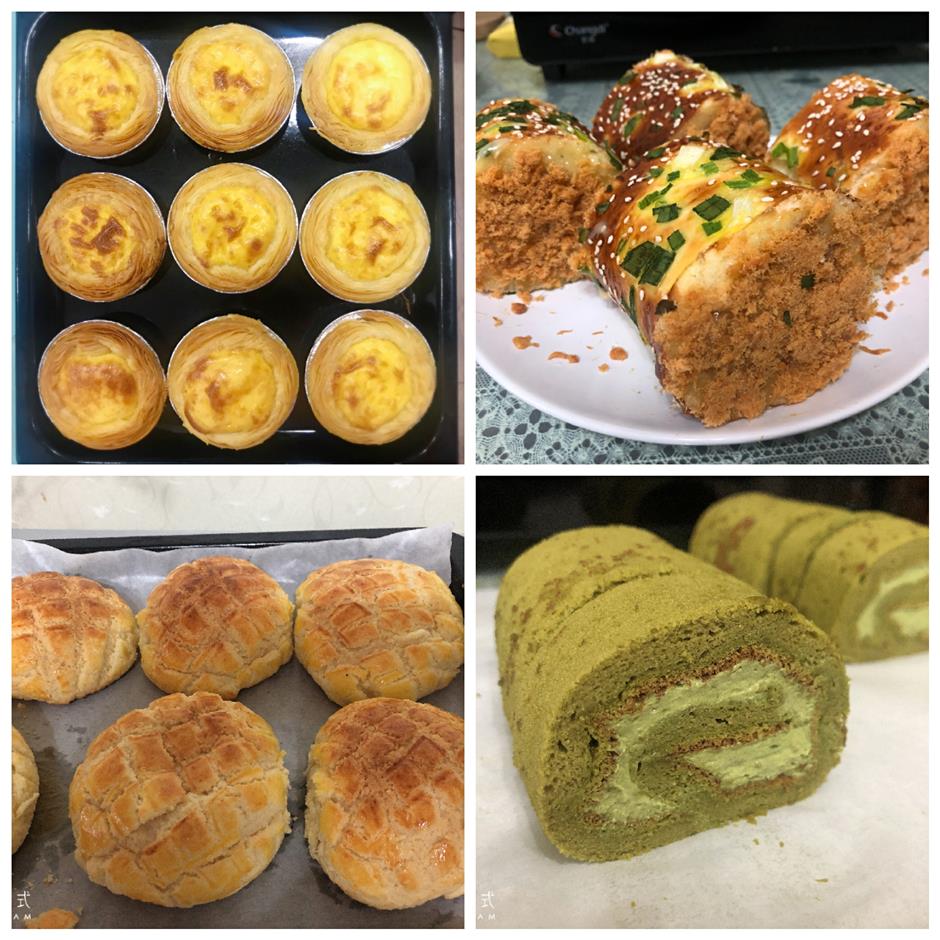 Ti Gong
Han Xiao, a 43-year-old Shanghai native, tried hair-cutting at home.
His father bought hair clippers online and asked him to cut his hair as barbershops were shut. Han, his wife and children live with his parents, who did most of the housework.
When cutting his father's hair, Han suddenly realized his hair had turned gray. "It struck me that my father is getting old but still sacrificed time and energy for me. Since being homebound all day, I also found out for the first time what was happening behind the scenes while I sat down to enjoy hot dinners every day after work. I realized that my family members did all the daily chores to keep the family running in order," he said.
"I decided to cut hair for my father once a month. What's more, I started to share more domestic work so that my parents could have more free time to enjoy their retirement life," Han added.
Dr Liu Suzhen, a psychologist and director of Sun Light Studio, a local neighborhood-based mental health-care firm, told Shanghai Daily that taking up new skills and hobbies can not only help people calm down but also improve family relationships.
For families, the pandemic is a crisis but it can also be a chance or even a gift, she said.
"Many young people return home after work or social life, so they don't know the trivial things family members do at home. But once people stay at home together morning and night, more rifts and frictions can arise among family members over issues such as rest schedule and hygienic habits.
"However, this unprecedented family time gives us enough time to communicate and get to know each other better. When each person takes the initiative to share the housework, we feel a stronger sense of family responsibility, and cherish and appreciate family relations more."
Source: SHINE Editor: Xu Qing Special Reports