Cinema Paradiso in the field for villagers
12:09 UTC+8, 2020-08-25
0
The arrival of Jia Qunfeng is eagerly waited by villagers in Nanxiang. As an open-air movie projectionist, he brings "midnight summer dreams" to an enraptured audience.
12:09 UTC+8, 2020-08-25
0
Mao Guanjun / Ti Gong
Movie projection is serious work. A projectionist has to turn it down after the end of the final songs and credits. Respect the film creating crew for offering such interesting works.

Jia Qunfeng
As sanfu, the hottest period of the year, approaches, villagers in Nanxiang Town start to wonder where the "brightest guy" in town will be tonight.
Jia Qunfeng, the man they are talking about, takes his belongings, including a white screen, a digital projector, two speakers, a bunch of cables and a ladder, to the fields every summer, where villagers look forward to his arrival.
Jia, 46, is an electrician at the Nanxiang cultural and sports service center. In 2008, he got a new nighttime job — an open-air movie projectionist.
Since then, summer nights have become his busiest hours of the day, bringing "midnight summer dreams" to a myriad of villagers.
Due to COVID-19, Nanxiang didn't launch open-air movies until July. As cinemas nationwide started to reopen, films began to be shown on screens in the fields as well.
To those with farming experience, watching movies outdoors is a familiar treat. After dinner, people would gather at the village square, waving fans in their hands, chatting and waiting for the start of the movie. The screen, like a magnet, attracts villagers to fix their eyes on the images and the plot.
At a time when TVs were rare and cellphones hadn't been invented, the open-air cinema was the best form of entertainment in the hot summer nights.
"It was really popular during the 1980s and 90s. Some people would travel a couple of hours to watch a movie in villages that had the facility. After the end of the film, they still lingered around, wishing the dark screen would light up again," said Qian Jianping, chief of the Nanxiang center.
Open-air cinemas going digital
The aim then was to screen movies at least once a month in villages.
After the first village digital movie-watching spot — Baixing Cinema — was launched in Tangcun Village in the Pudong New Area in 2006, the construction of village digital cinema started to spread citywide.
Two years later, movie projection work started in Nanxiang of Jiading District, and after training Jia became a projectionist. Being an open-air cinema projectionist sounds romantic but it can be a boring job.
"I need to communicate with the space provider, test the projector and speakers and make sure the picture can be shown at the center of the screen," said Jia.
The film starts at 7pm, but he has to make preparations from 4pm and, as a result, often misses his dinner.
Basketball stands, branches, scaffolding and walls are where the 5.5-meter long-by-3.5-meter-wide screen can be fitted.
Once Jia finishes installing the screen and turns on the projector, people will gather at the square to follow the adventure of the actors and actresses.
Mao Guanjun / Ti Gong
Mao Guanjun / Ti Gong
"Although indoor cinemas have better conditions with high-quality visual and audio equipment, outdoor cinemas like this are charming as well," said Jia.
One of the highlights of watching open-air movies is that they are free to all, and the outdoor atmosphere also makes people feel free.
They bring their own chairs, and some just sit on the ground. They can come or leave whenever they want.
"People can talk with each other when watching the film, and children are running or playing games on the square, which is completely different from indoor cinema," Jia said.
He still remembers the first time he displayed the movie at a basketball court in Xinfeng Village where he was born and now lives.
He and his colleagues put two basketball stands in a row and hung the large screen on them. Two speakers were put on the ground at both sides. The basketball court became an outdoor cinema in a flash.
"An old lady urged me to start the movie as she said couldn't wait. We told her that movies in the open air could be shown only after the sky became dark," said Jia.
Jia always sits on his equipment box enjoying every film with villagers. Gradations of light and shade project onto the white screen and shine on smiling faces.
He finally has two hours to relax, feeling relief and exultation at seeing people immerse themselves in what he has brought.
"The cinema is the public space that the 20th century left to us. It is a space that lets us go outside and share information with each other. It's a special experience because even though we are sitting side by side, we are still watching the film on our own," said Dai Jinhua, a professor at Peking University.
"The charms of the movie screen, no matter indoors or outdoors, are all the same, though the condition of open-air cinema is much simpler than indoors which has a larger screen and better surround sound system. When watching a film, people can forget their worries in real life."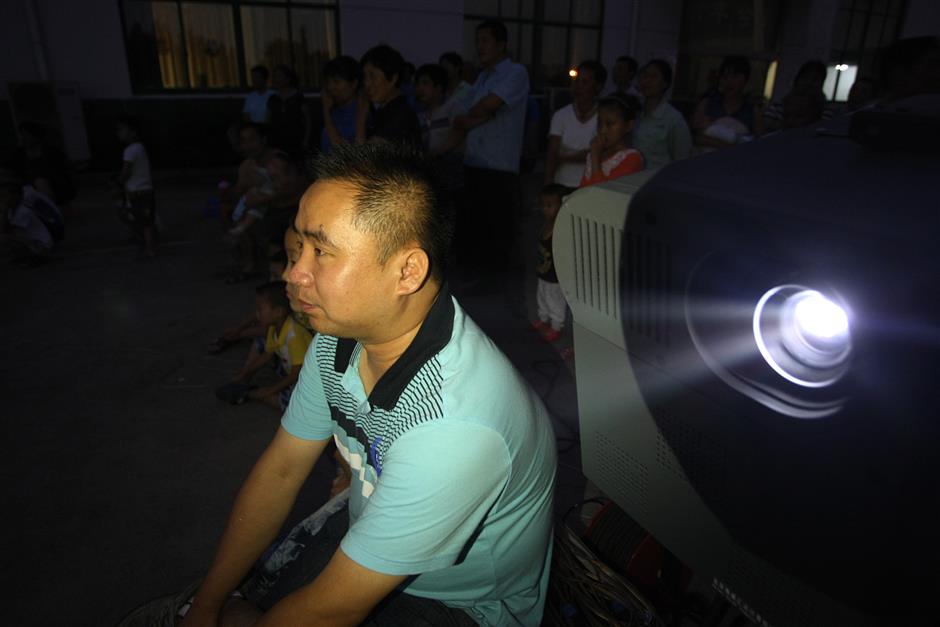 Mao Guanjun / Ti Gong
Serious work
Choosing movies that meet the demand of villagers is one task. Commercial films with stunning effects or those starring xiaoxianrou, men deemed as being too "feminine," are not the villagers' cup of tea. They prefer those close to their lives or telling good stories such as war movies or comedies, said Jia.
Xiqu, traditional Chinese opera, is also popular with villagers.
"Movie projection is serious work. A projectionist has to turn it down after the end of the final songs and credits. Respect the film creating crew for offering such interesting works," Jia said.
Jia delivered a lecture about the technique of projecting movies to young projectionists on July 27, a day before a digital movie projectionist skills competition was held in the district.
Participants Chen Qing and Li Xiaoyi, who represented Nanxiang, seized the opportunity to ask Jia for advice. They won first prize in the contest.
It is estimated that more than 200 movies are shown at eight open-air cinemas in Nanxiang every year, offering spiritual food to villagers.
As COVID-19 wound down, the first movie was shown at Nanya Copper Clad Laminate Co on August 1. More than 30 movies, including "My People, My Country," "Examination 1977" and "Assembly," have been shown.
Jia said of its fast development in suburban Shanghai that the movie project has seen improvements. An LED screen has been built at the square of the Nanxiang center. With such a large screen, Jia doesn't need to find a place to hang a screen any more, while the viewing effects are much better.
However, Jia is concerned that the attraction of open-air cinema is declining with the improvement of villagers' living conditions. TVs, computers, cellphones and the Internet are available to every household. They can watch whatever they want through searching on the Internet instead of waiting at the square for a movie to start.
On the other hand, more indoor cinemas are being built in Nanxiang, so people have more options.
"Frankly, I am feeling delighted rather than sadness because it means our lives are better now," said Jia. "But I will never give up projecting open-air movies as long as there is only one audience member."

Source: SHINE Editor: Chen Xingjie Special Reports