Lighten up your appetite's summertime blues
11:29 UTC+8, 2019-08-25
0
Endlessly hot and humid, the summer in Shanghai can always spoil appetite. Here, we present four exquisite restaurants for you to refresh your listless tongue.
11:29 UTC+8, 2019-08-25
0
Endlessly hot and humid, the summer in Shanghai can always spoil appetite. Here, we present four exquisite restaurants for you to refresh your listless tongue.
Ti Gong
PRIMO1
Embedded at Xintiandi area, this upscale Italian restaurant is going to rev up your taste buds for sure, featuring mouthwatering delicacies prepared by a talented chef.

First comes the canapé — homemade bread made with herbs grown on the terrace garden will definitely raise your appetite gently.
Classics of appetizers are often the highlight of a meal. The spicy kampachi fish sashimi topped with sliced tropical fruit, and imported sea urchin sashimi are a must-have. You can also try the slow-cooked Australian beef tongue dipped in avocado puree and sour cream, topped with mini arugula salad, and the boiled egg topped with truffles from Yunnan Province.
Ti Gong
Seafood lovers are recommended to try the French black cod with carrot puree and mashed peas, and the roasted red shrimp with lettuce, sliced turnip and mashed potato. Moreover, the handmade lasagna gets on perfectly well with the delicious truffle, which whets your appetite at once.
After the dainty dishes, it is the perfect time for fantastic fresh desserts. To tell you a secret, the raspberry ripple mousse cake performs best in winning the heart of a girl.
Address: 3/F, 168 Hubin Rd
Tel: 5386-6056
Opening hours: 10am-11:30pm
Ti Gong
Shao Dong Jia (绍东家)
As the flagship branch, the newly opened Shao Dong Jia's Daning branch is offering authentic local Shaoxing food.

Start the meal with a cup of Shaoxing yellow wine. You can ask the waiter to warm up the wine by pouring it into a container and place it in boiling water until it reaches 40 to 45 degrees Celsius, which is slightly higher than body temperature. The warm wine is good for stomach and quite easy to drink.
Ti Gong
Ti Gong
You won't miss the chance to try the local snacks which are perfectly matched with wine. One of the signature is the anise-flavored fava beans. They are flavorful and chewy. You may be addicted to their sweet and spiced flavor. Other choices like boiled peanuts, salty crispy fish, fish pudding and braised chicken feet are popular too.
The desserts here are all made from yellow wine, such as yellow wine popsicle and yellow wine milk tea. These homemade desserts keep the original flavor of the wine and make a new twist to it. You can also add some ginger or preserved plum.
Address: 5/F, Bldg 12, 1878-2008 Gonghexin Rd
Tel: 6605-6107
Opening hours: 11am-10pm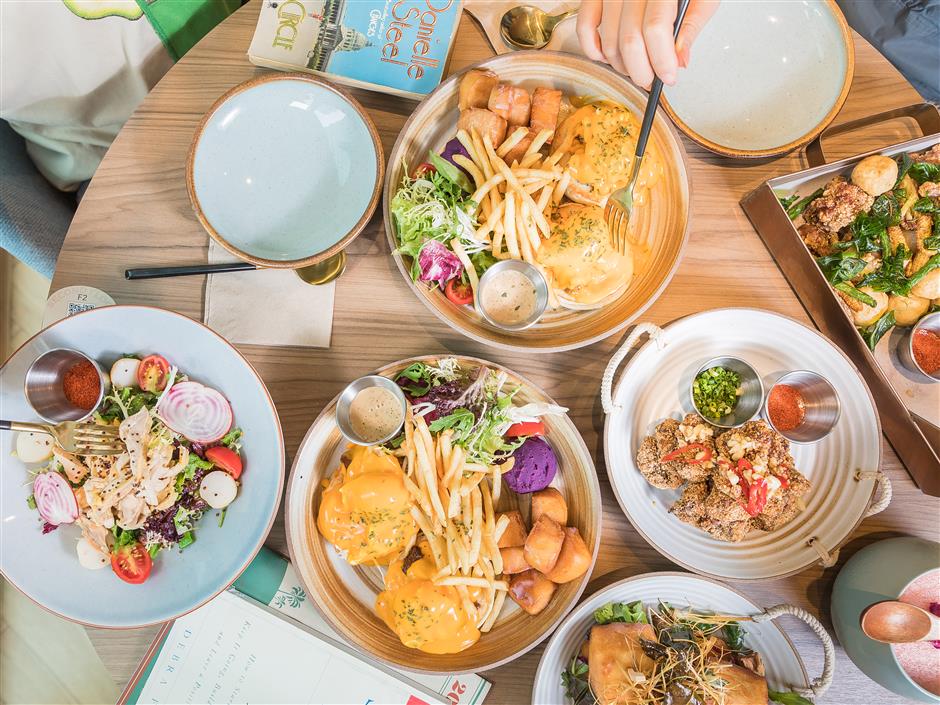 Ti Gong
Second Floor (贰楼)
Having been a smash brunch hit for 12 years in Taipei, the restaurant opens its first Chinese mainland branch at The Place in Changning District. It is a pet friendly restaurant.

The chef infuses the local cooking style into the traditional Western brunch. Try the eggs benedict topped with "grandmother" braised pork belly. Catering to local taste, the traditional Hollandaise sauce on the eggs has been replaced with cheese sauce.
Ti Gong
In addition, there are also homemade salty fried chicken, fried fish strips topped with tartar sauce and pancakes. For gym lovers, the egg-white omelets with sliced pork is a good choice to start a day.
As one of the highlights of the dessert, the milk tea with pearls on French crepes becomes a delicate favorite among young people.
Come and enjoy this cheerful and inciting brunch time.
Address: Unit E, 1/F, No. 66, 122 Zunyi Rd
Tel: 6226-2682
Opening hours: 11am-10pm for weekdays, 8am-10pm for weekends

Ti Gong
Yi · EAST Restaurant(懿餐厅)
The fungus growing in mountains of Yunnan Province is a unique feature of the land and its people. This month, the restaurant offers a set menu of fungus for you without having to fly 2,000 kilometers.

Start with the appetizer matsutake sashimi. This precious ingredient can only grow in the wild, near the roots of pine trees, waiting two to five years for maturity, while the time for picking is only two to three days. Next is the cold dish plate including sliced mushrooms wrapped with ham, and mashed celery wrapped by bamboo fungus.
Ti Gong
Ti Gong
As for the main dish, the braised prawns with matsutake, and fish fillets with snow mushroom in sour and spicy fish broth are worth trying. The fish broth is cooked with sour bamboo shoots and chopped chili to makes the taste striking and natural.
The most appealing part is the stir-fried rice topped with ganbajun (thelephora fungus) cooked by the table. The aroma of this fungus is obvious, however, it is very difficult to clean. The chef has to tear it into pieces by hand and remove the sand attached carefully.
Opening hours: 11:30am-2pm, 5-10pm
Address: 8/F, 899 Pudong Rd S.
Tel: 5089-7725
(Li Kexin also contributes to the story.)

Source: SHINE Editor: Su Yanxian Special Reports