Don't judge Beijing by street snacks
15:37 UTC+8, 2019-08-28
0
When visiting the capital city of Beijing, a lot of people who are not natives often complain about the lack of delicious cuisine and street snacks.
15:37 UTC+8, 2019-08-28
0
When visiting the capital city of Beijing, a lot of people who are not natives often complain about the lack of delicious cuisine and street snacks.
As the mooncake season draws near, most people tend to choose either the Cantonese style with sugar-glazed skin or the flaky Suzhou style with either meat or sweet fillings, Beijing-style mooncakes are rarely highlighted in beautiful gift boxes.
Beijing mooncakes can speak a lot of the city's taste and tradition. The two varieties of Beijing mooncakes use hot or cold water to make the crust, and they are named zilaihong (light brown) and zilaibai (white) respectively. The mooncakes have a strong taste of sesame oil and can sometimes be as hard as rocks. The traditional fillings of rock sugar, nuts and candied fruits are also excessively sweet.
The famous Beijing roast duck is perhaps one of the most representative Chinese dishes internationally — meltingly delicious crispy skin, flavorful meat and the satisfying bite of soft pancake, duck, sweet fermented flour sauce, scallion and cucumber, what's not to love?
Besides roast duck and mutton hotpot, traditional Beijing cuisine is often described as heavily flavored, with high amounts of oil and sugar, as well as a lack of delicate presentation. But the expensive yet not tasty snacks sold on the famous snack street may not represent the authentic flavors of Beijing, which were developed from the region's geographical setting, produce and culture.
HelloRF
Zhou Zuoren, brother of literary giant Lu Xun (Zhou Shuren), wrote in the short article "The Tea Snacks of Beijing" that "I wandered in Beijing for 10 years, never did I have good dianxin (Chinese pastry)."
But his brother might disagree. Lu Xun wrote about shopping in Daoxiangcun, a famous Beijing bakery, many times in his diary.
Beijing-style pastry often features thicker and denser fillings such as bean paste, which is red or mung beans cooked slowly with sugar until the moisture evaporates. Nuts are another main ingredient in making the pastry fillings, the common ones are walnut, peanut, pine nut, sesame seed and sunflower seed.
Sesame paste has a strong and distinct aroma, and it's often seen in Beijing-style pastries and quite heavy in taste.
A common characteristic of Beijing-style pastry is the combination of soft filling and flaky crust. A lot of Beijing-style pastries came from the imperial palace, like the rose cake made with real rose flowers.
Beijing is also known for rice cakes, and a classic dessert is made with millet flour, soybean flour, sugar, sesame oil and nuts. Because the soybean flour on the surface looks like the dust a donkey raises when it rolls about in the wild, it's vividly named rolling donkey.
Wandouhuang is a soft cake made with ground peas. It's mildly sweet and often served with tea.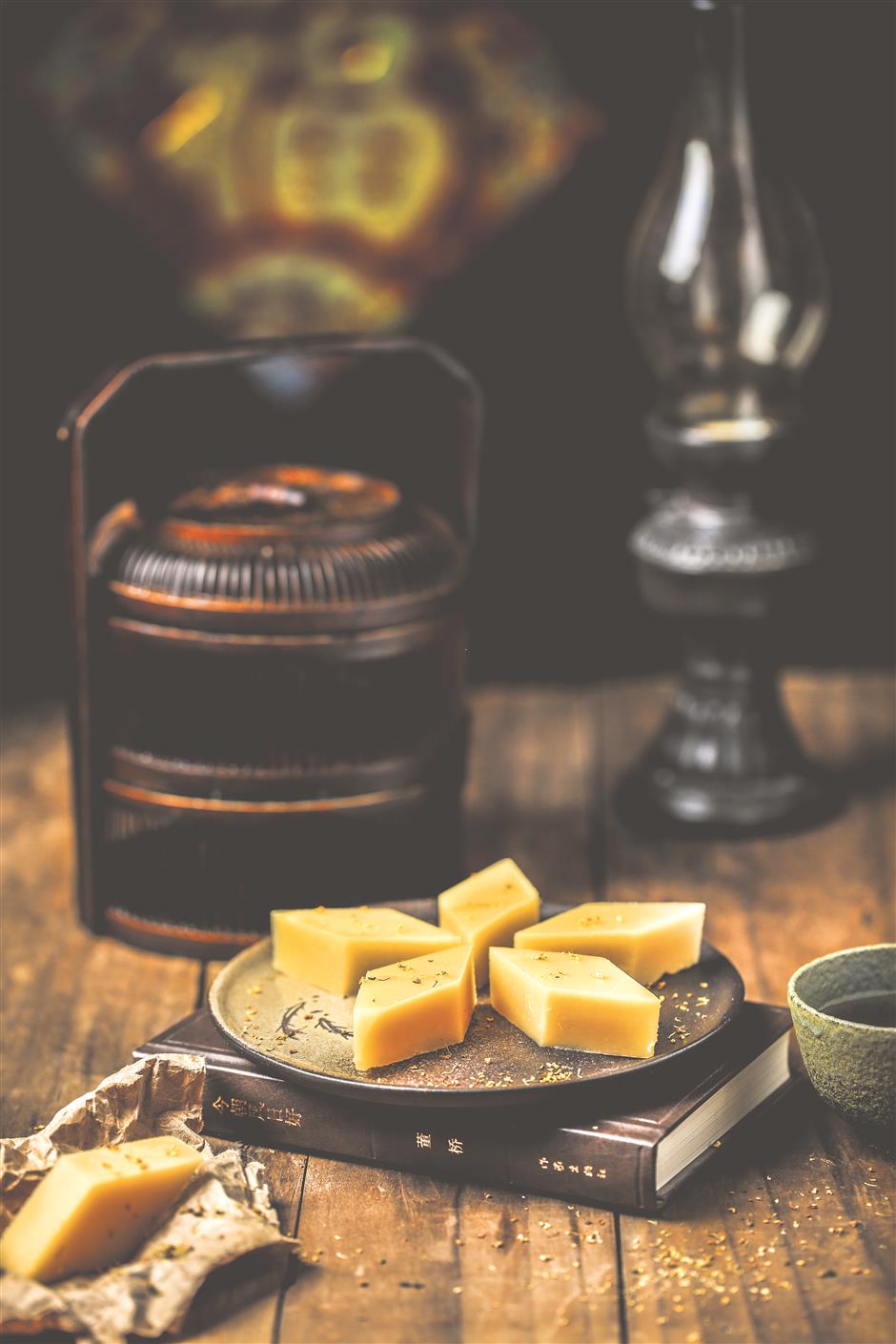 HelloRF
Northern Chinese cuisines often emphasize salty flavors, and Beijing cuisine uses a lot of extra salty sauces in cooking, like the famous zhajiangmian, noodles served with soybean paste sauce or pork shreds stir-fried with soy bean paste.
Beijing cuisine has a profound love for sesame sauce, a very aromatic condiment made with sesame seeds cooked in a wok and then ground finely into a sauce texture.
Sesame sauce is served in both sweet and savory dishes. It's the must-have condiment to eat with mutton hotpot because it coats the boiled mutton meat with a smooth, extra fragrant flavor.
The sesame sauce pancake is a traditional Beijing sweet staple dish that brushes layers of sesame sauce in a flour bun topped with a handful of white sesame seeds.
Sesame sauce is often mixed with leek flower sauce to create the ideal dip for mutton hotpot, and leek flower sauce is a unique Chinese pickle made with leek flowers finely chopped to release all the flavors and then seasoned with salt and liquor. The flowers are left in a jar to ferment.
HelloRF
Beijing is known for its jiangcai, the humble Chinese delicacy of vegetables pickled in sauce. The traditional Beijing lifestyle emphasizes going to the right place for the best quality products, and Liubiju is the renowned and oldest Beijing jiangcai and sauce brand, which was recognized as national intangible cultural heritage in 2008. It's said to have originated in the Ming Dynasty (1368-1644).
Jiangcai was created to preserve vegetables during times when food is scarce, such as in winter. The foundation of jiangcai is a sauce made of soy beans.
Some traditional jiangcai items include pickled tender cucumber (sweet, crunchy with a unique fragrance of fermented soy bean), the eight-treasure pickle and ganlu (tubers of Stachys affinis).
Jiangcai can be served as an appetizing side dish with a meal or simply paired with plain congee to make a comfort meal to warm the stomach.
The fruit preserves or candied fruits known as guofu or mijian are popular Chinese snacks. Beijing is the place to be when it comes to finding good fruit preserves, as the imperial court kitchens in the Ming (1368–1644) and Qing (1644–1911) dynasties produced guofu and mijian for the royal families.
It was the solution to provide the privileged emperors fruits all-year around when transport couldn't allow delivery of fresh fruits to the capital.
The main difference that sets fruit preserves apart from dried fruits is the use of honey or sugar in the process. Traditionally, fruit preserves are produced by simmering the fresh fruits in honey to remove moisture for a longer storage time, while today sugar is more widely used in factory production for its efficiency and low cost.
Though the words guofu and mijian are interchangeable, guofu is more commonly used to describe fruit preserves that are dried after boiling in sugar or honey, while mijian refers to the more juicy and glossy ones that haven't been dried after cooking.
The original recipes for fruit preserves are not healthy by today's standards. The fruits which already contain lots of sugar are soaked in or coated with more honey, syrup and sugar to enhance the sweet taste. To make sour fruits such as plums more palatable, an excessive amount of sugar is added.
The fruit of the hawthorn is one of the few fruits that harvest in winter in northern China, and candied hawthorn skewers known as tang hulu are an all-time classic Beijing street food. Fresh hawthorn fruit is very acidic and hard to eat, so a crunchy sugar crust is added to balance the flavor.
Today, tang hulu features a wider selection of fruits in between the classic hawthorn, like tangerine and strawberry. There's also the variation that stuffs some red bean paste in the pitted hawthorn fruits, which adds more sweetness and a softer bite.
HelloRF
Source: SHINE Editor: Fu Rong Special Reports