Life as it was reformatted in a colorful new format
01:16 UTC+8, 2020-10-06
0
Artificial intelligence technology restores old black-and-white film from a century ago into contemporary videos.
01:16 UTC+8, 2020-10-06
0
When Shanghai was hailed as the "Paris of the Orient" in the 1920s and 1930s, society ladies wore bob haircuts and sported fancy dresses, mink coats and jade jewelry.
Hu Wengu, 29, an artist, designer and musician now living in New York, has recaptured that era of Chinese haute couture by restoring an old monochrome film of a 1929 Shanghai fashion show, using modern artificial intelligence technology to color it.
Ti Gong
His nine-minute video of the event went viral on social media. It has been viewed more than 6 million times. Many viewers said they found the fashions very in tune with contemporary trends.
The original film clip came from the archives of the University of South Carolina's Moving Image Research Collections. It was shot on March 4, 1929.
The Shanghai fashion show displays how well-to-do women of the era followed foreign trends, wearing clothes that combined the latest in Paris fashion, such as knee-length dresses with Chinese traditional elements like high collars.
The show was held in an old Chinese garden, accompanied by a folk tune played on what sounds like a Chinese flute. In the video, the presenter, referred to only as Miss Sze, had a bobbed haircut with marcel waves and wore a blouse with a traditional collar and a hand-painted skirt. She narrated the show in English.
"It is rather difficult for a Chinese girl to speak in a foreign language to describe fashion," she tells viewers. "But I should try to give you some idea of what we wear in China. Modern Chinese girls combine the fashion of the East and the West."
The models all appear in different clothing: a chiffon velvet evening dress with uneven hemline, a dress in the French empire style and an evening gown with a coat trimmed with sable.
According to Miss Sze, hairstyles of the era diverged from traditional Chinese long hair to the then trendy bob haircut. She introduces two women who discuss their preferences.
Hu created scenes of muted colors in the video, using artificial intelligence technology.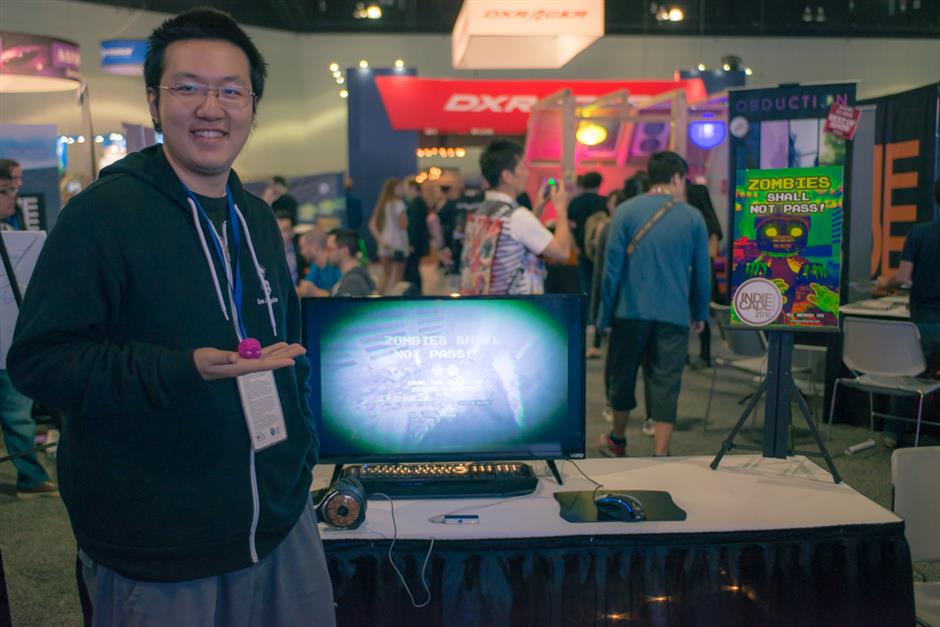 Ti Gong
Traditionally, colorization of old photos or films was mainly done by experts with specialized skills and tools. But now, with the advent of artificial intelligence, anyone with a computer can do it.
Hu told Shanghai Daily that it took him about two weeks to make the video, from collecting all the materials to posting the result on the video-sharing platform Bilibili.
The game developer started posting colorized videos of old film online after he learned to use the AI technology late last year. He also uses the Bilibili platform to show before-and-after comparisons and explain how the technology works.
"In May, I showed how artificial intelligence could be used to restore old films. I did a video clip of old Beijing street scenes, and it became very popular online," he said.
The 10-minute video showed city street life in the 1920s, from rickshaws and hawkers selling goods to gardens, a man teaching his dog tricks and people eating outdoor at a restaurant.
Xiao Bo, director of the digital restoration section of the China Film Training Center, said such artificial intelligence technology can reduce the time of restoring old film by a fourth and halve the cost.
Hu concluded it could also be applied to other fields, such as art and music composition.
He has been collecting old film depicting life in large Chinese cities from image libraries in different countries. If he finds one that attracts him, he seeks permission to restore it.
"My first choice was Beijing because that's my hometown," he said. "Later I found films taken in cities like Shanghai and Guangzhou, which had attracted foreign photographers and cameramen."
The first video he made about Shanghai showcases the Broadway Mansions.
"When I visited Shanghai in 2017, I passed by the building," he said, "So when I was looking at old films, I recognized it and decided to do a video about its construction. The workers of that era interested me because they were building with almost no protective measures. They had the spirit of laokele, or "old clerk," which refers to people well-groomed under any circumstances. Their hats were never askew, and they always looked very neat."
He added, "Some netizens noted that there were few women in these old films. So I wanted to make a video showing the life of women. That's the genesis of this fashion show video."
Ti Gong
When he restored the film of old Beijing, Hu used a colorization system called DeOldify that let artificial intelligence decide the colors. For the fashion show video, he applied a new system called DeepRemaster, which allows the creator to adjust the color.
He has received a lot of online feedback on his videos. Many people commented that the fashion show looked like a "retro vlog." One viewer familiar with history pointed out that the presenter in the film was the wife of a cousin of the famous Soong sisters, and the two women portrayed in the segment on hairstyles were the daughter of Tang Shaoyi, first premier of the Republic of China, and the wife of famous Shanghai architect Fan Wenzhao.
"I found a film about China taken by French banker Albert Kahn," said Hu. "It didn't identify the place where it was taken, but netizens said it appeared to be the city of Jinan in Shandong Province, based on a memorial gate. I was fitting together the pieces of the history with the help of netizens."
Hu said colorized videos of old films can stimulate public interest in history and culture.
"I had never been much of a history buff myself," he said, "and when I watched black-and-white films from the past, I usually viewed them as historical records that didn't leave me with any deep impression. But after a film was restored and colored, I noticed interesting details, like someone hiding behind a tree to secretly watch the filming. It brought those on film into a real perspective."
Besides coloring old film, Hu has also used artificial intelligence to create a 3D look at historical people — from paintings and sculptures, like the terracotta warriors and horses.
"I think artificial intelligence will be a tool to enable people to realize their ideas and imagination," he said. "It can allow you to compose like Mozart and Beethoven or hold discussions with ancient philosophers."
Hu told Shanghai Daily he plans to work in the future to combine colorized old film with virtual reality technology to show people actually "walking" in what would otherwise be still scenes.
However, although artificial intelligence can do many things in old film restoration, there are still some limitations. For example, color selection work done by professionals will be much closer to the reality of the past.
The China Film Training Center's Xiao said he once restored China's first color film "The Butterfly Lovers."
The center's team mixed colors for seven to eight versions, relying on experts from different fields to decide which version is most accurate.
The China Film Archive has two groups of professionals — one for the arts and the other for technologies — to restore old films. Artificial intelligence hasn't replaced the human mind yet.
Ti Gong
Cultural icons get an AI makeover
Artificial intelligence technology is widely used in recording and repairing cultural icons.

The nation's most high-profile piece of history, the Great Wall, is one example. Wind erosion, rainstorms, floods, earthquakes and theft has left the wall with "scars."
Past interventions to restore damage have been labor-intensive and expensive. But with the latest technological advances, restoration becomes easier.
An artificial intelligence team involved in the Great Wall restoration project, in cooperation with Huang Xianfeng, a Wuhan University professor and expert in remote sensing, is using drones to film the Great Wall from all the angles and create 3D models.
The technology can automatically identify lost or destroyed parts of the wall and provide solutions on how to fill and repair those sections. It can also estimate the volume of materials needed in restoration.
The Dunhuang Academy is another user of artificial intelligence, which is being used to digitalize the famous cave murals.
Previously, to make digital records, Wu Jian, an academy team leader and his team had to take pictures of each small part of a mural, then piece them together on a computer.
Each square meter of a mural required them to take some 300 photos, and the work in a medium-sized grotto often took them four months to complete. It is a race against time because the colors of the murals are fading.
The academy developed a system with Zhejiang University to apply artificial intelligence to photographic equipment, allowing the equipment to move, automatically adjust the light and snap photos.
Its 3D positioning system can combine the scenes in post processing.
Overseas modern technologies are being used to restore the original look of ruined historic sites.
In some bitmap images done with Graphics Interchange Format technology for Expedia by UK-based NeoMam Studios and 3D studio Thisisrender, architectural wonders are rising from their ruins in digitized reconstructions, allowing the public to enjoy something that can no longer be seen in real life.
Source: SHINE Editor: Xu Qing Special Reports