Cats may have nine lives, but the cost of living can be high
16:02 UTC+8, 2023-05-31
0
Caring pet owners are often stung with huge veterinary bills in an unregulated market, and they are clamoring for the problem to be addressed.
16:02 UTC+8, 2023-05-31
0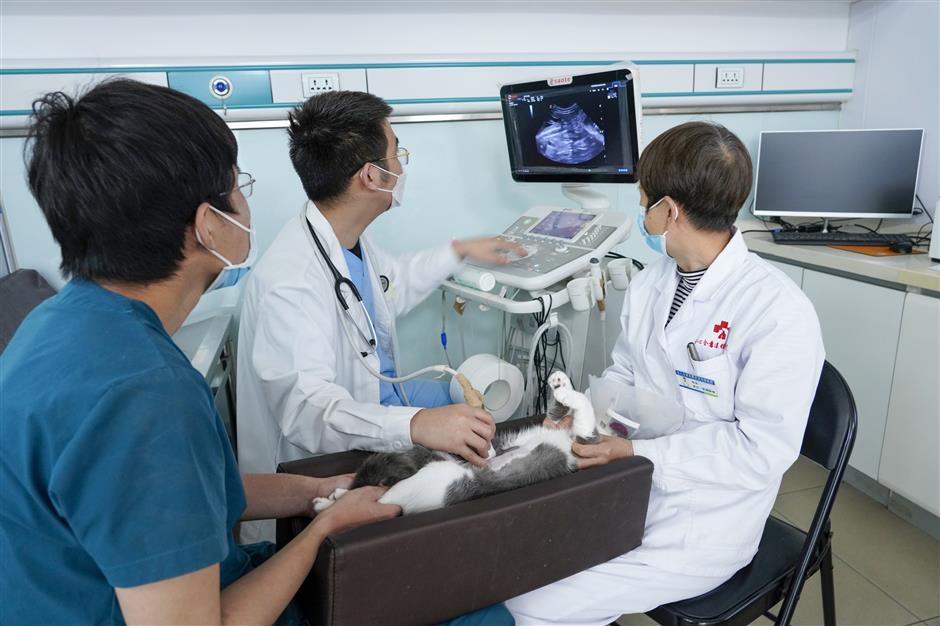 Imaginechina
When elementary school teacher Jennifer Zhang bought a British shorthair kitten from a breeder, she didn't realize that the 2,000 yuan (US$283) she spent on the cat was just the beginning of out-of-pocket costs.
The kitten at first sneezed a lot and had gummy discharge from its eyes. Zhang figured these were just minor "baby" problems that would go away and that the kitten was healthy. The following 12 months blew a hole in that theory.
The vulnerable kitten seemed to race through its nine lives. It didn't walk properly, and when Zhang took her pet to a veterinary hospital, it cost her 2,000 yuan.
The kitten's sneeze persisted and worsened, and was diagnosed as an upper respiratory disease commonly called "cat flu." Zhang had to shell out 20,000 yuan in vet bills. Then, several months later, the cat began to pant severely; examinations of heart and kidney cost 1,600 yuan. Then another bout of cat flu…
"In 10 months, I had spent enough on vet bills to buy a new car," she said in disbelief. "And, to be honest, my teacher's salary doesn't stretch that far."
Zhang is not the only pet owner burdened by the cost of veterinary care.
Niki Zheng, an employee with a pet product company, has six cats – all adopted from shelters. One of the cats came down with what was diagnosed as a "fatty liver," which can be fatal. Treatment cost Zheng more than 30,000 yuan.
There are no such institutions as public pet hospitals, so pet owners have little choice but to go to private veterinary hospitals.
"I do wish there were some guidelines on what these hospitals can charge, including the cost of medicine," Zheng said.
Lu Feiran / SHINE
Veterinarians claim that running a pet hospital is more costly than hospitals for humans. For one thing, treatment isn't covered by government health insurance. For another, pet hospitals don't have the same high client traffic to defray operating costs.
"The cost of buying facilities is the same for both, but there will never be more cats and dogs going to hospitals than humans do," said Ji Benlei, director of Mary's Veterinarian Center. "Therefore, most pet hospitals have to raise prices to pay off cost as quickly as possible."
Be that as it may, the pet medical sector is not very transparent.
The Jiangsu Province Consumer Council recently issued a report warning of "traps" that consumers might face when pets get sick.
The report found that about two-thirds of consumers had experienced problems with veterinary clinics: Some of the clinics were unlicensed, some charged exorbitant fees, and some even prescribed bogus medicines.
"When our investigators visited a clinic with one consumer, the vet advised us to buy a specific medicine from the clinic but didn't disclose the name or price of the medicine, nor provide any prescription or medical records," the report said. "The tablets we bought, wrapped in the clinic's own packaging, cost 70 yuan each."
Currently there are no regulations or laws covering veterinary services, nor any guidelines on medicine prices, despite public calls for tighter controls.
"It can be very confusing sometimes," said Chris Wu, who has a 4-year-old corgi. "When the vet fee is extremely high, you suspect that you're being swindled; when the price is lower than expected, you suspect the integrity of the vets and their medicine. Guidelines governing the sector would be most helpful."
The Chinese have taken to pets in a big way. The market that caters to them is extremely lucrative, estimated at 170 billion yuan, according to a report for 2022 issued by Petfair Asia. Veterinary care was among the most sought-after services.
According to the report, 60 percent of the pet owners said they would like to see competitive pet insurance, a relatively new offering on various platforms, such as Alipay.

Pet insurance costs from 20-50 yuan a month, providing cover for vet bills of 12,000- 20,000 yuan a year. Are these policies as good as they sound? Sometimes.
Michael Hu, who has two large breed dogs, said that the insurance he bought for his pets covered about 60 percent of medical expenses, which he found quite satisfying, but the claims procedures were complicated.
"For example, for chronic diseases, the insurance policy covered only a single visit," he said. "So if treatment requires multiple visits, you are out of pocket. I don't think that is very fair."
Moreover, settling a claim can be very time-consuming.
"I had hoped the reimbursement would be part of the payment process, just like it is in mainstream hospitals," Hu said. "But for pet insurance, you have to claim refunds afterward."
Lu Feiran / SHINE
Veterinary clinics aren't the only service cashing in on the pet boom.
The first pet pharmacy in Shanghai has opened in Hongkou District, with plans to expand to more branches in the future. The pharmacy stocks sprays, tablets, gels and oils to treat common pet ailments like ear mites, eye infections and skin fungus. It calls its prices affordable.
"Pharmacists offer free advice to pet owners according to symptoms they describe, so they can avoid vet consulting fees," a shop assistant told Shanghai Daily. "We also have medicines for more complicated afflictions and diseases, but owners must provide prescriptions from vets to buy the those."
Source: SHINE Editor: Xu Qing Special Reports