If sushi floats your boat, be prepared for a possible change in taste
10:41 UTC+8, 2023-08-25
0
Japanese restaurants in China adapt as a ban comes into effect following the discharge of radioactive wastewater from the Fukushima nuclear power plant.
10:41 UTC+8, 2023-08-25
0
Imaginechina
Japanese cuisine is popular in China, but restaurants specializing in the fare are now having to switch gears after the mainland banned imports of Japanese seafood in response to the discharge of radioactive wastewater into the ocean by the Fukushima nuclear power plant.
Japanese restaurants on the mainland are scrambling to search for alternative suppliers in Europe, Australia and other countries.
The Fukushima plant, crippled by an earthquake and tsunami in 2011, began release of radioactive water into the ocean on Thursday, claiming most of its radioactive contaminants have been removed and the remaining water diluted to "safe" levels. China publicly opposed the release.
Tokyo Electric Power Co, which operates the plant, reports an initial daily release of about 460 tons over 17 days, totaling around 7,800 cubic meters of radioactive wastewater.
Research from Tsinghua University suggests that this radioactive water will reach China's coast in 240 days and flow into the North Pacific in 1,200 days, potentially affecting global marine areas.
In response, China's Customs Administration has halted the import of Japanese sea products.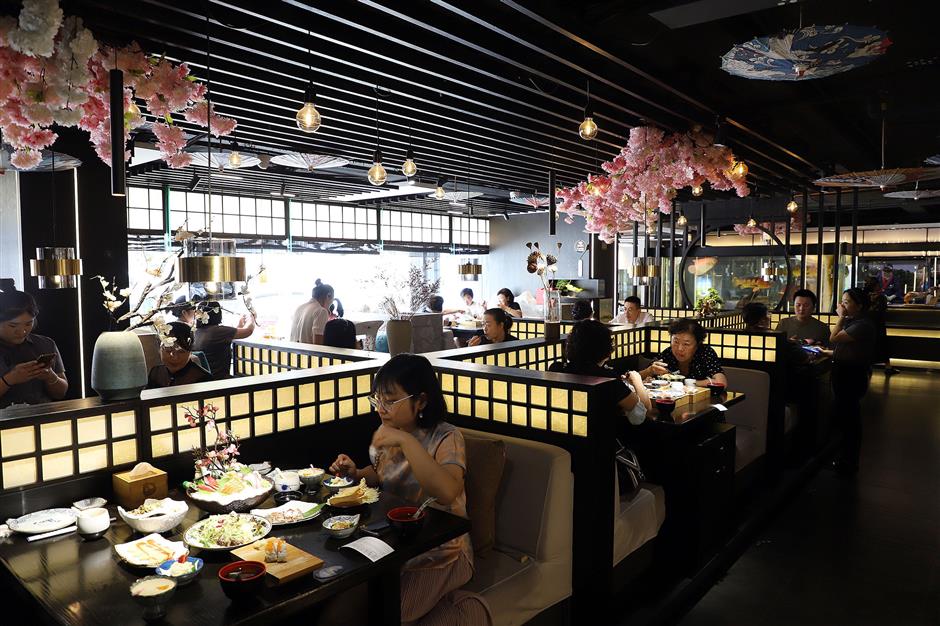 Imaginechina
Japanese cuisine has a popular following in China. According to Dianping, China's leading lifestyle online platform, there were 79,324 Japanese restaurants on the Chinese mainland as of June, ranking sixth among various genres of cuisines.
Of those, a third are concentrated in Beijing and Shanghai, and 378 show an average spend exceeding 1,000 yuan (US$137).
While Japanese imports were once a major selling point for these restaurants, recent concerns about the radioactive wastewater have made customers more willing to accept alternative sources, according to China's business news outlet Yicai.
An employee of the Qing Shan Lan restaurant said ingredients like sea urchin and tuna, previously imported from Japan, can be sourced elsewhere. Sea urchin, for instance, is imported from North Korea and tuna from Spain.
"The taste might have a slight difference, but prices will not change for now because the cost of these products is quite high," he said.
Some Chinese customers flocked to Japanese restaurants earlier this week for a "last supper" before the Fukushima release.
"At present, we believe that seafood in Japanese restaurants remains safe, so we chose to dine here for a final reassuring meal," said a customer surnamed Zhang.
SHINE
Wasabi, a Japanese restaurant where the average diner pays 786 yuan for a meal, said that most of its ingredients are imported from France or New Zealand.
Another high-end Japanese restaurant, with average per-person tab of 1,029 yuan, said it will import bluefin tuna from Boston rather than from Japan.
"The taste might be slightly inferior to Japanese tuna, but the freshness can be ensured and the prices will remain the same," an employee at the restaurant explained.
Some restaurants have taken steps to reassure consumers by creating posters that indicate the origin of various ingredients.
A poster at the Kobayashi Sashimi restaurant states that menu features scallops and spotted prawns from Canada, sweet shrimp from Russia, salmon from Norway, tuna from Australia, and sea urchin, ark shells and scallops from Dalian in the northeastern province of Liaoning.
Imaginechina
The Chinese mainland imported US$13.8 billion of edible seafood in 2021, mainly from countries like Ecuador, Russia, Canada, the United States, India and Norway. Japan accounted for the lowest proportion of purchases at only 2.8 percent.
Longyangxia, a salmon aquaculture company in the northwestern province of Qinghai, said the company has an increase in orders recently.
The discerning diner may taste the difference between Japanese products and those purchased elsewhere. Chefs sometimes must adapt cooking techniques to compensate for disparities in texture and flavor.
Japan's Nagasaki bluefin tuna, for instance, is known for rich fattiness spread evenly through the fish, but a substitute from Spain has a firmer texture and less fat. That requires a change in the marinating process, according to chefs.
Zhu Zhongjie, a Japanese cuisine chef, said he has to deep-fry domestic mackerel to compensate for the lack of richness compared with Japanese mackerel.
Imaginechina
Chinese consumers have shown mixed reactions to concerns about the safety of Japanese food imports. While some express minimal worry, others remain cautious.
Jeremiah Huang, a 21-year-old student, said he believes that the impact on his dining habits will be minimal.
Huang prefers affordable sushi and said he doesn't anticipate major differences in taste as restaurants transition to imports from other countries. He admits to some "slight" concerns about radiation levels due to extensive news coverage about the Fukushima wastewater discharge.
Another Japanese cuisine aficionado said she trusts the determination of the International Atomic Energy Agency that the wastewater being released into the ocean is safely below international radiation standards.
"At least, there's no worry if you order chicken or beef dishes," she said.
Several market regulatory authorities in Shanghai launched targeted inspections on Thursday, focusing on supermarkets and restaurants that deal with imported Japanese food products.
Currently, no issues have been identified. All fresh seafood products have passed customs inspections and do violate the ban.
(Jia Fang and Chen Yian also contributed to the story.)
Imaginechina
Source: SHINE Editor: Xu Qing Special Reports