District honors 20 outstanding friendships
09:00 UTC+8, 2020-10-15
0
Changning announces awards to honor outstanding dedication to its economic and social development of recipients who include CEOs, experts, entrepreneurs and volunteers.
09:00 UTC+8, 2020-10-15
0
Ti Gong
Changning District government has announced 10 Hongqiao Friendship Award winners and another 10 nominees to honor their outstanding dedication to the district's economic and social development.
They include the chief executive officers of multinationals, foreign and overseas Chinese experts, high-level professionals, entrepreneurs and volunteers.
Home to the country's earliest service-oriented national development zone — the Hongqiao Economic and Technological Development Zone — Changning is where Shanghai's first international community was established after the founding of the People's Republic of China.
The development zone was a testing ground for China's land acquisition system, and office buildings and hotels have sprung up while foreign-funded enterprises and trading firms gathered there.
After that, the Hongqiao Linkong Economic Zone was established on the eastern side of the Hongqiao International Airport.
Unilever was among the first multinational conglomerates to establish regional headquarters there.
Friendship Award recipient Rohit Jawa, president of Unilever North Asia since 2017, is proud of the company's longtime friendship with China.
He said China is one of the company's most important strategic investment destinations and promises a long-term commitment.
"We have been here for a long time. We were among the first offices in Linkong. Today, we see immense progress around us. It has a bright future and sustainable progress.
"China is an amazing consumer story. For Unilever to win we must recognize that we are among the most sophisticated digital market in the world with a unique ecosystem," he said.
Jawa added: "Unilever Hefei Industrial Park, the company's largest production facility in the world, has joined 'Lighthouse' network of world's most digitally advanced factories. We want to use it for smart production, fast production to bring new solutions to our consumers in China.
"Changning, Unilever and me are future fit. I know the mission of Unilever and Changning government is to make its society better. The three of us really come together," he said.
Ti Gong
Michelin also has its regional headquarters in Linkong.
Kamran Vossoughi, president and chief executive officer of Michelin China, is fully confident of the company's business in China.
"As I said in February this year when the pandemic started, I'm confident, resilient and positive for the development in the upcoming months," said Vossoughi, another award winner. "I'm personally very confident of the development and future market in China, because first of all we see a strong sign of recovery, we see the resilience of the Chinese market and we have an upcoming population that inclines toward new technologies and new needs in terms of mobility.
"As you know, we established our headquarters in Changning in 2007, and this friendship and journey with Changning District started that year and continues.
"I would like to say we saw very clearly the support of the governments of Changning and Shanghai during the recovery period and we have been supported in many areas. We have been visited several times. We opened our warehouses, we opened our businesses even out of Shanghai and Changning.
"We stay with China side by side to fight this pandemic and I call it solidarity. We are Chinese in China so we supported Wuhan, we supported critical sectors via our products and services like sanitary and logistics vehicles in this period, and we offered our products and services for free," said Vossoughi. "So all of these things make me positive, resilient and confident for the upcoming months in China."
The 3rd China International Import Expo is three weeks away and Vossoughi said: "This is the first time the Michelin Group in China has taken part and we have very clear objectives to deliver in this CIIE all about Michelin beyond tires. That's why we will bring safer, smarter, greener and more joyful mobility to our users throughout China."
Award winner Jung Hwan Uk, general manager of Parkson Newcore Tianshan Square, has turned the Parkson Newcore into a concept commercial complex and a check-in point of Internet celebrities.
The South Korean businessman worked with famous e-commerce companies in Shanghai to build the first online-and-offline-integrated business in China.
"Customers are always our top priority and we try every effort to satisfy them," he said.
"With the change of consumption patterns, what we offer is the mode of satisfying Chinese customers, to be more specific, with good commodities, good prices, the same exclusive products both online and offline, which differentiates us from our peers."
Changning-based Spring Airlines brought back many Chinese people from overseas early this year amid the COVID-19 outbreak.
"We try our best," said Miguel Yanez Vilas, a Spanish captain who works closely with his Chinese employer to cultivate more Chinese pilots.
"In my opinion, the young Chinese pilots are as good as their Western counterparts. There is no difference but enough training from the very beginning can put them on the right track."
Yanez Vilas is concerned about the company's development and has helped establish talent pool and market cooperation between Spring and Iberia Airlines.
"I think Spain and China are looking for the same things as we are very similar. Both of us work hard and enjoy our life."
Like Spring Airlines, social responsibility is a must of each Changning-based enterprise. That's the case with Chiesi Pharmaceutical (Shanghai) Co.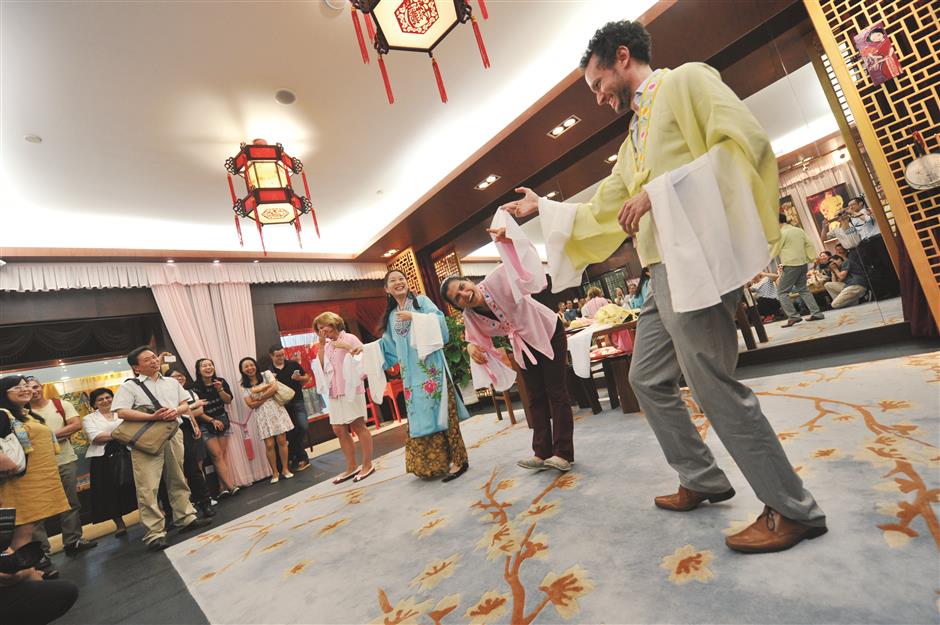 Ti Gong
Davide Dalle Fusine, general manager of Chiesi (Shanghai), mapped out the company's blueprint to offer innovative clinic solutions as its perfect answer to the Healthy China 2030 plan.
"Chiesi cares about community, environment, not only profit … So this is our culture," said Dalle Fusine.
At the same time, Chiesi lends a hand to the sustainable development of the local community. "We support children suffering heart disease and donate to schools for those with autism, and also we support poor communities across China to fight poverty in undeveloped areas."
Nusrat Marat from Australia was once an official with Australian Department of Education, but now he is a volunteer dedicated to Changning's public health.
Marat was an "excellent volunteer" in the Chengjiaqiao Community and a model foreign volunteer of the Jiangsu Road Community in the fight against COVID-19 before he was given the friendship award.
He has been in Changning for more than a decade. An old China hand, he encourages people with his voluntary service and patience, and in fluent Chinese.
But what makes him happy is integration into the local community. "We (foreign volunteers in Changning) are glad to be members of our community, even in tough times."
Marat chose to stay in the city and carried on his duty when the pandemic broke out.
Ye Chen, founder and chief executive officer of Huye Information Technology Co Ltd, has high praise for Changning's advantages in developing artificial intelligence since the district unveiled its ambition to become a high ground of the cutting-edge business.
"A highly developed downtown district of Shanghai, Changning is where talented people flock, together with its industrial resources and cultural influence," Chen said.
"An internationalized community, the atmosphere of inclusion as well as well-performed traditional industries make Changning one of the best scenarios of artificial intelligence."
For his contribution to the business, which is key to Changning's future development, Chen received the award.
Science and technology is a primary productive force and Professor Aidong Qu has a deep understanding of this. Qu led an innovative therapeutic antibody drug research and development team and trained a large number of innovative local young talent.
She has presided over the research and development of more than 20 therapeutic monoclonal antibodies, and three drugs have entered phase III clinical trials. She was honored with the award for her outstanding performance.
Ti Gong
Juliette Ann MacDonald initiated cooperation between Donghua and Edinburgh universities and has introduced advanced international teaching concepts and resources to Shanghai, deepening the exchange of education policies and ideas between China and Britain.
MacDonald played her part in the Belt and Road Initiative. Through her efforts, the University of Edinburgh joined the Belt and Road World Textile University Alliance advocated by Donghua University. She was given the award as an envoy for education.
Bilateral trade is another way to enhance friendship. Okayama Hiroshi established Nissei (Shanghai) Trading Co in 2008. In 2017, it was renamed Nissei (China) Investment Co. The Changning-based ice-cream producer and its head have supported China unconditionally in major events and during the COVID-19 outbreak.
To offer an exchange platform for high-level foreign professionals, Hongqiao Friendship Alliance has been established. The alliance comprises recipients of the Hongqiao Friendship Award, recipients of the Shanghai Magnolia Award and other outstanding foreigners with great influence who have made remarkable contributions to Shanghai and Changning District.
Each member serves two years. The alliance is under the guidance of the Changning District Joint Meeting on Honorary Titles for Foreign Citizens. The secretariat is the Foreign Affairs Office of Changning District.
The alliance will organize one or two dialogues, meetings or activities every year, enhancing mutual understanding, encouraging outstanding foreigners to share experience and valuable insights for Changning District to build an international district of refinement.

Ti Gong
Source: SHINE Editor: Su Yanxian Special Reports