Czech hi-tech company growing strong in China
20:09 UTC+8, 2018-09-05
0
A director of a Czech company is impressed by Shanghai's business atmosphere and riverside walks.
20:09 UTC+8, 2018-09-05
0
Seven years ago when Milan Hauser came to Shanghai as a director of the TESCAN company, he didn't expect he would stay long and come to call the city his "second home."
"The market (in China) is big and growing fast every year. We realized that the Chinese market had become more and more important, so local distributors were not enough," said Hauser, director of TESCAN China's commercial department.
The Czech company, established in 1991, is a global supplier of scientific instruments and laboratory equipment and focused on research, development and manufacturing.
By 2009, when TESCAN opened its China branch with headquarters and a laboratory in Shanghai, the company had already been involved in the Chinese market by selling products through local distributors. Hauser was appointed to the Shanghai office in 2012.
TESCAN's first microscope in China was sold to Tsinghua University in 2003. It also co-founded up to 10 joint laboratories with prestigious universities, including Shanghai Jiao Tong University, Wuhan University, Lanzhou University and Northwestern Polytechnical University.
The company's products are now sold to around 500 Chinese users, with more than 50 of them in Shanghai. That's a 40 percent increase since the China branch was set up, according to Hauser.
"After nine years of development, China has become TESCAN's biggest market, taking up 30 percent of its total global market share," he added.

Sales of electron microscopes in 2014 was about 40 units; last year it reached more than 100. "The Chinese market became the most important in 2017, taking up 30 percent of our total revenue," Hauser said.
Ti Gong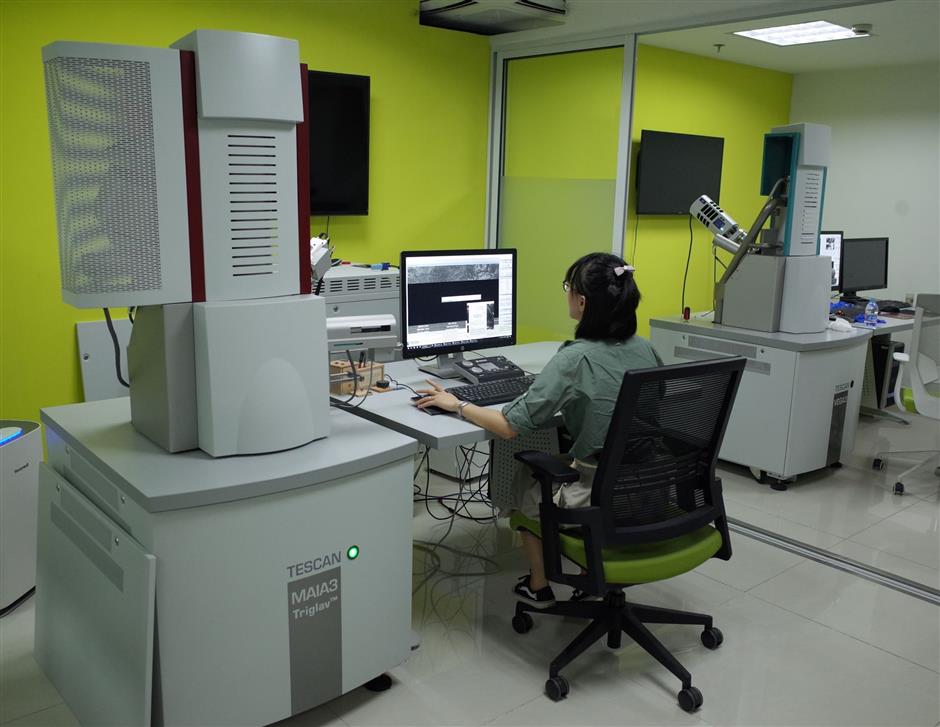 Ti Gong
The progress the Chinese government has been making in the field of high technology and research in recent years, he said, also provides a friendly investment environment for companies such as his.

"From the central government to regional governments, they all hope to attract investment with better quality — high-end products and high-end values," Hauser said. "The friendly business environment and preferential policies make running a company here easy."
Chinese government is encouraging overseas investment and the setting up of research and development facilities with preferential policies that include lower taxes.
Hauser said he appreciated Chinese government's establishment of two investment funds to promote the development of semiconductor industry — the National Integrated Circuits Industry Investment Fund (138.7 billion yuan/US$20.3 billion since 2014) and the Shanghai Integrated Circuits Industry Investment Fund (50 billion yuan since 2017).
The two funds target at companies in semiconductor manufacturing, chip design, chip testing and assembly industries in order to develop advanced technology for chip manufacturing, some of which are TESCAN's customers and potential customers.
"Their progresses will greatly benefit and bring big profits to TESCAN," Hauser said. "The strategy of the Chinese government is heading the same direction with our development in high technology."
Besides semiconductor, automotive industry, universities and research institutes are also benefiting. "One of our important customers will be the Palace Museum's Relics Hospital," he added. "The instrument has not been done yet."
The Czech company in China goes far beyond selling products to local customers. It also does various studies and researches, especially in collaboration with local academic institutes.

"Cooperation with local universities is very important to us, because they have a lot of research projects and laboratories," said Hauser.
Shanghai University is the biggest joint-lab of TESCAN China in Shanghai, and the Material and Science School of Shanghai Jiao Tong University has connections with the company for study and research.
"TESCAN also provides our own laboratory for students to use the latest products for study, as well as holds training for them," Hauser said.
After-sale service stations have been set up for clients in Shanghai, Beijing, Guangzhou, Chongqing, Nanjing, Wuhan, Xi'an, Wuxi and Suzhou.
"We hope our products and services can extend to every corner of China," said Hauser.
The current TESCAN China team consists of 48 Chinese employees, more than 20 of them in the Shanghai office.
"Cooperating with Chinese colleagues is pleasant. We communicate in both English and Chinese. They are not only co-workers but my friends as well," said Hauser.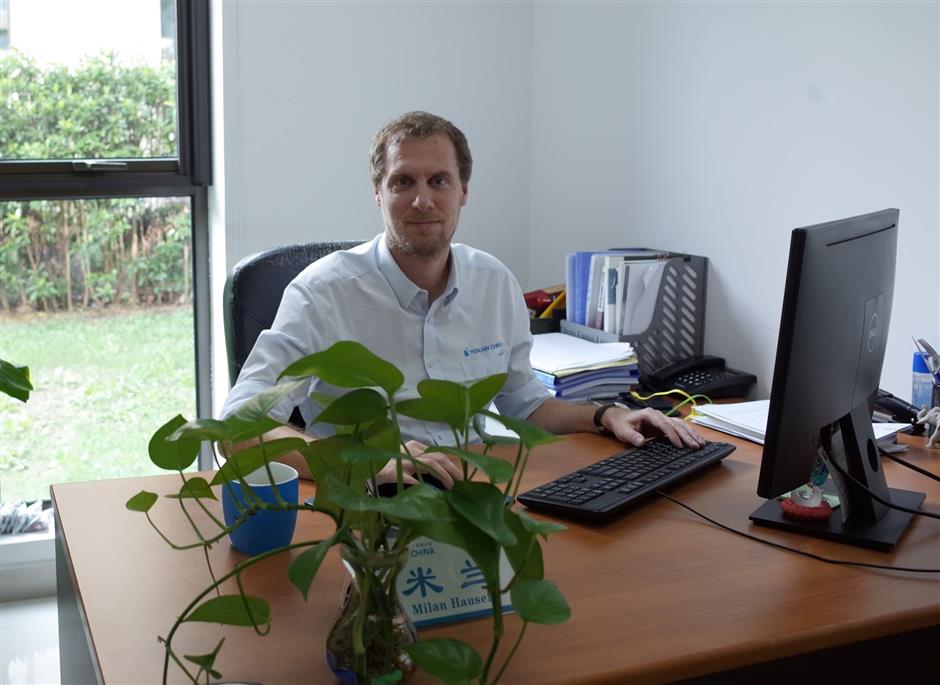 Ti Gong
Before he started working at TESCAN China, Hauser spent four years in Wuhan, capital of Hubei Province.

He regards China as his "second home," especially the city of Shanghai.
"Life here is very convenient. People all around the world come to this city," he said. "Transport in Shanghai is good and friendly to expats, even though this is such a big and bustling place."
Living close to Shanghai Stadium in Xuhui District, Hauser said one of his favorite pastimes is walking along the riverside of the West Bund, with his girlfriend, a fellow Czech who is studying in Shanghai.
Several contemporary museums at the West Bund are among his favorite haunts.
"Chinese calligraphy and paintings are appealing to me," he said. "I also enjoy Chinese tea."
Since Hauser's first visit to Shanghai in 2006 as a tourist, the city has changed tremendously from the days when Jin Mao Tower was then the tallest building.
"This city is changing and growing every day, the same to people who are living here," Hauser said.
Source: SHINE Editor: Liu Qi Special Reports