Local firms learning how to survive from pandemic
13:17 UTC+8, 2020-05-14
0
The COVID-19 outbreak has posed great challenges for business. Three companies in the district explain how they are managing to survive. 
13:17 UTC+8, 2020-05-14
0
The sudden outbreak of COVID-19, severe and destructive, is testing a region's business environment. The battle of companies return to work is also a touchstone to reveal how well a region's business environment has formed. Here are the stories of how three companies in Songjiang performed as they resumed production.
Animation company changes its focus
Left Pocket Studio, an animation company based in Songjiang, has shifted its focus toward short videos, a sector consuming less lead time, while cooperating with a face mask manufacturer in producing children's face masks with Left Pocket's cartoon figures.
Since its establishment in 2012, the company has achieved fruitful results at home by creating original animation series including "Mini Mind Warriors" and "Emmy GooRoo."
Its overseas distribution of content covers countries and regions including Finland, Argentina, the Netherlands, the Middle East and North Africa. "Emmy GooRoo" won the 2014 MIP Junior International Pitch top award in France. It was Asia's first original animation work to win the prize.
"Our company is called Left Pocket, because the left pocket of a jacket is the nearest place to one's heart, suggesting our company will whole-heartedly produce the most sincere work for our viewers," said Yu Xin, the studio's CEO.
The sudden COVID-19 outbreak, however, plunged the company, like many other small and medium-sized companies, into crisis.
Employees couldn't resume work fully, financial problems loomed and overseas business came to a halt.
"The spring TV trade fair of MIPTV 2020 has been canceled, and we don't know if this year's Annecy International Animated Film Festival in June will be held as scheduled. All the important international trade platforms in the first half of this year are at a standstill," said Yu.
In March a special fund to relieve the cash flow problems of Songjiang's film companies also benefited Left Pocket.
City and district-level policies, including postponing paying housing provident fund for employees, also won time for a turnaround for the company.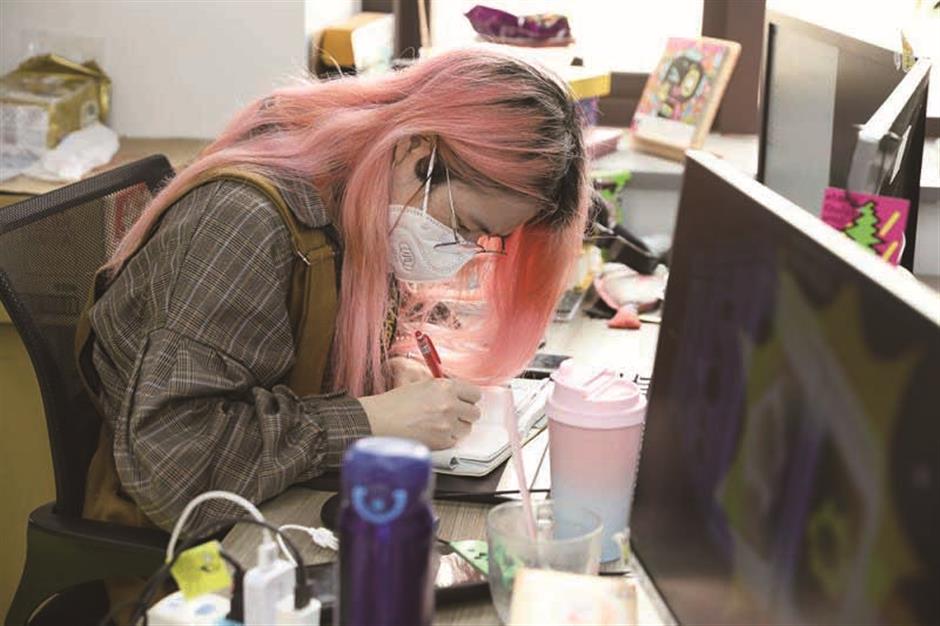 Ti Gong
Ti Gong
Ti Gong
Left Pocket Studio is also making efforts to rescue itself.
The company halted production of anything that required a long lead time and had a slow market return, and instead started to run projects with short product circle.
"A large number of children are staying at home and receiving e-learning, so a huge market of online education is formed. The current popular short videos consume less lead time and a business opportunity is revealed in spite of the COVID-19 pandemic," said Yu.
In February, Left Pocket Studio held an online conference with its stay-at-home employees and brainstormed a plan for an "Emmy GooRoo Mini Nature Classroom" short video series.
The TV series, three minutes per episode, portrays the company's classic Emmy and GooRoo characters as popular science teachers guiding child viewers to appreciate nature's wonders including bees dancing and penguins living in the South Pole.
"It took us just over a month to develop, produce and distribute the cartoon series, whereas our former animation works often needed a development circle of at least one or two years," said Yu.
"To create a short video of several minutes is only an adjustment of production tools and forms, but the creation measure remains the same for us. And such an adjustment has helped us out from our dilemma," Yu said.
So far the popular science animation has been launched on Youku's children's channel and its production team is seeking feedback from kindergarten teachers, parents and the broadcasting platform to improve the quality of future products.
The company is also cooperating with a high-tech company by authorizing its "Mini Mind Warriors" for use in the latter's production of children's face masks. The face masks are undergoing sampling and testing now.
To pay tribute to medical staff, community workers and volunteers who battled the COVID-19 virus and to pass on pandemic control and prevention knowledge, the company also made a large number of public-welfare posters, manga and animation short videos.
Diversification thaws out a frozen business
Classic Shanghai-flavor food, including meat-stuffed mooncakes, wonton with minced shepherd's purse and meat fillings, sesame biscuits and barbecued pork pastry, is representative product of Shanghai Haisu Food Co in Songjiang District. The company could have enjoyed a huge sales over the Chinese Lunar New Year holiday, but the COVID-19 pandemic reduced its business to almost freezing point.
Airlines using Haisu's quick frozen food as in-flight meals and star hotels serving Haisu's traditional Shanghai-flavor food suffered as routes were shut down or customer numbers declined. Haisu's order declined sharply, and its supply chain companies in Shanghai were out of stock to different extents.
"All the former supply chain companies of Haisu's are based in Shanghai. Impacted by the pandemic, however, Haisu is trying to form a more diversified supply chain to ensure its production," said Cao Zhehui, Haisu's deputy general manager.
Songjiang's vision of G60 High-tech Corridor development, a blueprint encouraging integrated development of nine cities in the Yangtze River Delta region, paves the way for the company's supply channel expansion, and also invites companies in the delta to join the rapid development of Shanghai's economy.
"The city, district and township governments' favorable policies and support also rebooted the company's confidence. The policy of postponing paying social insurance alone has relieved our financial burden greatly," said Cao.
The company also realized that customers' demand existed in spite of the pandemic and it is only the consumption scenario that has changed.
Therefore, Haisu Food positively sought a transformation and embraced a burgeoning online market.
So far all of the company's dim sum products are available on Youcai, an online-to-offline food supplying platform affiliated to food delivery service company Ele.me. Haisu Food is also negotiating with other food supply platforms including Fresh Hippo and Dingdong in order to launch sales channels.
Cai Bin / Ti Gong
The company is also trying out livestream and adjusting its operation to an online market by developing new products and cooperating with cold chain logistics companies.
By mid-April, 80 percent of its workforce had resumed work and production capacity had recovered to 80 percent of its normal level.
"Online demand keeps rising and our offline service is also recovering. I believe the company will turn better when the pandemic ends," said Cao.
Founded in April 2016, Haisu Food's main products include quick frozen food and ingredients. The company has been supplying traditional Shanghai-flavor food to Hongqiao and Pudong airports' routes and to five-star hotels such as the Marriott. It has its own brick-and-mortar restaurants and is also cooperating with renowned Shanghai food groups including Xinghualou, Laodafang and Hongruixing. It had also supplied food to the news center during the first and second China International Import Expo in Shanghai in 2018 and 2019.
Global breakthrough for adhesives producer
The COVID-19 crisis, however destructive, offered a breakthrough for Shanghai Huitian New Material Co, an adhesives and new material research, development and production company based in Songjiang, to expand its global business.
"The high-end global adhesives market used to be dominated by European, American and Japanese enterprises. Affected by the pandemic, our foreign competitors failed to meet market demand. So we grasped the opportunity and became some of our customers' first choice," said Zhang Feng, the company's CEO.
Founded more than 40 years ago, Huitian New Material is a leading company in China's industrial adhesives industry.
Its products, amounting to thousands of varieties, are used in aerospace, motor industry, medicinal foods packaging, information appliances manufacturing and new energies.
The company's adhesives were used in the construction of the Huoshenshan and Leishenshan hospitals when COVID-19 struck the central Chinese city of Wuhan.
"The makeshift hospitals are modular prefabricated constructions. The adhesives used to adhere the hospitals' prefabricated houses to other materials were provided by Huitian New Material," said Zhang.
When the plan to build the makeshift hospitals became known on January 25, Huitian New Material contacted the construction team and promised to donate all the adhesives that were needed to build the hospitals.
The company also established a support team to ensure the successful production and delivery of the adhesives.
On January 30, 10 tons of adhesives worth 1 million yuan (US$142,857) were donated to the hospitals and technicians from the company were also sent to the construction site to offer guidance.
Cai Bin / Ti Gong
Cai Bin / Ti Gong
While assisting hospital construction in Wuhan, the company's own production continued.
"A tough time tests a company's production capability. Those who keep providing high-quality products timely stand out from the competition," said Zhang.
Maintaining stable production during the pandemic, however, was not an easy task and the greatest challenge lay in a low job resumption rate.
"At the beginning fewer than 30 workers returned to their positions and one worker had to do a workload six times that of normal. The managerial staff also joined the frontline production work to ensure the stable operation of the production line," said Zhang.
By mid-March all employees had resumed work.
Services to clients have also been carried out meticulously.
When informed that some of its clients had a shortage of pandemic prevention materials, the company immediately purchased face masks and instant thermometers and mailed them to its clients.
With the virus spreading overseas, high-end clients began to place orders with Huitian New Material as the company's international competitors were suffering.
Recently, the company received 500 million yuan to be used for research, development and production of goods in 5G telecommunication, consumer electronics, new energy vehicles, high-speed rail and aerospace.
Source: SHINE Editor: Chen Xingjie Special Reports