Sorting trash only one factor in waste-disposal equation
11:43 UTC+8, 2019-06-25
0
Shanghai is encouraging residents to sort their garbage, with new regulations that will impose fines for those who don't separate garbage properly. 
11:43 UTC+8, 2019-06-25
0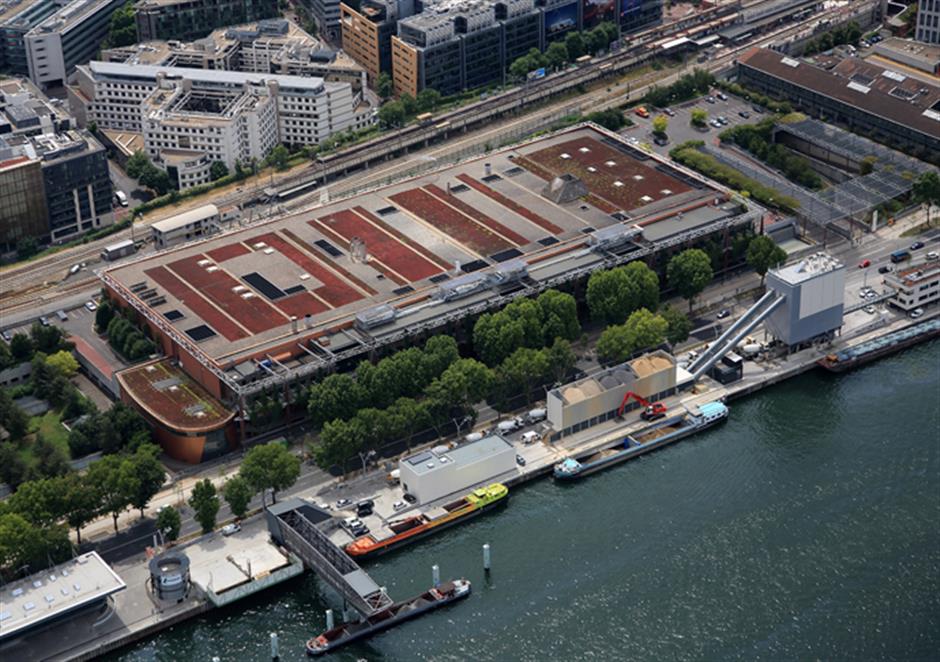 Shanghai is encouraging residents to sort their garbage, with new regulations coming into effect on July 1 that will impose fines for those who don't separate dry rubbish, wet trash, hazardous waste and recyclable materials.
But that's just the front end of the problem of mounting garbage in Chinese cities. The focus is shifting to new technologies that convert garbage to productive uses and thus divert it from landfills that are rapidly filling up.
One concept already implemented in some cities of Europe is catching attention: using downtown incinerators to burn trash and create energy. The mere thought of an incineration plant in a neighborhood might imply backlash from NIMBYs, or "not in my backyard" folks, but Paris got around that problem.
The Isséane incineration plant, about two kilometers from the Eiffel Tower, converts garbage into energy used to supply electricity to homes.
The plant, built in 2007, is 52 meters high, but only 21 meters of the facility is visible. The rest of the operations are below ground and out of sight. Above, the area is landscaped to mitigate any remaining unsightliness. In other words, the incineration plant is not a neighborhood eyesore or pollutant.
Advance gas treatment technology used at the plant means there is no plume from the stack of the incinerator. Half of the energy generated from burning garbage provides electricity for about 80,000 households in Paris.
Paris aside, waste incineration plants are popping up in other densely populated centers in Europe. That means garbage does not need to be trucked to remote suburbs.
"The European model is suitable for China," said Mike Wood, vice president of new business development at the Soda Ash and Derivatives Business Unit of Solvay China. "A waste incinerator plant can be located downtown. It can be used for heating or generating power. Beijing and Shanghai are great places to deploy such a model because of their high energy needs."
Wang Yan, business development manager at the division of Solvay China, said the technology of "dry sorbent injection," which keeps emissions from waste incineration plants within strict standards, was introduced into China about four years ago. However, it has been mainly applied in power, chemical and metals plants.
Over 100 plants in China use the technology to reduce gas emissions and meet the stringent standards of Chinese regulations, including Ansteel.
"Beginning this year, we are focusing on gas treatment in garbage incineration because the need for incineration plants is growing as the Chinese government tackles the waste problem," Wang said.
"We will first focus on dangerous waste because emissions from hazardous waste are more difficult to control," she added. "Treating domestic waste will be our second phase of work. We are supplying materials for waste incineration to China Everbright International Co. by testing the gas and running plant trials. We are confident the technology will prove advantageous."
Solvay China is also planning to work with the Shanghai Municipal Bureau of Ecology and Environment, which is in charge of most of waste incineration in Shanghai.
"The trend of garbage treatment will be 'classification, recycling and reuse,'" said Wood, who has experience with the European programs. "Waste incineration should never be just waste incineration; it should be energy generation because it's an ongoing source of energy."
Waste is indeed a vexing public problem. In 2018, the total volume of domestic garbage in Shanghai hit 9.8 million tons. Capacity to handle the waste is being enhanced by the construction of more facilities.
However, the disposal of hazardous waste – which includes items like batteries and paints -- is much more acute. In 2018, the city's industrial hazardous waste rose to 1.3 million tons.
As of the end of 2018, there were 10 hazardous waste disposal facilities in Shanghai, including three waste landfills, one incineration facility for medical waste and seven hazardous waste incinerators.
Total disposal capacity was 391,800 tons a year, with 126,200 tons buried and 265,600 tons incinerated.
In tandem with the Chinese government's intensified efforts to address increasing mountains of rubbish, many companies are providing innovative products to help the campaign along.
Some artificial intelligence and chip companies in China have introduced face recognition products to detect those who violate sorting regulations and to help instill good habits among residents.
China Telecom has developed a smart garbage classification and recycling system that automatically identifies categories of garbage and can calculate its value.
Some companies are selling household items that make sorting easier. Blum, an Austrian hardware company, developed a drawer installed under kitchen sinks that collects kitchen waste.
Source: SHINE Editor: Wang Yanlin Special Reports