Creating a 'new heaven on Earth'
23:42 UTC+8, 2019-11-04
0
Suzhou's new Party Secretary Lan Shaomin did an autopsy of Suzhou's economy with figures and anecdotes, laying out his vision in an exclusive interview with Shanghai Daily.
23:42 UTC+8, 2019-11-04
0
Forty some days into his job, Suzhou's new Party Secretary Lan Shaomin has his numbers down pat and his ambitions set high.
Sitting with an old enamel mug once popular among factory workers and using no notes, Lan did an autopsy of Suzhou's economy with figures and anecdotes, laying out his vision for the city in an exclusive interview with Shanghai Daily.
It's a vision that begins with a "new start through further opening up the economy." It's a vision of creating a "new heaven on Earth." It's a vision of taking seriously the concerns of investors and foreign partners, of building an even better business environment, and of innovation through technology.
"Suzhou and Hangzhou have always been known as heavens on Earth, for their beautiful scenery since ancient times," Lan explained. "What is a heaven on Earth in the contemporary era? We add the elements of elegance and contentment."
He added, "Elegance lies not only in the ancient beauty of the city, but also in its cultural heritage and excellent ecosystem. Contentment is putting people first. We will continue with development that allows local people to share in its benefits and thus be happier."
To turn this vision into reality, Lan said "further opening-up is the only option."
Indeed, Suzhou has benefited greatly since China initiated its ongoing reform and opening-up policy in 1978.
History is an inspiration.
"China actually took its first initiatives to open up when Zheng He (1371-1435) commanded adventurous voyages," said Lan. "He departed from Liuhe River in Taicang, Suzhou. Opening-up has always been in the city's genes. Suzhou has also been a top achiever in implementing the reform and opening-up policy, a major factor behind its miraculously rapid development."
He rattled figures off the top of his head. "With a GDP of 1.86 trillion yuan (US$270.68 billion) in 2018, we rank seventh among all Chinese cities," he said. "Our trade volume is fourth and our industrial size ranks third. If Suzhou were a country, its GDP would be ranked 42nd in the world and 36th in terms of per capita GDP."
One of the city's crowning achievements is Suzhou Industrial Park, a modern industrial township built with Singapore experience beginning in 1992. The park was a pioneer in adopting many reforms, with other Chinese cities following suit. Among its trailblazing reforms was one-stop services for foreign companies, a system that has since become quite common.
Countless pilot programs have been spearheaded in the park. Its ideal investment and business environment has attracted hundreds of foreign companies.
More than 40,000 expatriates now reside in the city — or, if you count those on short-term contracts, the number rises to 60,000.
Ma Xuefeng / SHINE
Other distinctive industrial zones have also been built all around the city, each with a unique appeal and specialty. The latest is the China (Jiangsu) Pilot Free Trade Zone, authorized by the State Council, China's Cabinet, this summer. More than half of the zone will include Suzhou.
Lan, 54, is also a vice governor of Jiangsu Province. He brings 18 years of experience in local government and planning to his new role.
He was born in a small county in Nantong, which is close to Suzhou. He has served in leadership roles in the cities of Nantong, Suqian and Taizhou, and was mayor of Nanjing prior to his appointment as Party chief of Suzhou in September.
Since his arrival, Lan has conducted in-depth research in 10 major areas in the city, pondering the best ways to turn the wheels of this development behemoth at the cusp of another transformation.
The past is a source of pride to Suzhou. Its future is a challenge.
"To work in Suzhou is both an honorable mission and a huge responsibility," he said in his inaugural speech.
"The city is at a crucial moment with vast opportunities of development and equal amount of challenges," he told Shanghai Daily. "It has both advantages and weaknesses, hence, potential for new drivers of growth and the pains of transformation."
He said what are considered top achievements by other cities are just normal operating procedure in Suzhou.
At a recent municipal meeting to discuss urban planning leading up to 2035, Lan listed five systems needed to turn Suzhou into a metropolis matching its development potential, while at the same time safeguarding the city's environmental achievements.
His five-point plan is precise: a comprehensive traffic and transportation system; an innovation system to stimulate landmark industries; a system to guarantee the functions in a modern city; a communication system for cultural resources; and an ecosystem to ensure environmental sustainability.
He calls it "opening-up plus" ­— plus innovation, transformation, investment, environment and functionality.
He was happy to provide details of his vision.
Technology innovation is to be achieved by attracting top resources from all over the world and by integrating into the global innovation network.
The city's vast existing stock poses a big challenge for its further growth, which can't be solved simply by cutting existing stock, he said. It demands greater, stronger and better-quality additional stock, which requires an innovative transformation through integration with global industries and added-value chains.
Foreign investment has long been a key factor in opening-up. Lan said Suzhou must build on its past success of creating an attractive site for foreign investment. That achievement has served as a model for many Chinese cities.
He is determined to take investors' needs seriously and further upgrade government services to assist them. The city's facilities will be upgraded, he said.
"Despite the US-China trade friction and other matters in the world, China will always be attractive to foreign investors and partners," he said. "We are determined to build Suzhou into their top choice when thinking about China."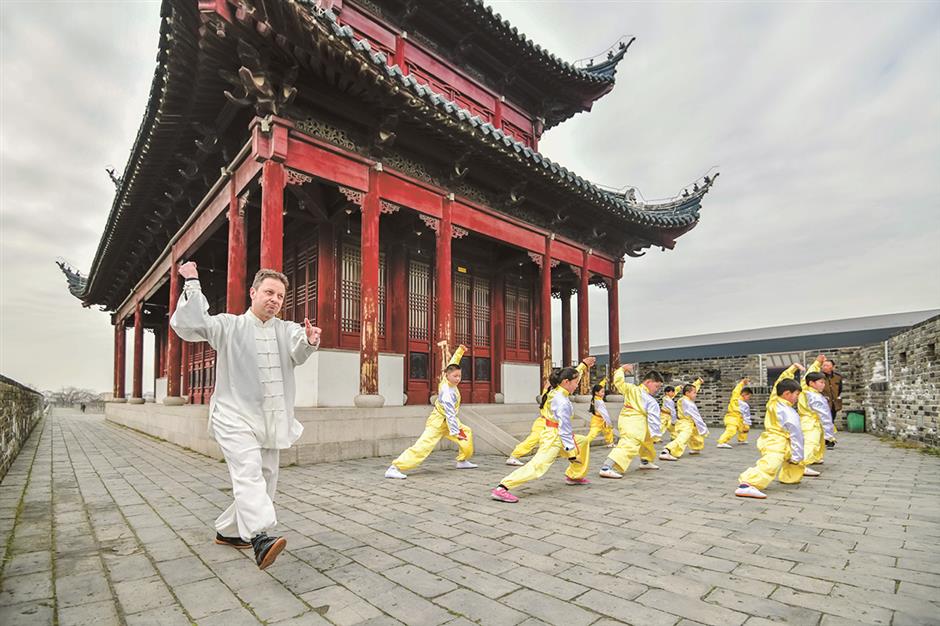 Source: SHINE Editor: Wang Xinzhou Special Reports