Lingang plans to become a hub of innovation
12:15 UTC+8, 2020-01-03
0
The Lingang Special Area is to become a new smart town of openness and innovation, intelligence and ecology, industry and city integration.
12:15 UTC+8, 2020-01-03
0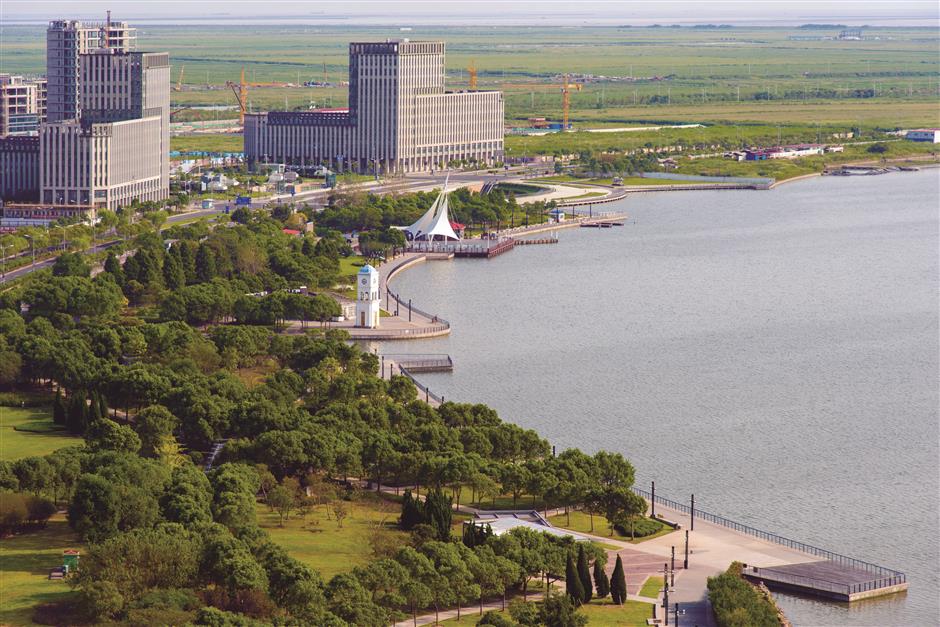 Ti Gong
The Lingang Special Area is to become a new smart town of openness and innovation, intelligence and ecology, industry and city integration — and a home with good working practice and living conditions.
The port town, part of the Shanghai free trade zone, will become an open and innovative hub for the allocation of global resources. It will establish an open institutional system, an exchange platform to attract first-class scientists, talent and institutions, and become a hub of cross-border, free flow of high-end resources.
Lingang plans to optimize its industrial belt and urban area, build a comprehensive transportation system with high density and wide coverage and promote the comprehensive and coordinated development of industry and urbanization.
The area is promoting a range of incentives, including streamlined permanent residency application and targeted housing assistance, to attract top global and domestic talent. It is part of efforts to achieve a goal of "freedom of personnel employment."
It is one of the "five freedoms" targeted in the special area, along with freedom of investment, freedom of trade, freedom of capital and freedom of transportation.
Lingang's 48 new incentives are a significant move to embrace global talent.
In addition to easier permanent residency — granted instantly for urgently needed professionals — and housing measures, recognition of professional qualifications will be streamlined, and talent will be encouraged to launch their own businesses.
Chinese professionals will be eligible to apply for permanent residency five years after they acquire a temporary residency permit, instead of the seven years needed in other parts of the city. The time for high-level talent in key industries and with the support of the Lingang Special Area Administrative Committee is shortened to three years.
Workers with special achievements, such as WorldSkills winners and Grand Skill Award of China recipients, will be granted permanent residency immediately.
One third of the new incentives are targeting specialists and industrial leaders in science and technology.
Other changes include granting more educational credits to university graduates hired by educational, medical and other public welfare institutions when applying for permanent residency.
Foreign talent can sit special vocational qualification exams, and licensed professionals will be able to open a business after simple record-filing.
Lingang is encouraging overseas students and talent to launch businesses and is supporting high-level foreign students to work for local enterprises after graduation.
As part of the special area's strategy for affordable and comfortable housing, single workers who are not Shanghai citizens but meet certain criteria will be able to buy an apartment, without having to be married and starting a family, as is required in other parts of Shanghai.
Lingang will provide more low-rent apartments. First-class talent will get high-end apartments and villas.
Ti Gong
Meanwhile, Lingang also unveiled its latest development blueprint, focusing on housing, science and finance.
In line with the master plan, three zones will be developed in stages to provide sustainable spaces for urban life, commerce, travel, leisure and sports, scientific and technological innovation and modern services industries.
About 5 square kilometers will be developed into a seaside community featuring high-quality life and retail outlets, leisure and tourism spaces.
Another 10 square kilometers will form a top scientists' community, a science and technology innovation community, a sci-tech headquarters area, an intelligent community and an international innovation cooperation zone.
At 20 square kilometers, the largest of the three zones will focus on overall planning, regional links, ecological livability and high-end agglomeration.
A future airport express station will be at the center of the area, which will take advantage of cross-border finance in Lingang to develop international cross-border trade, digital economy and other modern service industries.
"These areas will be a commercial and residential hub, and an international science and technology innovation collaborative community and modern service industry cluster," said Wu Jie, deputy director of the Lingang Special Area Administrative Committee.
"They are also key development areas in the main urban area of Lingang in the near future. The first stage of development is about 4.5 square kilometers.
"In line with the master plan, the gross domestic product of the 386-square-kilometer special area will reach 350 billion yuan (US$50 billion) by 2025, while the permanent population will reach 1 million. The average annual population growth will be 100,000," said Wu.
The three zones will eventually house most of the newcomers.
Several projects, including the extension of the S3 Expressway and an interchange on the S2 Haigang Highway, have started.
Construction of the airport express to connect Lingang with the Pudong International Airport with 15 minutes' ride will begin this year.
The Lingang New Area Economic Development Co, a subsidiary of the state-owned Lingang Group and a major developer of the special area, mapped out a blueprint to create a special economic functional zone with more international influence and competitiveness on the one hand and an open and innovative, intelligent and ecological town with the integration of industry and urban life on the other.
Lingang will become an Asia-Pacific cross-border capital service center and an offshore settlement center for multinational enterprises amid the further opening-up in the financial sector, the company said.
It will also play a role as a cluster of new offshore trading headquarters thanks to the customized cross-border free trade policy.
The core area of an open zone of modern services will consist of a bay area, where the Asia-Pacific headquarters of financial companies, trade firms, medical institutions, shipping and insurance companies gather, a 1-square-kilometer central business district featuring office buildings, R&D centers, incubators and investment banks, and an offshore international trade community where duty-free shopping, exhibitions and auction services are available.
Ti Gong
Source: SHINE Editor: Su Yanxian Special Reports