New guidelines for development of Hongqiao CBD
14:56 UTC+8, 2020-03-09
0
The plan is to develop Hongqiao into an international urban space as well as an open hub with better ecology that can better lead regional integrated development.
14:56 UTC+8, 2020-03-09
0
Shanghai's new guidelines for the development of Hongqiao Central Business District have further standardized the planning and construction of the downtown Hongqiao area.
The guidelines put forward the goals, strategies and key points of planning, construction and management of the area under five core concepts, namely, creativity, coordination, environment friendliness, openness and sharing.
The aim is to develop Hongqiao into an international urban area as well as an open hub with improved ecological environment that can lead to higher-quality integrated development of the Yangtze River Delta region.
Eight highlights of the guidelines:
1. Laying greater emphasis on setting high goals and learning from the best

The Hongqiao CBD should thoroughly analyze and learn from cases and advanced experience from home and abroad, aiming for the world's highest standards, to enhance the overall quality of the area and highlight its low-carbon and intelligent features.
2. More stress on overall planning and coordination for mutual benefit
The coordinated development of all sections in the Hongqiao CBD and the expansion area surrounding it will be promoted.
Taking into account the development goals and actual conditions of the four districts of Minhang, Changning, Qingpu and Jiading, the guidelines put forward more overall and coordinative regional planning as well as management standards for construction and operation.
3. Establishing an international urban area with balanced integration of commercial and living areas
In the downtown Hongqiao area, three tiers of centers will offer a complete range of high-quality supporting public services.
The area will exploit its underground space, launching businesses, doing research and development, and setting open spaces. Underpasses will be built to connect all underground areas.
It also aims to develop an international leading low-carbon urban area, and will fully achieve two-star or above green building standards, while large-scale commercial office buildings and landmark buildings will be established to meet the requirements of three-star standards to be among the best in the country.
The proportion of green building materials being used shall be higher than 40 percent; new residential apartments should be fully furnished before being delivered to buyers; large-scale public buildings will all apply BIM technology that uses a computer to create a digital model of a building.
4. Serving as an open hub that connects the world
The area will develop an international first-class transport hub, with various kinds of transportation being closely linked to shorten transfer distance.
Special passages for integrated security checks will be built.
There will also be clear, coherent and attractive traffic signs in multiple languages, which can improve the convenience of making transfers and enhance the ability of unclogging roads quickly.
Construction and design criteria for ground transportation will be set covering all aspects including the routes and stations, vehicle movement and facilities at stations.
In the Hongqiao CBD, people can always find at least one bus station within 500 meters, and can travel between any two sites in the area with at most one transfer.
The on-schedule rate of bus operation reaches over 95 percent, and the speed is at least 18 kilometers per hour which is higher than the average level of the whole city.
At the stations, bus stop signs will all be multilingual, and the status of buses will be displayed in real time.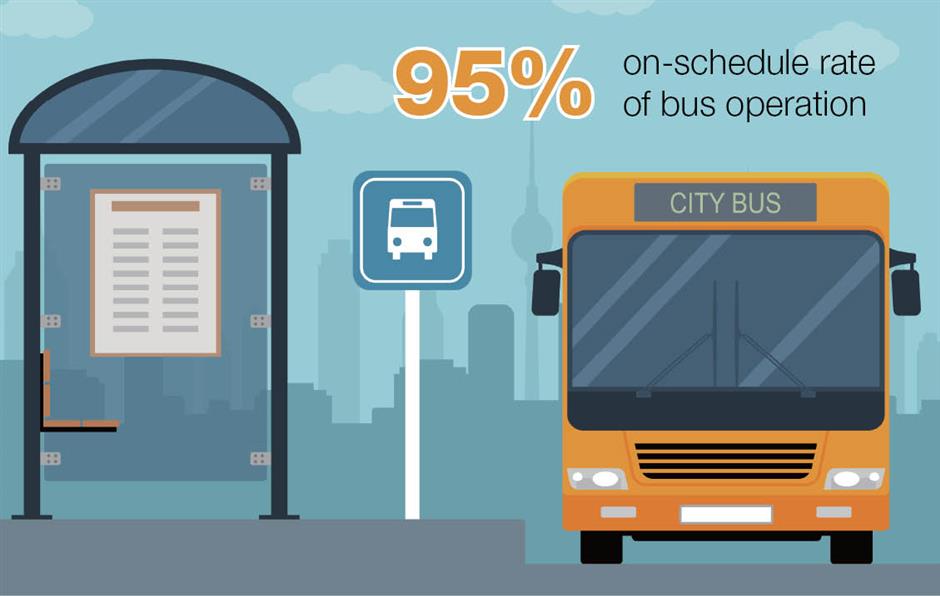 5. Creating a first-class ecological environment
The area aims at an Ecological Environment Index of at least 63; an Air Quality Index excellence rate of at least 82 percent; surface water quality reaching Grade IV water standards (the water quality of landscape river in the key areas meeting Grade III standards); the coverage rate of areas up to the environmental noise standard reaching 100 percent; and green space rate of key areas shall be higher than 36 percent.
Meanwhile, people can reach at least a 400-square-meter park or a square within five minutes' walk from any spot in the downtown Hongqiao area.
6. Provision of intensive and low-carbon municipal facilities
A monitoring and early warning system platform for water quality and quantity will be set up, and the leakage rate of the water supply network should be controlled below 8 percent.
Hongqiao advocates water conservation and utilization of rainwater resources. The utilization rate of rainwater resources in new and rebuilt urban areas shall be no less than 5 percent.
7. Building beautiful neighborhoods of high quality
In the sub center of main city located in Hongqiao area and the regional center regions, the density of road network shall reach 10 kilometers per square kilometer.
The Hongqiao CBD also encourages lower height buildings and smaller-scale neighborhoods.
8. Developing Hongqiao into a smart and connected area
The area aims to take the lead in building a new-generation information infrastructure framework that integrates "connectivity, hub, computing and perception," to build a number of smart infrastructure and key projects, and to achieve full coverage of 5G network.
Data in aspects including public security, transportation, environment protection, water-related affairs and meteorology, will be shared among relevant information resource departments in real time.
Source: SHINE Editor: Wang Yanlin Special Reports