Jiuqiao heading for cultural supremacy
14:13 UTC+8, 2019-07-01
0
Zhejiang government's blueprint for cultural industries in Hangzhou focuses on Jiuqiao.
14:13 UTC+8, 2019-07-01
0
Jiuqiao area might not be as well known as some economic belts in Hangzhou, but it has been attracting the attention of the public.

Recently, the local government laid the foundation stone for Fengshou Lake Park, a new chapter for Jiuqiao. The park is built on a natural drainage system and will become Jiuqiao's landscape center. The local government will spend 500 million yuan (US$70 million) on the 13-hectare park, to be completed in December.
Last year, the Zhejiang provincial government unveiled a blueprint for cultural industries in Hangzhou.
Jiuqiao is at the core of these development plans, which will expand it into a major center of creative industries and the heart of a belt that stretches across Jianggan and Yuhang districts supported with unparalleled fiscal, tax and land policies from both local and provincial governments.
Jiuqiao is at the meeting point of Qiantang River and the Grand Canal. It is centered on Qiantang Smart Town, a hub for intelligent manufacturing with quality subsidized apartments for workers.
The town is to spend 5 billion yuan on Jiuqiao Electronic Publishing Base, cooperating with leading publishers, such as Zhejiang Daily Press Group, Overseas Chinese International Group and Toutiao, to take the lead in China.
"We should make Jiuqiao into a center of electronic publishing. In return, Jiuqiao should be the growth engine of our cultural belt," said Lou Jianzhong, vice director of Jianggan District.
Also, a cross-border e-commerce industrial park in Jiuqiao will focus on logistics, finance and information sectors.
Jianggan District is sparing no effort to develop cultural and creative industries and plans to spend 139 million yuan on a museum about the Qiantang River. The building, designed into the shape of spiral wave, symbolizes tidal bores of the river. The outside surface resembles the seawall.
In ancient times, seawalls were built between Qiantang River and the city wall. Due to the spectacular tidal bores and special soil texture, Hangzhou's old seawalls were built on a mudflat. Emperor Qian Liu of the Wuyue Kingdom (AD 907-978) presided over the seawall construction.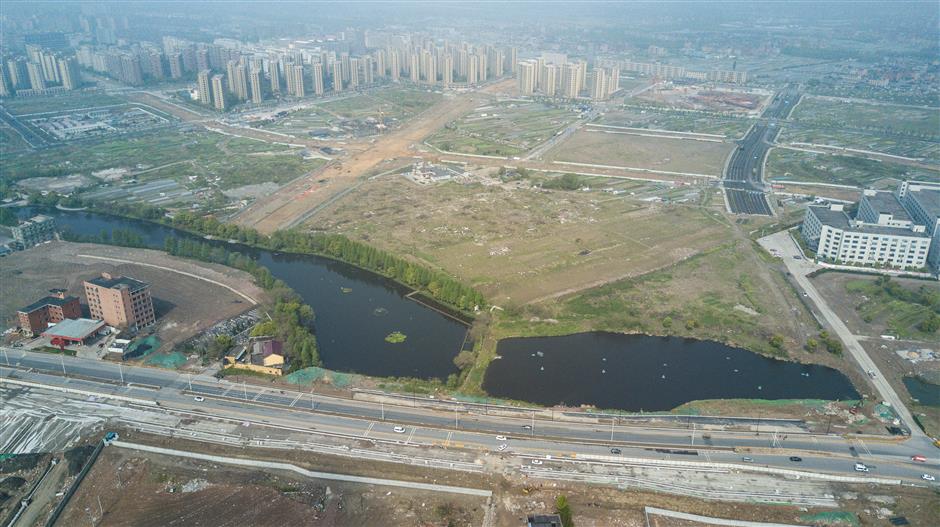 Visitors can learn the history of the river and get a great view of the city. Multi-media technology will be used to recreate the seawall.
"Qiangtang River distinguishes Jianggan District from its counterparts in Hangzhou. Last year, cultural and creative industries accounted for 25 percent of gross domestic product in the district," Lou said.
The annual Qiantang River Cultural Festival helped Jianggan District allure visitors and build a new calling card. Now, Jiuqiao is going to give a boost to this event.
Except for government investment, Jiuqiao also attracts e-commerce tycoon Alibaba Group. It recognized the potential of e-sports industry and will establish an industrial park with the aim of alluring game firms, professional e-sports event organizers and sporting firms, and forming a new mode to develop the industry.
E-sports has already penetrated the world of competitive video games, and the genre is building a large number of fans in China and even government officials are lauding its merits. It officially debuted at the Asian Games in Jakarta in August 2018, and there is talk that the sport could eventually win an Olympic Games' berth. The new park is hoped to develop Jiuqiao into an influential hub across the country.
Source: SHINE Editor: Su Yanxian Special Reports