IC design park driving innovation in technology
13:55 UTC+8, 2018-12-25
0
An integrated circuit design industrial park has been established in Zhangjiang, Pudong New Area as part of Shanghai's effort to boost China's microelectronic industry.
13:55 UTC+8, 2018-12-25
0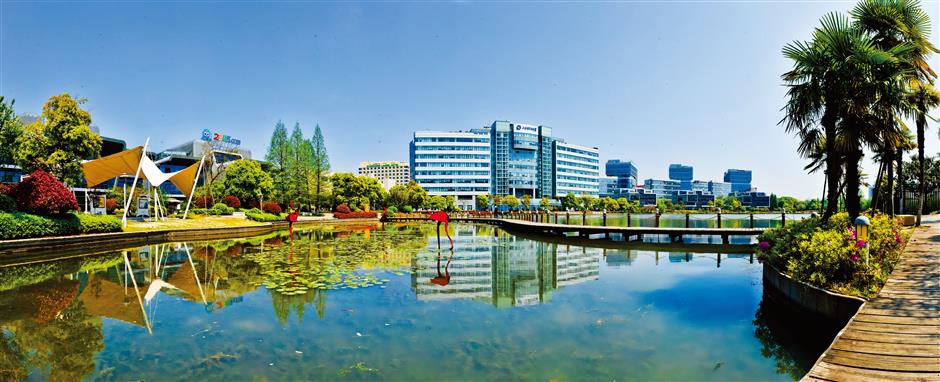 IC
An integrated circuit design industrial park has been established in Zhangjiang, Pudong New Area as part of Shanghai's effort to boost China's microelectronic industry.
Leading semiconductor developers and heavyweight IT giants, such as Tsinghua Unigroup, Shanghai Will Semiconductor, GigaDevice Semiconductor and Alibaba, have launched their businesses in the park.
IC plays a fundamental role of national economic development. IC design is at the forefront of the industry chain, which is the key link to lead industry development and promote industrial innovation.
The Shanghai Integrated Circuit Design Industrial Park, inaugurated last month, will bring together leading Chinese and overseas design companies, talented personnel and scientific research institutes on its 3 square kilometers of land.
It will feature the most advanced technology, products, innovative resources and well-developed supporting facilities for an integrated development of the city's IC industry, or an icon for "Made in Shanghai" strategy.
According to Shanghai Commission of Economy and Informatization, Shanghai had 239 IC design companies by the end of last year, 24 more than in 2016. Fifty of those reported more than 100 million yuan (US$14.5 million) of sales each last year, and eight with a sales revenue exceeding 1 billion yuan.
More than half of the IC design firms are based in Zhangjiang with their products ranging from mobile intelligent terminal chips, smartcard chips, sensors to power management chips and semiconductor memories.
After Shenzhen, Zhangjiang was second in China's top 10 IC design business awards last year. Unisoc, a subsidiary of Tsinghua Unigroup, ranked second on the list while Huada Semiconductor Co and GalaxyCore were fourth and ninth respectively.
According to Shanghai Integrated Circuit Industry Association, Pudong was home to 279 IC companies and 64,700 employees last year. Nearly 200 companies and around 46,000 employees were based in Zhangjiang, which has become a hub of the industry. The city will further support the construction of major projects in the IC industry, R&D, enterprise cultivation and professional personnel training and introduction.
Industry boost
IC
In 2017, Shanghai's IC industry reported 118.06 billion yuan of sales, a year-on-year increase of 12.2 percent. It is the fourth consecutive year of double-digit growth in the sales of the industry since 2014.
The Shanghai Integrated Circuit Industry Association believes that the structure of development has become more advanced and reasonable in recent years. It is more obvious that IC design plays a prominent role in the industrial chain.
IC design accounted for 37.1 percent in the entire industrial chain last year, compared to the 23.7 percent in 2011. The proportion of chip manufacturing remained around 20 percent.
IC design and chip manufacturing have replaced packaging and testing to play major roles in industry. In 2017, the total profit of Shanghai IC industry was about 8.79 billion yuan, 18 percent higher than that of 7.45 billion yuan in 2016.
Domestic equipment and advanced processing technologies have gradually replaced imported ones.
In IC manufacturing, Zhangjiang has a cluster of prestigious firms at home and abroad, such as Semiconductor Manufacturing International Corp, Hua Hong Semiconductor and Shanghai Huali Microelectronics Corp.
IC manufacturing is the backbone of the entire industry chain.
After years of development, the IC industry in Zhangjiang is constantly moving forward, and with key projects being accelerated. From design, manufacture, packaging and testing, to equipment and materials, every link in the industrial chain has been fully developed. It serves IC design firms in the upper stream and raw materials and equipment enterprises in the lower reaches.
Shanghai will take the advantage of IC manufacturing to drive coordination in industry and help to form a good ecology for further development.
Shanghai government has proposed to accelerate the layout of IC industry.
"For the development of IC industry, great efforts should be made to coordinate with the Yangtze River Delta area and accelerate the layout," said Chen Mingbo, director of Shanghai Commission of Economy and Informatization.
The IC industry in Zhangjiang ushers in a new height of development. The building of more iconic enterprises for the "Made in Shanghai" strategy will be accelerated to seize the commanding height of scientific and technological innovation, and make greater contributions to the overall situation of national development.
Source: SHINE Editor: Chen Xingjie Special Reports