Forum brimming with ideas
14:29 UTC+8, 2019-07-25
0
Initiated by Tsinghua University and Massachusetts Institute of Technology, FCIC aims to incubate promising startup projects that could benefit China's rapidly growing cities.
14:29 UTC+8, 2019-07-25
0
For college graduates who aspire to start a business in Hangzhou, the Future City Innovation Connector in Dinglan Smart Town is a good choice.

Initiated by Tsinghua University and Massachusetts Institute of Technology, FCIC aims to incubate promising startup projects that could benefit China's rapidly growing cities.
Every year, FCIC hosts the MIT-Tsinghua University Future Innovation Network Summit Forum to select innovators from the two universities, helping them launch pilot projects in China.
The event kicked off last week, attracting projects brimming with ideas at the cutting edge of technology.
Liu Zhiyong, who has a master's degree from Tsinghua University, has established ZhenRobotic, a robot company that aims to lower delivery costs and address concerns about a looming shortage of delivery men and women.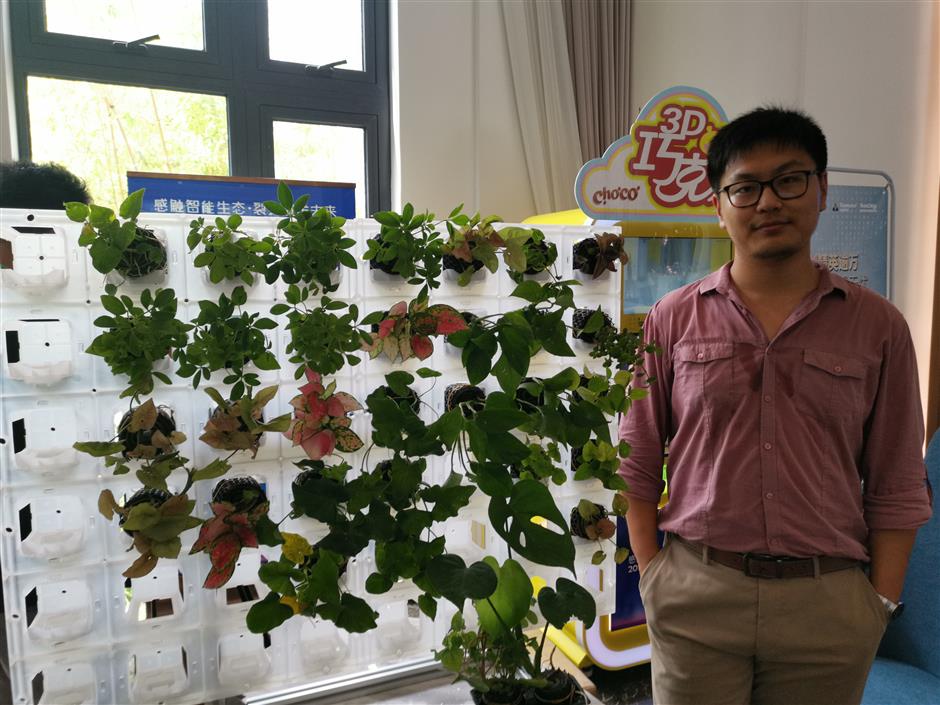 In 2018, more than 50 billion packages were delivered across the country, in a industry worth 100 billion yuan (US$14.5 billion).
However, one major obstacle to the industry's development is the so-called "last 1 kilometer" cost.
While an item can be moved from the manufacturer to a delivery hub relatively cheaply by rail or truck, the final delivery must be made by a person through the city. This "last 1 kilometer" cost is five times the previous 100 kilometers.
China's human resources are also declining with the population aging. "Youngsters between 20 and 25 years old only account for 15 percent of present-day deliverymen, and the ratio will definitely go down in the future. Therefore, artificial intelligence robots are an inevitable trend."
Liu's company has launched two types of street vehicle robots.
The larger ones are used to deliver packages from logistics hubs to customers, while the smaller ones mainly send food orders.
"The cost of manufacturing a robot equals eight months' salary for a deliveryman," he said.
"But the robot could be used for at least three years. Thus, express fees could be cut by 75 percent through unmanned robot express."
The robots are equipped with multi-sensor navigation and real-time monitoring systems that will figure out the best route for a delivery. Upon arrival, it calls the customer.
Cooperative opportunities
Hangzhou is the center of China's logistics industry. Its subordinated Tonglu County cradles China's biggest private express delivery companies, which earns half of the country's express delivery revenue.

"We are looking for cooperative opportunities with local Hangzhou companies through the summit forum," Liu said.
"A pilot spot is also going to be set up by December. In the future, I hope to carve out overseas market under cooperation with government and Hangzhou enterprises."
In addition to Liu, another graduate from Tsinghua University, Zhou Tianyu, is also seeking opportunities and investment in Hangzhou. Zhou, who has a master's degree in polymer materials, brought his vertical greenery product to the forum.
"The population in urban areas is expanding and green space is shrinking," Zhou said. "Vertical greenery could take advantage of walls and other narrow space to increase vegetation areas."
The system uses polymer materials to cultivate plants.
The sponge-like materials can adjust the proportion of water and air, providing a stable environment, preventing overwatering and enhancing survival rate of plants.
"Our products could help governments lower maintenance costs," Zhou said. "In the future, the technology could also be applied in agriculture."
Another project related to greenery is AgroBeads from the MIT. Axel Garcia and Gao Shang are co-founders of the company.
Garcia has more than eight years' experience in research development at National Aeronautics and Space Administration centers and the private space industry. Gao has eight years' experience in agriculture supply chain.
Their company uses space technologies to solve global issues in agriculture
Their products are biodegradable spheres that slowly release water and nutrients to plants throughout their entire growth circle. The project has been running in the United States for one year and has received 5,000 orders.
"One-third of the world's population lives in dry areas," Gao said. "About 60 percent of fresh water is used for irrigation, but only 25 to 80 percent of it can be absorbed by plants. Our products could improve growth performance of crops while making agriculture more sustainable."
Now, the company is searching for opportunities from the Hangzhou government and agricultural enterprises.
"This agrotechnology could be used in Hangzhou's tea plantations and traditional Chinese medical herbs cultivation," Gao said. "We will adjust our products to fit the Chinese environment and agriculture."
Source: SHINE Editor: Su Yanxian Special Reports