Cub reporters, light bulbs, tomatoes and new media
17:42 UTC+8, 2018-08-29
0
In the spirit of a better life and focusing on the worldwide issues, groups of young reporters, organized by Shanghai Daily, have a rewarding summer holiday in Shanghai. 
17:42 UTC+8, 2018-08-29
0
In the spirit of a better life and focusing on the worldwide issues, groups of young reporters, organized by Shanghai Daily, have a rewarding summer holiday in Shanghai.
The young reporters were divided into two different tours. One went to General Motors China Campus and Cadillac plant in July. The second learned basic knowledge of journalism at Shanghai Daily in August, and also had a high-tech journey to the Signify. The joy of doing the experiment with their friends, the excitement of finding the answers by themselves, the amazement of seeing scenes in the car factory and the practical knowledge learned from journalism are all unforgettable experiences for these young reporters.
Car factories tour
Starting with a video on how future cars may work, the professional car engineer raised a question — what kind of car do youngsters' parents own now, is it a hybrid or something else — for the young reporters to answer. A lot of young reporters quickly raised their hands to answer, and told the advantages and disadvantages of their parents' cars.

"They have a wide range of knowledge," one professional engineer later recalled. The lecture, which was divided into three parts, went on, letting the youngsters learn the history of batteries, different kinds of batteries and how the batteries in a car work together.
"What I find most fascinating is the electric machinery," Wei Zhicheng, one of the young reporters, answered with a smile. "I think the experts gave good lectures. They tear down the terminologies of real mechanisms and convert them into simple and vivid words that we can clearly understand."
Very soon, the reporters were asked to do an experiment together. They were required to make the LED shine only using wires, six cherry tomatoes and positive and negative posts. Plugging both positive post and a negative terminal into the tomatoes and created a circuit, the LED indeed gave out light. "It's such an interesting experiment, it is just so amazing!" Chen Jiabao, one of the young reporters, said with sparkling eyes.
The second part is about the causes and prevention of car accidents and some assumptions on how future cars can help with that. Perhaps the highlight of the whole lecture is the third part, which was about autonomous driving, where the atmosphere started to get heated up.
The experts showed a picture containing five different levels of autonomous driving. In fact, only level five is called autonomous driving because it does not require people to watch or manipulate, while the other levels are partially autonomous. Young reporters were asked to see a short video about a person driving in Cadillac and answer the question of which level it belonged. Our reporters could hardly wait for the expert to finish counting down the numbers to raise their hands, however, only a few of them got the right answer.
"It's a tricky question, but it gets me to think and I like it," said Wang Ximing, one of the young reporters, excitedly.
The debatable question among the young reporters was whether we should trust autonomous driving and whether it's really safe. "The machines are still programed and made by humans," said Sun Yongjian, one of the young reporters. "Personally I find it still very dangerous to drive in a car like that."
That lead to the Q&A part where the young reporters inspired each other with their own thoughts, creating a lot of sparks.
"They are really smart and they are all fast-learners," said one of the staff of General Motors China. "Ultimate possibilities and bright futures lie ahead of them."
Journalism and lighting technology tour
In August, Shanghai Daily and Signify provided lectures to a group of 29 student reporters, they learned to use tomatoes as a conductor to light up bulbs, which are LED and incandescent, in an experiment at Signify, and the activity was part of their journalism training organized by Shanghai Daily.

The students, who are from Grade 2 to 5, said they learned a lot during the session. They observed the mock production of the English-language newspaper and talked with Shanghai Daily journalists who showed them how the paper was edited and designed with special computer programs.
Wu Zhengang, a Grade 3 student, said: "We also learned about the newspaper's transformation into new media and how the QR code works. Things that happen in daily life can be easily posted online anytime and anywhere."
Signify, also known as Philips Lighting, specializes in the manufacture of lighting products and widened student's field of vision. The student reporters were impressed by the office atmosphere at the company, which is decorated by all kinds of lights, including high-tech lighting systems.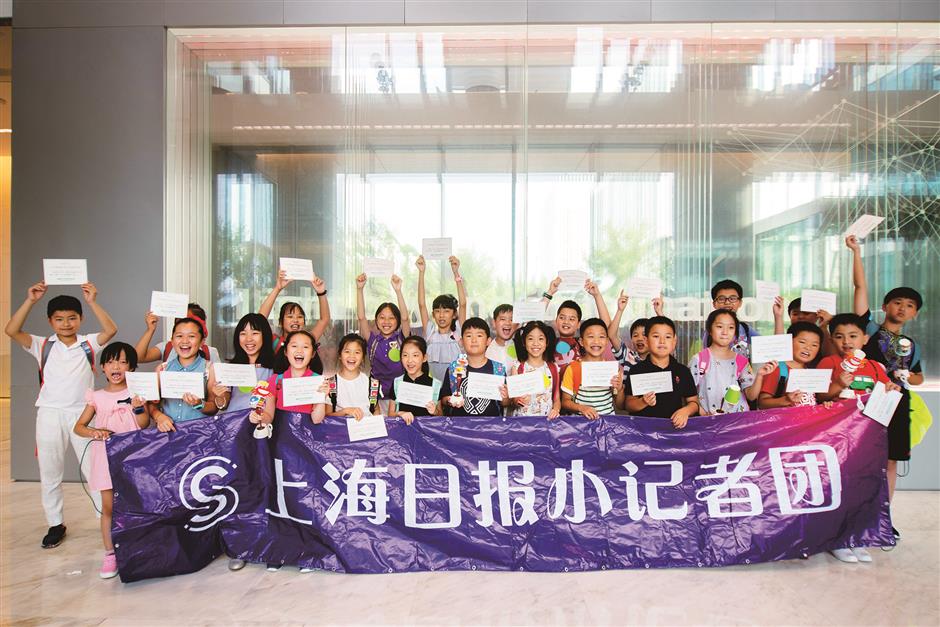 A Signify employee named Ediger gave the young visitors a brief lecture about the history of lighting, from the sunlight to LED bulbs. He then guided them in an experiment to use tomatoes to create electricity for LED lights and filament lamps. Copper and aluminum sheets serving as positive and negative poles are used in the experiment.
"We will try to light up the filament lamp with three tomatoes. If it doesn't work, we will use four," Zhang Gonglue, a Grade 4 student, said. "If it still doesn't work, we will combine tomatoes from another group." In the end, they failed because filament lamps require more electricity than energy-saving LED lamps. The spirit of scientific exploration was triggered in these youngsters by the challenge.
"Thomas Edison, who was the inventor of light bulbs, had many failures, but these failures led to his achievements," the Signify employee told them.
It was a memorable summer holiday for young Shanghai Daily reporters, the bright future of STEM is depending on them as well as millions of youngsters, waiting for them to discover something that will make our lives even better.
Source: SHINE Editor: Su Yanxian Special Reports