Happy campers fascinated by local culture
10:42 UTC+8, 2019-08-27
0
Students and their teachers from 11 cities around the world took part in the Jiading International Youth Friendship Camp.
10:42 UTC+8, 2019-08-27
0
Ti Gong
A bus stopped at Jiading Museum on July 30. Its passengers were a group of high school students and their teachers from 11 cities around the world taking part in the Jiading International Youth Friendship Camp, a program organized by the Jiading Foreign Affairs Office.
Thirty-four foreign students and teachers joined their Chinese counterparts in the nine-day camp to explore Jiading and other parts of Shanghai as "envoys" of their home cities. The camp is committed to promoting understanding and friendship, particularly among the younger generation.
Attractions of ancient Jiading
At Jiading Museum, the young people were briefed on Jiading's traditional culture and social changes through the "Exhibition of Jiading History — Impression of Liucheng." There used to be a Liucheng Town on the piece of land in the Tang Dynasty (AD 618-907). Therefore, Jiading was also called Liucheng.
The visiting teenagers also had the opportunity to appreciate the museum's "Treasure of Lianchuan" collection which includes exquisite antiques and Chinese painting and calligraphy masterpieces. Lianchuan is also one of Jiading's former names.
The young people were fascinated by the artworks on display and the cultural inheritance behind them.
"This is a fabulous museum. I can see many things about Chinese culture," one said. "I think it's very beautiful and interesting. There are some symbols here to represent Chinese culture," another one added.
He Eqi, an official with the foreign affairs office and leader of the camp, told Shanghai Daily: "The camp not only helps the foreign students learn more about Jiading but also enhances friendship among the younger generation.
"All the kids come from Jiading's sister cities around the globe," He added.
The International Youth Friendship Camp had been held for four consecutive years, while Jiading has established ties with 15 foreign towns. Jiading has carried out all-round cooperation in education, culture and other fields with her sister cities, according to the foreign affairs office.
The visiting students met with their peers from the High School Affiliated to Shanghai Jiao Tong University.
Eleven Chinese high school students introduced them to their families so that the visitors could be a "Jiading citizen" and experience locals' everyday lives.
After visiting Jiading Museum in the morning, they went to Shanghai Auto Museum in Anting Town in the afternoon.
Among its collection, there is a 1955 Ford Thunderbird, a Hongqi (red flag) CA770 state limousine, the only existing 1928 Bentley 4½ liter, a Mercedes-Benz 300 SL (W198) two-seat coupe with distinctive gull-wing doors and an Auburn 851SC.
Philip Armond, a grade-11 student from Salt Lake City in the United States, said he never thought he'd find a Ford Model S in Jiading. "Even in the States, the 1908 roadster is very rare to find. At least, I never saw it before in my country."
Armond started learning Chinese when he was in elementary school. "It is my first time to visit China and Jiading. I'm very fond of the town," he said in fluent Chinese. "The auto museum is so amazing with so many classic cars."
The visitors also went to Shanghai Zoo and Yuyuan Garden in downtown Shanghai on July 31. They enjoyed the night time lights when they took a trip along the Huangpu River.
Inscriptions of history
Li Xinran / SHINE
The next day, they visited China's largest inscription brick museum — Mingzhi Hall in Jiading. The bricks on display bear inscriptions of ancient Chinese history.
The inscriptions cover titles of emperors' reigns, traditional calligraphy as well as paintings and written descriptions of customs. Some bricks date back to the Han Dynasty (202 BC-AD 220). At a DIY workshop after the visit the boys and girls and their teachers were taught how to rub patterns from a brick. They practiced the traditional Chinese handcraft carefully and had their works inscribed by the museum.
Li Xinran / SHINE
Grigorii Kotov from Moscow said the bricks museum was impressive. The grade-10 student is learning Chinese. As a beginner, he has a strong interest in traditional Chinese culture, such as inscriptions and calligraphy.
"I feel at home when I'm in Jiading and I highly value the friendship with my fellow campers," Kotov said. "The town is a great combination of modern and traditional elements."
Li Xinran / SHINE
After the rubbing practice, students and teachers paid a visit to New Yingyuan Group, a Jiading-based food-processing company that produces dim sum. The company serves many time-honored restaurants throughout Shanghai.
In the kitchen, the foreign visitors made Chinese dim sum themselves by rolling and kneading the dough. Followed by instructions from the master chef, they shaped the dough before it was steamed.
Everyone got dessert — their self-made buns.
Fun of dressing
Ti Gong
The activity in the afternoon was the highlight of the day. At Hanweiyang Gallery, the campers put on ancient Chinese clothing of different dynasties and attended a lecture about dress codes in ancient China.

Julie Herfel, a grade-10 student from Wolfsburg of Germany, said: "I watched a documentary and have an idea that ancient Chinese women wore like this. It's so gorgeous and elegant!"
Andrey Magaletskyi from Kyiv in Ukraine felt like he was a minister in an imperial palace.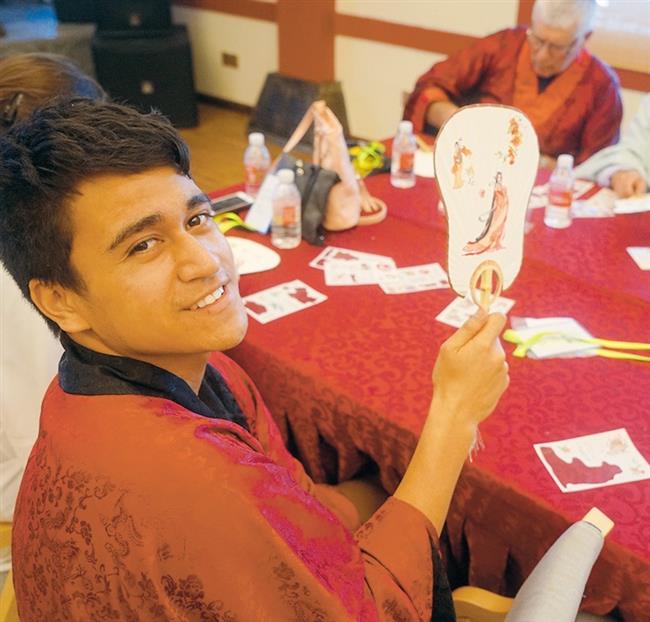 Ti Gong
The visitors also played pitch-pot, a traditional Chinese game that requires players to throw arrows from a set distance into a large, sometimes ornate, canister.
Although everyone tried their best, the game was much harder than they had imagined. Only a few arrows were thrown into the can.
The game was the last session of the day and ended in laughter.
A sightseeing tour around Chongming Island was on August 2.
After that, Chinese students invited the foreign campers to be their home guests and "spend one day as a Jiadinger."
Pan Ting, a student from the Jiading Campus of High School Affiliated to Jiao Tong University, and her friends from Pecs, Hungary, had a good time at Guyi Garden, Huilong Pond Park, Wisteria Park and Confucius Temple.
"I showed them around the most iconic landmarks in Jiading. It was very pleasant to get along with each other."
Kellaway Hiroko, a teacher from Kirishima in Japan, praised the interaction between the foreign campers and their Chinese counterparts.
"This is even better than last year," Hiroko said. "It is a good idea for Chinese students as group leaders. I like the program very much and glad to see more Chinese students and foreign students join the camp."
After a closing ceremony on August 4, the visiting teenagers took flights back to home but the friendship will continue.
Sister cities
Jiading has sister cities around the world, including Wake Town in Japan's Okayama, Ryde City in Australia, the Yongsan District of Seoul, Republic of Korea, and Lublin City in Poland.

Apart from the annual Jiading International Youth Friendship Camp, there is also a student exchange program with Hauraki District in New Zealand initiated in 2003.
Every year, students from Jiading and Hauraki visit each others' homes and spend two weeks studying and living together.
Students from Jiading and Wake Town in Japan have been visiting each other since the early 1990s.
Source: SHINE Editor: Chen Xingjie Special Reports