An eclectic mix to share rich experiences
14:18 UTC+8, 2019-12-31
0
This year's Wellington Arts Festival gathers artists from countries as diverse as China, the UK and Zimbabwe to challenge students to "look and see."
14:18 UTC+8, 2019-12-31
0
There are things known and there are things unknown, and in between are doors of perception. What is behind your eyes holds more power than what is before them," according to Wellington's Arts Festival video created by Year 13 film students under the guidance of Charlie Gauvain, Andy and Cameron of Eye Film in the UK.

I arrived on a day when the students were shooting scenes for the video on the sports field during the arts festival at Wellington College Shanghai. I didn't expect the final version would have such a profound message.
"We are all bombarded by images on a daily basis and it is easy to take what you see for granted and not think too deeply about it. However, it's important to question what you experience and never automatically settle for the easy answers," said Dr Stephen Jacobi, the festival's organizer and Wellington's director of culture.
Constructed around the theme of "Looking and Seeing," this year's festival welcomed more than 30 artists drawn from diverse industries such as filmmaking, sound artistry, photography, animation, fashion design, color therapy, architecture, theater and broadcasting.
Now running into its sixth year, Jacobi said taking the whole school "off timetable" for an entire week of the festival is almost impossible, especially when considering year groups at the school ranging from Year 1 to 13, but "it does present an opportunity for our students to stop and think carefully about things we have in common."
Throughout the week, students enjoyed workshops, discussions, lectures, installations and artistic creation activities with guest artists who were drawn from countries across the world, including the UK, China, France, Denmark and Zimbabwe. This eclectic mix of artists from different industries and parts of the world were chosen to share their rich personal and professional experiences with students to help widen their perspectives on art and the many sources of inspiration that help create it.
"I interviewed each of the participating artists to make sure that they are not only actively involved in the business they've been engaged in, but also have the ability to talk to children about how to create content for real clients, and set real deadlines," Jacobi told Shanghai Daily during an interview.
"Art reduces what education today is really about. Rather than pushing in and memorizing things, it allows people to open up and encourages people to ask questions and see things from a different perspective," said Jacobi. "It's something we wanted our pupils to consider carefully throughout the festival because it's an idea that can be responded to in both an intellectual and emotional manner."
With sound artist Mira Calix, students were asked to take photographs that would symbolize a sound, a person and a pattern, and submit them to her two months before the festival. With a collection of over 1,600 images, she created an audio-visual installation in the school's Black Box Theater which the pupils filled with interpretive performances during the festival representing what they saw and heard.
"I was incredibly impressed by the pupils' response, especially from the Year 7s who seized on the concept and symbolism of what we were trying to achieve right away," said Calix, who is based in the UK.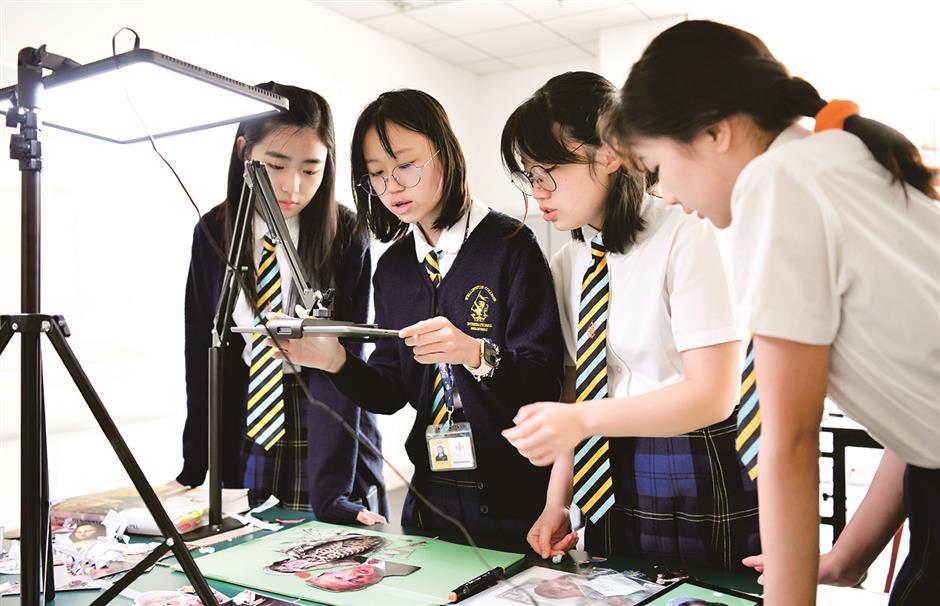 In the fashion design session with Emmanuel Rochet and Olivier Blanc, the Year 9 students further explored the idea of what it means to see and understand the natural world and their immediate surroundings, as they used different flower patterns to develop their design ideas.
"The flower patterns are the most basic elements of design. They come in all shapes, textures and colors. Once you start noticing them, you'll see grids all around you," said Rochet, creative director from IFA Paris Fashion School.
With Cruz Garcia and Nathalie Frankowski of WAI Architecture, students from Year 4 and 5 were introduced to the process of creating architecture and urban planning concepts. In the school's dome, they were found planning and creating their own perfect cities and man-made islands from giant Styrofoam blocks.
"Generally when you think of architecture design, you think of the profile of the Shanghai Tower. But some designs are much simpler," said Clara of Year 7.
"In the previous session, we told them the intricacies and limitations involved in architecture according to the political, social and environmental stances. And in the process, they'll get to understand that to realize a master plan needs much communication, cooperation as well as patience," said Garcia.
With Erin Xie's lecture, Year 13 students got to know the process of making a film, from scriptwriting through to film distribution, as well as what it means to be a producer and a director, what it takes to hire a crew and cast, and how to choose a location for the setting.
By the end of the lecture, Xie was interviewed by the students and asked how she felt about the arts festival.
"It's such a privilege, I mean to be a student at Wellington College in Shanghai," said the Tsinghua University graduate. "I wish I had the opportunity to learn about the business in the real world when I was at school."
Source: SHINE Editor: Su Yanxian Special Reports