Education adapts itself in the time of COVID-19
13:44 UTC+8, 2020-09-30
0
With 1.2 billion children out of classroom and into their homes forced by the pandemic this year, educators reflect on the flexibility and resilience of the education system.
13:44 UTC+8, 2020-09-30
0
The pandemic may have forced over 1.2 billion children out of classroom and into their homes but it has not beaten the passion. Scroll down and read how the education system fought back and adapted to the change.
Adapting to new normal in face of adversity
The idea of "new normal" permeates almost every aspect of our lives, while the events of 2020 brought unparalleled changes to our plans and perspectives.
In the face of uncertainty and challenge, it has never been more important for a community to come together, stay positive and seek out opportunities to grow and improve.
For me, the foundational strength of Dulwich College Shanghai Pudong lies within our diverse community and our shared values, including compassion, integrity, inclusivity and kindness. Every decision we make is guided by our desire to put students first.
It is this desire that ensured our community was able to stay strong during difficult times. I am so proud of how our staff collaborated with students and parents to ensure we were able to provide a Dulwich education both on-campus and online.
During the COVID-19 crisis, staff and student expanded their digital literacy. Our pre-pandemic curriculum already incorporated educational technology, with opportunities for children to work with coding, robotics, 3D printing and film, to name a few. But, with the new challenges of online learning, our teachers and administrators found innovative ways to engage students and created new methods for learning assessment.
Teachers used digital platforms to provide highly personalized feedback and individual care to students, whilst being separated by distance. Our graduation ceremony in 2020 combined virtual and onsite ceremonies and gave rise to some new traditions that will remain in the future.
With campus access limited, the college has provided opportunities for parent-teacher meetings and ceremonies to dial in virtually, which allows greater participation for working parents. I think it is important to listen to the community, and we always invite feedback from parents, students and staff, as we continually adapt and improve learning opportunities for students.
The "new normal" challenged us and gave each of us an opportunity to grow beyond what we thought was possible. We will continue to nurture our strong college community and partner with parents. We are stronger together as colleagues and in a community when we find creative ways to meet both challenges and opportunities.
The "new normal" requires each of us to draw from our values and strengths and bring the best of ourselves into each new day.
In many ways, this isn't so new — but the significance of these key strengths is more important than ever before.
(This article is contributed by Caroline Taylor, head of college at Dulwich College Shanghai Pudong.)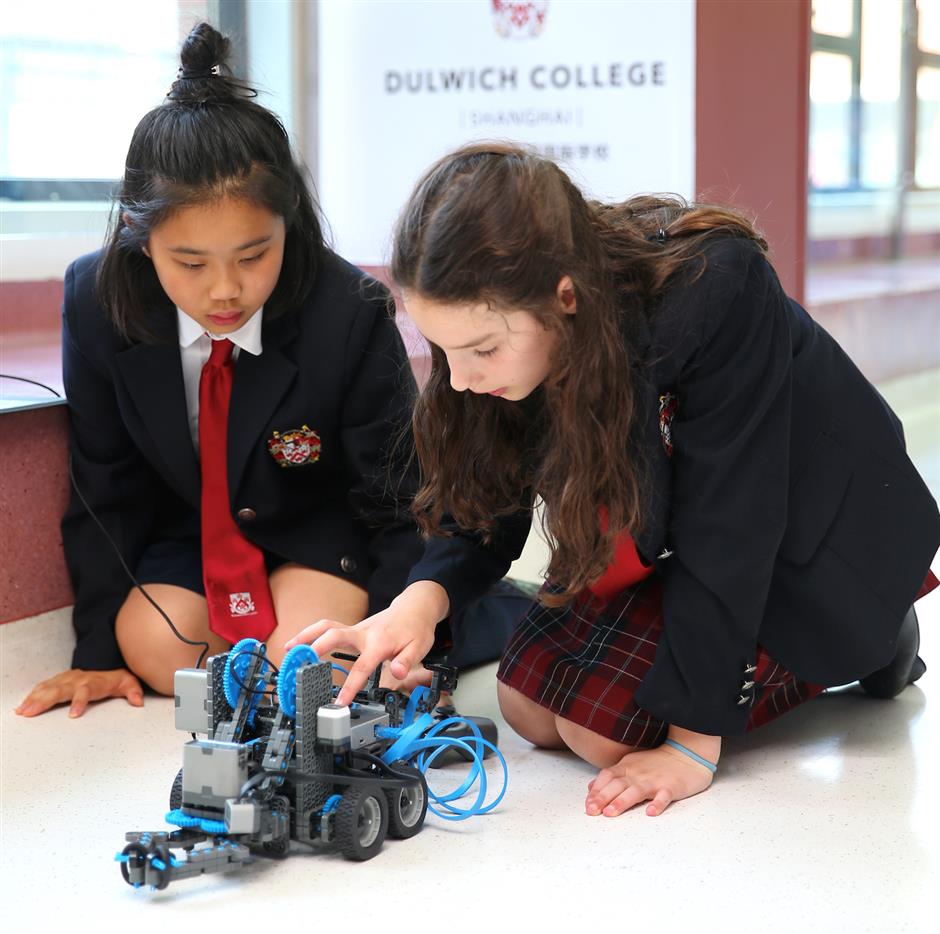 Ti Gong
Technology transforms the way we teach and learn
The COVID-19 pandemic has created the largest disruption of education systems in history, affecting nearly 1.6 billion learners in more than 190 countries and regions on all continents, and it is far from over.
Subsequently, many schools around the globe are still closed. The pandemic has pushed the world into the deepest global recession in living memory.
Before the virus disrupted our lives and forced our kids to open their laptops and learn from home, the first day of school was often a rite of passage.
The one-size-fits-all approach to education has been in place for centuries but now education is undergoing unprecedented change, and not just because of COVID-19. The response to the epidemic has demonstrated how technology can help transform the way we teach and learn, though this push for change started long before the pandemic struck, and it will go on long after the threat has subsided.
COVID-19 hit the most vulnerable the hardest. This crisis exposes the many inequities in our education system, from the computers needed for online education to supportive environments and talented teachers.
These inequities disrupt the status quo: Our behavior will change the system and we will be more mindful while recruiting, training teachers, designing our curriculum or academic calendar, or choosing a school for our children.
For example, students who are supposed to start university abroad are stuck at home and our collective response would be to choose a school with the best online program.
All schools, including universities, need to have transformative approaches to their education that go far beyond online lessons at home.
If a teenager can watch a movie for two hours, scroll through Instagram for three hours, watch YouTube and play games through the night, but cannot focus on an online lesson for more than 40 minutes, then there must be something wrong with what we have been doing anyway. What is it that students need beyond a computer screen?
Playing sports, having lunch, watching a performance, joking around during recess, traveling with each other on a school bus, staying for detention and learning together make the whole school experience holistic, memorable and precious.
Peer interaction is what students need and schools struggle to give it online as they can only offer the curriculum. We need to do better and differently in the whole education system.
Through my years of teaching, I believe that schools are not just a body of buildings, time tables and technology. At its most fundamental level, schools are about relationships. High-achieving schools are those where the students and teachers trust, respect and care about each other.
This is also true for the teachers and administration — they trust, respect and care for each other and work toward the same goal for student success.
I also believe that when teachers get to know their students, build positive relationships and strive to make their classes enjoyable places to learn, their students are more likely to excel academically and socially.
Now, we have to do all these essential things remotely, online or with distance learning, etc. We should always remember that none of these distance-learning methods can function without real human connections.
We can only improve our education when we teach with our hearts and minds — resilience and adaptability are key skills. Nowadays, in a classroom, we need our relationships, conversations and values more than ever.
We are fortunate that Shanghai and China as a whole have managed to contain the epidemic and protocols, and safety regulations are in place to allow students to return to school safely.
Shanghai Singapore International School encourages all students worldwide to continue their learning journey and strive for excellence.
(This article is contributed by Doruk Gurkan, senior school principal of Shanghai Singapore International School.)
Source: SHINE Editor: Su Yanxian Special Reports