Traditional animation gets new lease on life
11:00 UTC+8, 2017-10-14
0
Hand-drawn animation has taken a licking from computerized techniques of modern filmmaking, but that hasn't deterred Chinese die-hards committed to reviving the best of the past.
11:00 UTC+8, 2017-10-14
0
Jiang Xiaowei / SHINE
One new cafe in Shanghai has what might be called "an animated menu." Authorized by the Shanghai Animation Film Studio, the Mein Friends cafe sells cakes in the shapes of the Monkey King, the Calabash Brothers, the black cat detective known as Mr Black and the "Third Lotus Prince" Nezha.
Since the cafe opened earlier this year, Chinese customers have queued sometimes for hours to buy the cakes that recapture the magic of cartoon characters that filled Chinese TV screens in the 1980s and 1990s.
The idea of transposing animated characters to the realm of food is part of a strategy by the film studio to put its struggles in the past and carve out new horizons.
"The cakes revived my childhood memories, and I wanted my son to experience the joy I felt at his age," says 35-year-old Felix Lin, whose 5-year-old son fell in love with the Calabash Brothers at the café and wanted to watch the old series. "These figures are so classic and so Chinese, but it's a pity that we haven't seen many of the animated films for such a long time."
Jiang Xiaowei / SHINE
Jiang Xiaowei / SHINE
Shanghai Animation Film Studio's reputation was once synonymous with Chinese animation. Its library of nearly 500 films holds hundreds of international awards and touched the hearts of generations of Chinese people.
However, starting in the late 1980s and early 1990s, the state-owned studio started to lose government subsidies, and professional talent drifted to higher-paying outsourced work for American studios. At the same time, an influx of animated films from Japan and Hollywood knocked the local studio from its once-unrivaled pinnacle.
Now 60 years old, the veteran studio has been exploring various ways of reinventing classic Chinese animation styles and revitalizing the domestic industry by venturing into new artistic and commercial fields.
"I am in awe of the studio's glorious history and its pioneering spirit, which was based on the credo 'never imitate others, never repeat ourselves'," Zheng Hu, head of the studio, tells Shanghai Daily. He has announced an ambitious five-year plan filled with dozens of daring new projects.
"My response is to carry this spirit to a very different market environment today," he says. "In the past, veteran artists worked in a system where only aesthetics mattered. That is no longer true. We are now determined to set the standards for a revitalized industry."
One way is to encourage the creation of theater chains specializing in animated films, which often get short shrift in terms of time slots and screening frequency at mainstream cinemas.
"We have been very successful with top TV ratings for 14 years, but we still get very few screening slots in cinemas, which restricts our box office even when a movie is popular with children and parents," says Su Da, director of "Dear Tu Tu," a serial drama about the family life of a typical Chinese kindergarten boy.
Su's film premiered in August and won in the Best Animation category at the recent Golden Rooster Awards, China's Oscars.
Ti Gong
SHINE
SHINE
Zheng says it will take time to change the mentality of most theater managers, who associate domestic animated films with sparse audiences. He has called on theaters around the country to support a screening tour of eight of the studio's best animated films, including the classic "Uproar in Heaven" (1961-64) about Monkey King and the more recent "Dear Tu Tu."
The screening package started in Shanghai in late September and will tour the country until the end of the year.
"It is a first step to prove that audiences like quality domestic animations," Zheng says. "The box office will reflect that if given a fair chance. Eventually, we hope to build a stable network of cinemas to screen domestic animations in time slots convenient to children and parents. That will be a basis for further development in the industry and the market."
Many artists at the studio are keen to see such a revival.
"We have gone through some tough times," says 73-year-old Zhou Keqin, one of the directors of the paper-cut animated TV series "Calabash Brothers," who witnessed the rise and fall in his 45 years with the studio.
"When we participated in international film festivals in the 1980s, foreign judges and audiences were surprised at the excellence of our artistry and praised its 'distinctive Chinese characteristics'," he says. "Apart from Japanese animations and our own, it was difficult to determine the origins of other films because most of them slavishly imitated the Hollywood style."
Zhou's work on animated films, based on traditional paper-cuts, was inspired by the iconic Chinese shadow play and developed by studio artists beginning in 1958. He says he regrets that the classic genre and traditional artistry techniques have largely disappeared amid a flood of computer-generated animations.
"I firmly believe that as long as we strive for the best quality in stories, aesthetics and camera language, the classic genres can be revived," says director Shi Yi, who is in his early 40s and has been working on a revived form of ink-wash animation.
"The last film produced that way was 30 years ago," he says. "It's time to resurrect the genre with a new generation of artists."
Ti Gong
Shi Yi
Reviver of ink-wash animation

When Shi Yi proposed to make a feature-length ink-wash animated film, many in the Shanghai studio expressed skepticism. After all, there were only four short videos produced using that technique, a patented secret of the studio that requires considerable labor, time and money.
Thirty years have passed since the technique was last time applied to filmmaking, and all the veterans skilled in the art were gone from the industry.
To revive the technique in a world where computer-generated animation dominates is no easy feat.
"I entered the studio in the 1990s when it was past its glorious days," Shi says. "I watched artists leaving or retiring one by one. And yet, while the world is swamped with industrialized Hollywood animations, artists from many countries have been trying to do something unique and distinctive."
He points to legendary Japanese animator Hayao Miyazaki, who always insists on delicately detailed hand-drawn cartoons, and to some European artists drawing inspiration from glass-painting.
"I just can't reconcile the fact that we had so many unique styles decades ago and now so many are extinct," he says. "But not ink-wash animation. Not on my watch."
Ti Gong
Determined to revive the genre, Shi sought to find a way to simplify the process and lower costs while maintaining the integrity of Chinese ink-wash painting.
"My mentors stood on the shoulders of giants because in their day, they worked with the masters and best painters in China," Shi says. "We don't have that anymore. But luckily, we have new technology and more advanced camera language from Japanese and Western movies that have proven to work with audiences."
Aiming for a balance between artistic quality and popular taste, Shi decided to combine all the techniques. He adopts modern camera language and storytelling methods. He uses computer-generated animation for some sequences to save cost and time, but applies the traditional technique in scenes with close-up so that the distinct look of ink-wash painting is preserved.
Shi spent about 18 months experimenting with different methods, which led to a less-than-two-minute test video. It impressed both his colleagues and viewers who saw it on the Internet.
"Animation takes much longer than regular movies, and ink-wash animation takes a bit longer than regular animation," Shi says, "but I feel assured that we can make it work, and I hope investors will share our adventurous spirit."
Ti Gong
Su Da
Director of a new Monkey King film in progress

Su Da's office is filled with drawings of the characters from a new Monkey King animated film now in the making.
The Monkey King of the Chinese legend "Journey to the West" is one of the studio's most famous and established animated figures. The epic story was featured in the two-part award-winning film "Uproar in Heaven," released in 1961 and 1964. It was produced by the Wan brothers, founding fathers of Chinese animation, who made the first Asian animated feature "Princess Iron Fan" in 1941.
The Monkey King's heart-shaped face, leather skirt and bright red pants have since become iconic in Chinese culture, inspiring countless TV shows and movies. This time around, Su is giving him a brand-new image — a heroic Monkey King with eight packs.
"Of course, I feel incredible pressure in reinventing one of our most established brands," Su says. "It will be based on the famous chapter in the book involving the Mountain of Flames, and we are creating new images for each character, catering to the taste of today's young Chinese."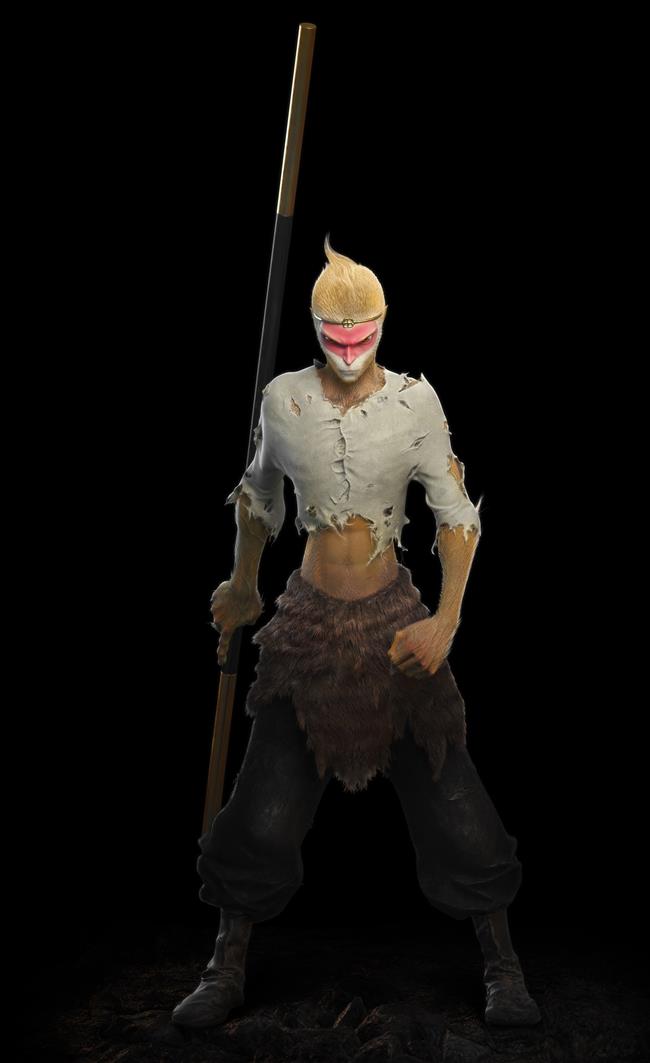 Ti Gong
It doesn't mean she has abandoned traditional Chinese elements. The director has specifically asked designers to cleverly incorporate patterns, accessories and styles in line with the time frame and the region.
Su, in her early 40s, has always applied Chinese characteristics in her works, most notably in the long-running TV series "Dear Tu Tu" that began airing in 2003.
Her recently released animated film based on the TV series won Best Animation at the Golden Rooster Awards, China's Oscars. The jury praised the film for its "two-dimensional style, fantastic imagination, unique child's perspective, delicate aesthetics and the positive messages it carried."
Su's father, also an artist, designed protagonist Tu Tu, a kindergarten boy based on Su's son. She drew on day-to-day situations of her son and his playmates and flattened animated images to reflect the way children draw.
"We have many animations inspired by ancient legends, but very rarely do we see one reflecting what's happening now and what the kids experience every day," Su says. "I created Tu Tu and his family to be just like other families."
Ti Gong
Chang Guangxi
Director of "Lotus Lantern" (1999), the studio's first commercial animation

The 73-year-old Shanghai native began working with the studio four years after it was founded, becoming one of the pioneers who developed Chinese animation.
Like many of his contemporaries, Chang worked his way up from an entry-level animator to a film director.
"Back then, the studio didn't have to think about profits, so everyone just focused on artistic elements, which sounds like a real luxury today," he says. "The senior directors made sure that everyone, even an entry-level animator like me, understood the storyline and the metaphors. That's why they were able to achieve such great results and keep exploring new genres, subjects and techniques."
It was completely different when Chang directed "Lotus Lantern," a film based on an ancient legend where a brave young boy saves his goddess mother after she was forced to leave his human father.
The studio, no longer able to rely on government subsidies and distribution, used the film to test the changing market. The box office totaled 25 million yuan (US$3.8 million), ranking third in 1999, even though the box office leader pulled in twice the receipts.
Ti Gong
"It was a commercial success, but I was dissatisfied," Chang says. "Some of the talented staff on my team at that time were so used to streamlined work that they had lost their imagination and creativity. They lost the perception of the film as a whole, caring only about the parts they worked on. It wasn't something I could change in the process of making just one movie, not to mention our limited budget and time."
Chang became deputy president of the smaller Jilin Animation Institute after he retired from the Shanghai studio in 2007. There, he was pleasantly surprised to find interest among young Chinese animators eager to help develop the industry.
"Today we have enough young talent who are better trained than we were and understand computer-generated animation," he says. "Moreover, they are much better informed about the best animated films in the world and are connected with international artists.
"I'm quite positive that something great will come out of this generation, as long as they resist the temptations of an overly heated and capitalized market and focus on creative elements," he adds.
Ti Gong
Zhou Keqin
An old hand nurturing new blood

In the late 1980s, American companies started coming to China to take advantage of cheaper animators as costs back home skyrocketed. Settling largely in the southern city of Shenzhen, they offered salaries above the local norm, siphoning talent from Chinese studios.
Director Zhou Keqin, who was then head of the Shanghai Animation Film Studio, called the exodus "disastrous."
"Dozens of artists across all our departments left within weeks," Zhou recalls. "It was the most horrifying time in my 45 years with the studio."
To some extent, the talent drain lingered into the new century. Young artists sucked into more streamlined, cost-conscious production houses lost much of their creativity. To preserve what unique talent remained, Zhou decided to focus first on commercial aspects, founding a joint venture that helped improve compensation packages and attract new investment.
"Those were the years when Japanese and American animated films were flooding into China," he says. "While we were focusing so much on artistry, their works produced more exciting storytelling."
The challenge was to preserve some of the artistry of the past while still appealing to the new generation.
"The world now is filled with computer-generated animation, which makes perfect sense because it's easier and cheaper," says Zhou. "But that doesn't mean we have to completely abandon traditional animation. I worry only that we won't have enough skilled talent to pull it off. There is shortage of animators who can do traditional hand-drawn techniques."
Source: SHINE Editor: Liu Qi Special Reports