Chinese projects win international praise from fans of great buildings
13:00 UTC+8, 2018-03-03
0
A gymnasium, a Buddhist shrine and a mountain village in China impress readers of the world's most-visited architecture website.
13:00 UTC+8, 2018-03-03
0
Three Chinese projects are among ArchDaily's Building of the Year awards for 2018.

Winners were selected from over 3,500 projects by readers of the world's most-visited architecture website.
The award-winning projects were in 15 categories — housing, offices, best applied product, houses, commercial, educational, healthcare, interior, religious, hospitality, cultural, industrial, small scale, sports and public architecture.
The Chinese winners are a university gymnasium, a Buddhist shrine and a mountain village.
Launched in 2011, the project of the gymnasium at the new campus of Tianjin University was led by Li Xinggang, chief architect of China Architectural Design & Research Group. It has two buildings, with a swimming pool and a sports center linked by an arched bridge.
"The new campus is located in a new urban area that lacks cultural and historical elements. We intended to design a structure which is recognizable and also makes people have a sense of being," Li says.
Ti Gong
Ti Gong
Repeated curves and straight lines form the barrel arches and conical surfaces. The vaults are said to not only create a poetic, dynamic feeling but also allow the structures to be column-free.
Concrete endows the gymnasium with purity and strength while the geometrical structures inject rhythm. Red bricks, a symbol of Tianjin University's old campus, are used for the facade. Rather than being plain, the red bricks have bumps, creating beautiful shadows.
Natural light flows into the interior spaces through high side windows, and a natural ventilation system has been adopted.
Ti Gong
Ti Gong
"Students can swim, dance, practice taekwondo and play tennis, basketball and volleyball in the gymnasium. And the length and width of each area echo the space that a sport requires or a human body extends," Li says. "One can feel that the space has a conversation with him/her."
Located in a forest by a river in Tangshan, Hebei Province, the private Waterside Buddhist Shrine project was designed by Han Wenqiang, founder of ArchStudio.
The design starts from the trees. Instead of laying the forest flat, the building avoids all trunks. The shape looks like branches extending under the existing forest. Five separated spaces were created within the building by two axis. The five "branches" functioning as an entrance, meditation room, tea room, living room and bathroom.
The architects made the structure look like a mound of earth — an extension of the land.
"The integration with nature is the principle of the design, which in fact, is part of Buddhism," Han says.
Ti Gong
Ti Gong
Ti Gong
Ti Gong
Concrete formwork covered with pine strips, smooth terrazzo surfaced with little stones, pebbles and solid wood — all the materials in the architecture create a warm and natural atmosphere and reflect the coexistence of architecture, human being and nature.
According to Han, apart from its plasticity and waterproof properties, the visual similarity between stone and concrete is another reason to use the material. "Stone implies the Buddhist grottoes, illustrating the endurance of Buddhist belief in China."
"We wanted to use modern technology and design to express the beauty of traditional Chinese culture. There have been many modern churches and mosques in the world, but the design of Buddhist architecture always follows the very traditional style. We wanted to make some changes," Han says.
Contact with nature can also be seen in the Huangshan Mountain Village project which was led by Ma Yansong, one of China's best-known architects and founder of MAD Architects.
The project is part of a tourism plan for Huangshan Taiping Lake.
Ti Gong
Ti Gong
Ti Gong
"My impression of Taiping Lake at Huangshan (Yellow Mountain) is vague as every time I went there it yielded different views. It is a bit mysterious, just like ancient landscape paintings, often based on imagination," Ma says.
The area where the 10 buildings have been built was once tea fields, which inspired the wave-like contours of the buildings. Mirroring local topography, the structures are of diverse heights.
Each apartment has a large balcony which lets residents enjoy a spectacular view of the landscape while they relax. According to the architect, he hopes residents see themselves not only as observers of the scenery but also as communicators, creating a dialogue with nature.
Advocating the design philosophy of "shanshui city," literally landscape city, Ma intended to create a new type of village landscape — "one where architecture becomes nature, and nature dissolves into architecture."
Ti Gong
Other award-winning structures across the world
Other ArchDaily winners include many iconic buildings such as Apple Michigan Avenue by Foster+Partners and Zeitz Museum of Contemporary Art Africa by Heatherwick Studio.

The glass wall of the Apple store in Chicago breaks the boundary between inside and out and makes the building dissolve into its urban plaza. The Zeitz Museum in Cape Town used to be a grain silo but is now a cultural hub with 80 gallery spaces, reading rooms and other facilities.
Two educational projects are a highlight — the Children's Village by Rosenbaum+Aleph Zero and 100 Classrooms for Refugee Children by Emergency Architecture & Human Rights.
The wooden Children's Village in Djibouti in northeastern Africa is a learning space and also a home. It is a collaboration between designers and students. Hammocks, patios, reading rooms, plenty of interacting places give the students a sense of belonging.
The 100 Classrooms project for Syrian refugees across the border in Jordan, built using traditional techniques, gives more displaced people, both adults and children, access to education.
The expansion project of the Santa Fe de Bogota Foundation in Colombia by El Equipo de Mazzanti proves that architecture can affect people physically and mentally.
The architects said statistics showed that faster recovery in patients with infections and medical complications are attributed to natural lighting and contact with nature.
Ti Gong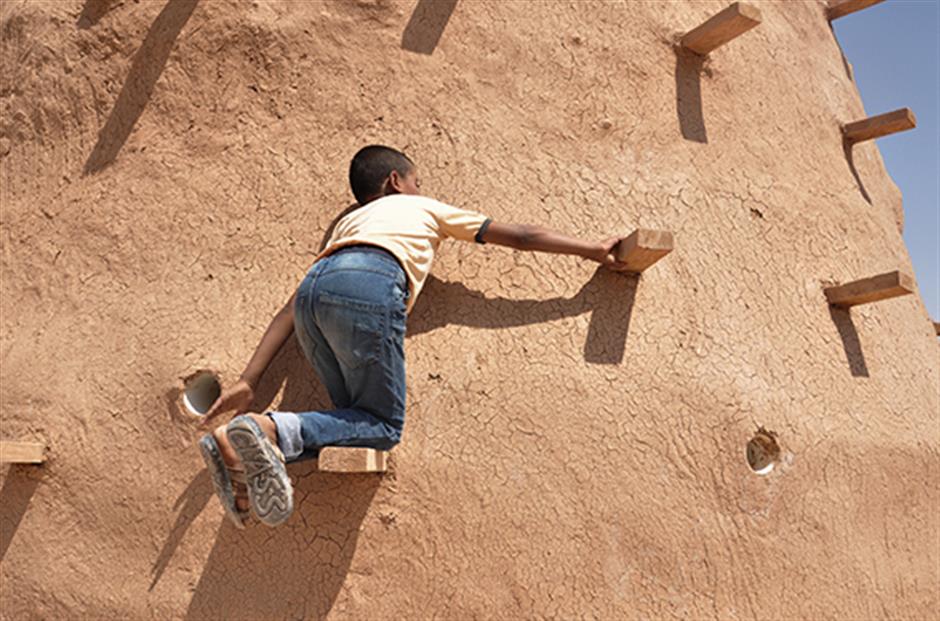 Ti Gong
Ti Gong
Source: SHINE Editor: Liu Qi Special Reports