US photographer can't get enough of China
12:00 UTC+8, 2018-04-15
0
For more than three decades, American photographer Lois Conner has been on the road – exploring the world and observing the landscape with her distinctive large-format camera. 
12:00 UTC+8, 2018-04-15
0
For more than three decades, American photographer Lois Conner has been on the road — exploring the world and observing the landscape and its people through the lens of her distinctive large-format camera.
China holds a special place in her heart.
Since her first visit to Guilin in 1984, she's been back to the country almost every year. "In some way, it's just scratching the surface. How can you understand 5,000 years of history in such a short period of time," she told Shanghai Daily.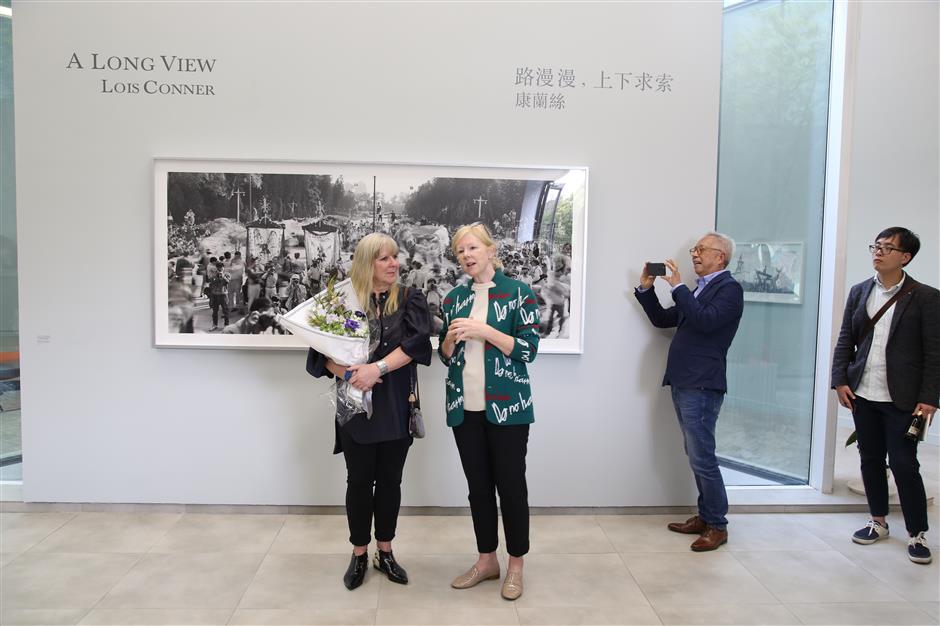 Courtesy of SCoP
A current photo exhibition entitled "A Long View" at Shanghai Center of Photography presents a selection of her work featuring China, providing the public a glimpse into her collection — she describes herself as "an obsessive collector of landscapes."
Curated by Karen Smith of SCoP with the support of the M97 Gallery, the exhibition is loosely composed of three parts: landscapes, cities and lotus.
The exhibition in the view of the New York-based photographer is "both looking back and looking forward," as it starts with her very first flirtation with the grotesque landscape of southwest China's Guilin. While studying photography at Yale University, she discovered the Guilin mountains in an art history class and later spent three months there on her first trip to China, landing a Guggenheim fellowship in 1984-85.
"They are bizarre and fictional. I never thought they were real," she said, adding that this was where she fortified her practice of taking platinum-print pictures with large format cameras.
Courtesy of SCoP
Unlike silver prints, which is too solid for Conner, platinum prints "better captures the translucency, fragility and subtlety of mountains disappearing and appearing (as if) in a mirage," she said. "On an ink print, I can never do that."
"My panoramic format is cinematic, it's the same shape as the 70mm film. I feel it's not only narrative but like short little films inside."
Though she is famed for landscape photography, people are an inseparable part of her work.
"Even if you don't see them (people), they are there," she said, quoting "Deer Enclosure," a poem wrote by Tang Dynasty (AD 618-907) poet Wang Wei.
"In pathless hills no man's in sight,
But I still hear echoing sound.
In gloomy forest peeps no light,
But sunbeams slant on mossy ground."
With a series of ongoing projects, Guilin is the place she always goes back to. "I'm still curious about it as I grow older," she said. "It kind of resonates more. There's a continuity, the people always pulling you back."
Courtesy of SCoP
First picking a camera at the age of 9, Conner learned about photography from her father. Yet it was quite a long time before she decided photography was her medium. She was devoted to watercolor painting at the age of 13, studied fashion design for two years and worked at the United Nations for 13 years before she officially became a professional photographer.
When studying at the Pratt Institute in 1973-75, she realized big cameras were her tools. "I felt grounded and free," she said. "The freedom to be allowed to stare at something for a really long time when looking at a landscape in which people are walking through, it was magic for me."
Therefore, "A Long View" literally accounts for her practice, though she has to be quick and sharper when pressing the shutter.
Courtesy of SCoP
In 1993, she was at a festival of Guangzhou Photographer Association. "I was with a friend (Lee Fredlander) and went up to watch, taking pictures. All of a sudden, they were looking at me. And I'm like, OK, don't have a heart attack, just try to focus on what you were doing," she recalled. With only one sheet of film left, she managed to take the picture.
Photographer Henri Cartier-Bresson said there's definitely a decisive moment. Conner's moment at that time emerged with the confluence of the right time and circumstance.
"I'm a photographer photographing photographers. What could be more beautiful than that?"
Accidents happen, a lot. She travels not only with her self-made camera and film holders, but also clamps, glue, a saw and extra wood to make sure she can fix the camera, repair the lens, even grind the glass on the spot if necessary. And the gears broke very often. She has so far used nine 19th-century cameras and one 20th-century one.
"You have to be very independent, maybe as a woman even more independent," she smirked.
Courtesy of SCoP
Her interest in lotus is another beckoning of nature. During her stay in Hangzhou in 1995, it rained every day, blocking the sunlight. That's when she managed to photograph a pond of withering lotuses, which were related to Chinese paintings and calligraphy works.
"It has a kind of flatness: There's no world outside it. That's the world," Conner said, adding that she was really shocked at how triangular everything looked, rarely seen in nature. "It's because the stems were bent over, posing as shadows, and you have that metaphor of reflection."
Now 67, Conner's adventure to uncover new territories is unceasing, never shying away from new approaches. She has tried scanning her negatives and adjust the files using Photoshop, altering what the camera records. Her color photo projects are in steady progress.
Curiosity still drives her on. "I feel like being in love with Shanghai all over again," she said, excited by the rising complex of construction along the West Bund and planning to picture it. "The city is amazing at this time of the year. I love the trees and ... the feel of little villages."
Conner's exhibition is at SCoP on Longteng Avenue through June 3.
Courtesy of SCoP
Source: SHINE Editor: Fu Rong Special Reports