Never forget: Film details horror of Nanjing
15:00 UTC+8, 2018-05-05
0
The documentary, "The Girl and the Picture," directed by Academy Award-winning filmmaker Vanessa Roth, brings memories of a Nanjing Massacre survivor vividly to life.
15:00 UTC+8, 2018-05-05
0
SHINE
"I was so little and I was shaking. I found myself next to dead people ... I am a survivor of the Nanjing Massacre."
As Xia Shuqin, 88, speaks on screen, she shares her haunting memories with her granddaughter, her 7-year-old great-grandson, with Chris Magee, grandson of the missionary who captured her image eight decades earlier during the massacre, and with American moviegoers in an Orange County theater.
Many Americans are unaware of one of the worst atrocities in China's long history: the Nanjing Massacre of Chinese civilians by Japanese invaders in 1937.
But the documentary, "The Girl and the Picture," directed by Academy Award-winning filmmaker Vanessa Roth and presented by the USC Shoah Foundation — The Institute for Visual Historyand Education, brings memories of a survivor vividly to life for audiences in Califorinia at the Newport Beach Film Festival, which ended on May 3.
At the age of 8, Xia and her 4-year-old sister, witnessed the murder of their parents, grandparents and the raping and killing of their elder sisters along with their youngest, 1-year-old sister, by Japanese soldiers in the horror that would become known to the world as the Nanjing Massacre.
Xia barely escaped with her life after she was gutted three times by the bayonet of a Japanese soldier and left for dead.
In the days that followed, John Magee, an American missionary outraged by the brutal treatment of the Chinese by the Japanese occupation, decided to document the atrocities to ensure there was evidence of the carnage.
In the process, he filmed the young survivors, Xia and her sister, standing in front of the ruins of their family home, and so bound his family and theirs together forever.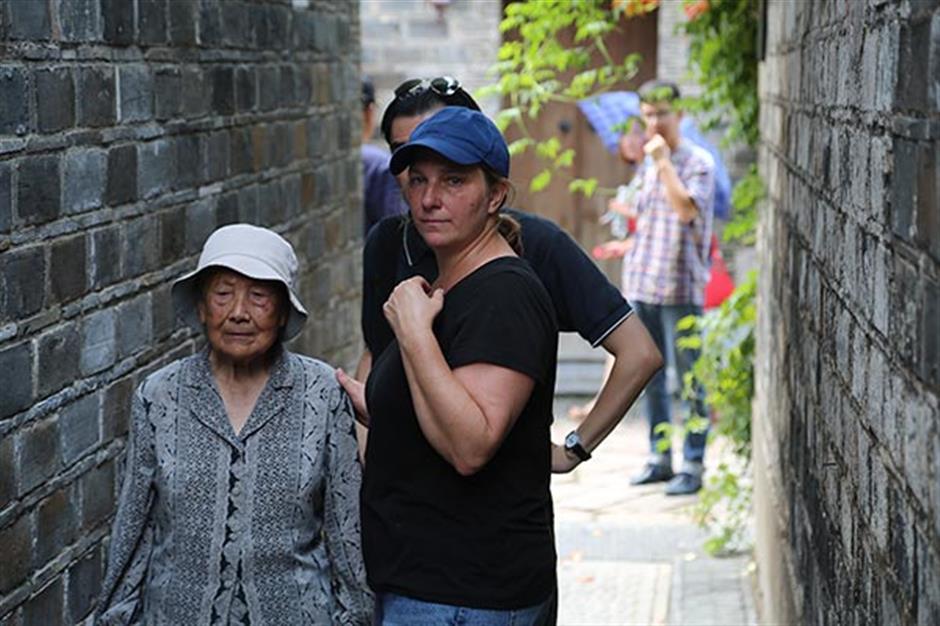 SHINE
SHINE
In total, more than 300,000 Chinese people were killed by Japanese invaders during the brutal holocaust lasting six weeks in 1937.
"'The Girl and the Picture' is about bearing witness. It's about giving voice to the human experience and it is about storytelling so that the past is not forgotten," said Roth in a statement released by the USC Shoah Foundation.
The foundation was founded by Steven Spielberg, one of Hollywood's most popular directors and producers, with a mission to record eyewitness testimonies of the Holocaust and other genocides for research and education.
Its intention is to prevent future atrocities by "never forgetting" the past.
"'The Girl and the Picture' focuses on the story and voice of one of the last remaining survivors of the Nanjing Massacre of 1937 — which in and of itself is a gift to us, as generations and a world that know little to nothing of this massacre," Roth said.
"It is also a project that I saw as a chance to excavate forms of storytelling itself — and look at different ways we preserve legacy and memory, and process loss and survival."
The documentary premiered at the American Documentary Film Festival in Palm Springs, California, on April 10 and was then screened at the Tribeca Film Festival in New York and the Newport Beach Film Festival in California.
Roth has won a number of film awards for her work, including a 2008 Academy Award for Best Short Documentary for "Freeheld" as producer. She is also the director of a Netflix Original documentary series "Daughters of Destiny," released last year.
"We want to bring this story out and preserve history and expose more to the world, so that we can learn from history and not repeat history," said Livio Sanchez, the film's editor, during the Newport Beach Film Festival.
"Here in the West, we don't study that part of history very much," said Sanchez, adding that he knew a little about the Nanjing Massacre when the director came to him with the project.
"So I did my research and learned about the Nanjing Massacre and about Xia Shuqin. We want to tell her story in a very personal way that anyone in the world can relate to," he said.
SHINE
SHINE
Sanchez is an award-winning editor with an extensive and diverse body of work including independent films, documentaries, music videos, commercials and virtual reality immersive experiences.
"One of our goals is to preserve survivor testimony as well as we can, to make sure that it's accessible to future generations to continue to educate future generations," said Kia Hays, project manager of New Dimensions in Testimony from the USC Shoah Foundation.
In partnership with the Nanjing Massacre Memorial Hall, the foundation has dedicated itself to preserving the testimonies of the remaining fewer than 200 survivors of the Nanjing Massacre.
"This is very enlightening, educational, and obviously very emotional. That poor woman went through a lot in her life. I'm proud of her. She's done well and had a good long life, considering the rough start," a film-goer called Jonny Pierce said as he was leaving the theater.
Another film-goer, Stephanie Erdahl, praised the film as a very profound, moving work, saying that the depictions looked very real.
"Her courage was astounding. I did not know this part of history before, so I'd like to research further. I'm interested in learning much more," says Erdahl.
"My hope is that this film is seen as a symbol of the power of passing down family history to bridge generations and preserve our shared history, in order to know our past and ourselves better, and to never forget," Roth said in her statement about the film.
Xia agreed. "Why do you need to remember this history?" she asked her 7-year-old great-grandson at the end of the film. Leaning close to him, she answered her own question, "To have peace. No more war."
Source: Xinhua Editor: Liu Qi Special Reports