Photo exhibition exploring existence of a city and its people
15:14 UTC+8, 2018-05-23
0
Entitled "Regards Croisés," the exhibition features works of urban buildings and architecture taken by Frenchman Patrice Loubon and Shanghai artist Liu Gang.
15:14 UTC+8, 2018-05-23
0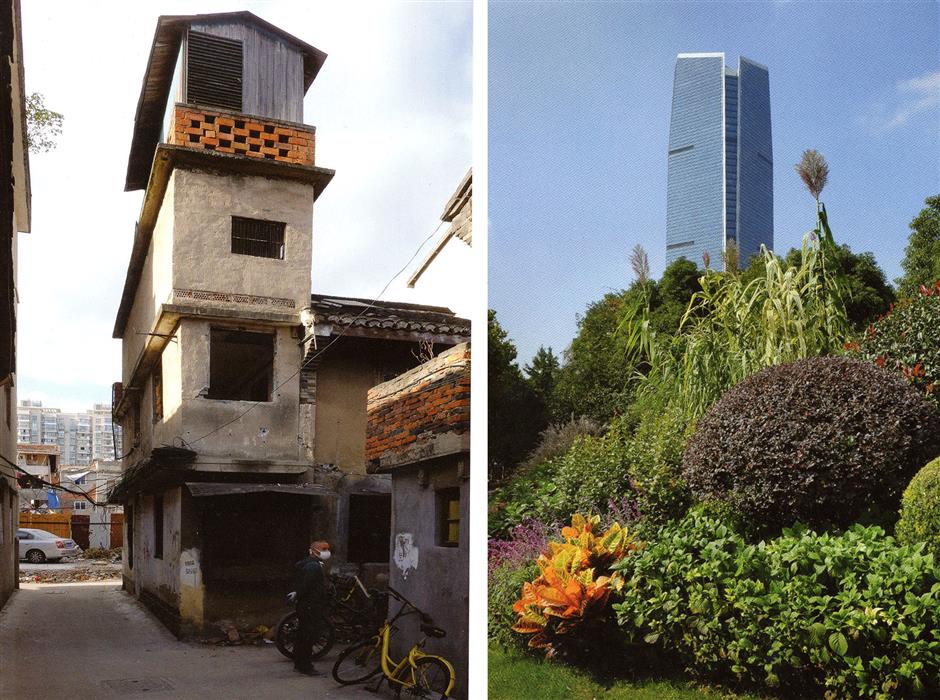 Patrice Loubon / Ti Gong
We are not only what we eat, what we read, but also what we live. The streets and buildings of a city define a way of life for the people who live there.
An ongoing photography exhibition, entitled "Regards Croisés," explores the significance of the existence of a city, which is not only about geographical position, but also a product of the high development of human civilization.
The exhibition, featuring works taken by French artist Patrice Loubon and Shanghai artist Liu Gang, is underway at the Sun Ke Villa, a historical building designed by architect Laszlo Hudec in the 1930s.
Loubon, born in 1965, lives and works in Nimes, France. His favorite subject is his home city and the phenomena that cross it. His concerns are universal and the subjects attempt to reveal the invisible flow that roams through the arteries of contemporary urbanity.
Likewise, Liu has been taking pictures of Shanghai since the 1990s. He is a key researcher on the report "Resilient Cities and Sustainable Development of Living Environment," jointly conducted with the College of Architecture and Urban Planning at Tongji University.
Between October and November last year, the artists swapped cities, with Loubon coming to Shanghai and Liu going to Paris to record each other's city through their lenses to highlight the lifestyle and architectural features in the process of urban renewal.
The resulting exhibition has a nice spread of photos that Loubon took of the downtown alleys of Nanjing Road W., the community near the Confucian Temple in the Old Town area, the Normandy Apartments designed by Hudec and an old neighborhood behind Jiangpu Park in Yangpu District.
"For me, this is original. I see the stairs and towers that were built solely for the purpose of living and human activities," says Loubon, who was impressed by peaceful and friendly environment of the old neighborhoods during his one-month stay in Shanghai.
"We may often walk into an art venue, but it is easy to overlook the grassroots neighborhoods that we pass by every day. Every city is an excellent carrier, where people, objects and landscape may be more inspiring to outsiders than those who are living in," Loubon says.
Liu Gang / Ti Gong
In contrast, Liu's works feature some of the most impressive social housing projects constructed in the 1950s-80s to meet the demand of population growth in Paris at that time, such as a public apartment and condo buildings in Noisy-le-Grand, a student residence in Creteil, the Rosa Parks and Avenue Danielle Casanova in Ivry-sur-Seine.
"These stunning buildings strive for the construction of an urban existence which, through building and transforming sites and landscapes, demonstrates an awareness of its territory," says Liu, "For me, I see the confrontation between a violent and noisy main road and a project that fulfills its urban function."
As population grows and cities become more crowded, public housing has become an increasingly important issue for governments around the world. The aim is often to provide low-cost housing to individuals and families who need it, while still affording them the dignity of well-designed and distinctive homes.
"The Paris experience provides valuable lessons for Shanghai, which is undergoing a new cycle of urban development," Liu tells Shanghai Daily.
Besides the photo exhibition, visitors can also enjoy a small display related to the building. "Sun Ke 1931" chronicles life of Sun Ke, son of Dr Sun Yat-sen. Sun Ke lived in the villa between 1932 and 1948.
Exhibition details
Date: Through June 4
Venue: 1/F, Sun Ke Villa
Address: 60 Panyu Rd
Liu Gang / Ti Gong
Source: SHINE Editor: Liu Qi Special Reports