A million opportunities at West Lake Expo
17:50 UTC+8, 2018-12-03
0
The 20th West Lake International Expo wrapped up on November 11 after welcoming well over a million visitors and attracting 10.1 billion yuan worth of trade.
17:50 UTC+8, 2018-12-03
0
The 20th West Lake International Expo wrapped up on November 11 after welcoming well over a million visitors and attracting 10.1 billion yuan (US$1.46 billion) worth of trade.
Around 4,000 professionals and 400 enterprises from abroad attended the 15-day event, accounting for 20 percent of the expo's total exhibitors.
The Leisure Industry Expo, a highlight of the West Lake extravaganza, explored global leisure concepts and cultural studies. It kept participants informed on the latest industrial developments and attracted 110 organizations from 15 countries and regions.
Ti Gong
The 12th Hangzhou Cultural and Creative Industry Expo, another feature, lured 2,100 companies and 287,000 visitors and industry insiders, up 64 percent year on year.
At the Yunqi Conference around 170 seminars took place demonstrating advanced systems and products that are at the cutting-edge of high technology, artificial intelligence, integrated circuit and Internet of Things.
The West Lake Expo helped promote Hangzhou, its exhibition and convention industry. Luminaries such as Nobel Prize winner Christopher Pissarides, Turing Award winner, Whitfield Diffie and former Prime Minister of France, Dominique de Villepin, were invited to discuss trends in the world economy, finance and technological fields, and the future development of Hangzhou.
The expo also accelerated the development of local featured industries, including e-commerce, design, tourism, outsourcing and the convention and exhibition industries.
The Third Global Cross-Border E-commerce Summit served enterprises and projects more effectively, creating an effective channel in cyberspace and expanding business via Internet routes.
The State Council gave the city the green light to establish the China (Hangzhou) Cross-Border E-commerce Pilot Zone and encourage foreign trade and industrial restructuring.
Ti Gong
Hangzhou takes the lead in setting standards on cross-border e-commerce transactions, payment, logistics, customs clearance, tax refund and exchange settlement. It is also a frontier of outsourcing industry.
For nine consecutive years the China Sourcing Summit, co-sponsored by the Ministry of Commerce and the Hangzhou government, has been one of the core events of the expo.
It chose the summit theme of "Cash in on trend, cluster Innovation, broaden digital service era." It is the only national-level outsourcing conference in the country and Hangzhou has been a magnet for overseas companies wanting to outsource work in the last three decades.
As for the tourism industry, traditional events included the China (Hangzhou) Food Festival, Grand Canal Temple Fair, Citizen Leisure Festival, Qiantang River Walk and International West Lake Rose Wedding Ceremony.
The five-day Citizen Leisure Festival saw performances by international artists, a photography exhibition, cooking competition, Chinese food fair and a traditional craftsmanship showcase. The main venue was set up in Xixi Paradise. The event attracted around 151,000 visitors, bringing in more than 10 million yuan of sales.
The Grand Canal Temple Fair hosted a variety of activities including a basketball competition, traditional wedding ceremony, crafts fair and a music concert. Craftsmen and time-honored brands carved out space to display traditional handicrafts, knick-knacks and snacks at four historical blocks, including the Grand Canal Tiandi, Qiaoxizhi Street, Xiaohezhi Street and Dadou Road.
In addition, Qiantang River Walk attracted more than 15,000 people. The walk was divided into three categories: the 5-kilometer family route, 30km and 50km trails.
The Asian Design Management Forum and Festival attracted over 350 innovative brands and 80 designers this year from sectors of gardening, sports, gourmet, art, crafts and design. More than 100,000 visitors were allured to the gala.
In a bid to become a top MICE destination in the Asia Pacific region, event organizers deepened the cooperation with international convention and exhibition organizations, such as the International Congress and Convention Association and the Global Association of the Exhibition Industry. These associations provide an ideal platform to showcase Hangzhou's MICE advantages and resources to global conference organizers and to build up networks with overseas channels.
In order to further exhibit Hangzhou's advantages as a MICE destination, the expo hosted several international conferences, enhanced publicity, augmented media exposure and added new content to enable domestic and foreign meeting organizers to discover the city's charm and look for more possibilities for their events.
The expo was also an ideal platform in attracting talent from all fields of technology and science. Zhejiang Hangzhou International Human Resources Exchange and Cooperation Conference attracted over 37,000 participants, including 148 foreign professionals and 582 overseas students.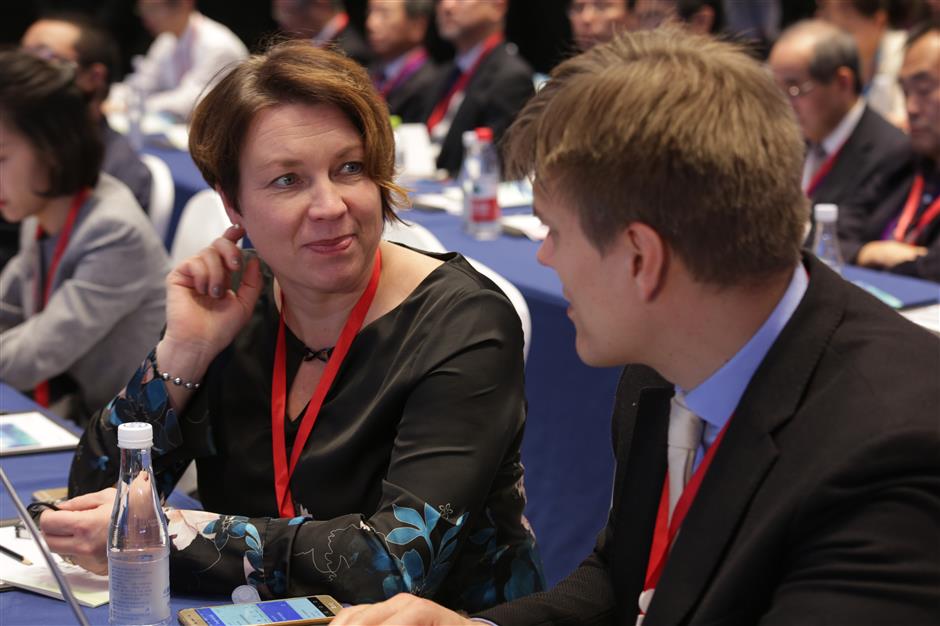 Ti Gong
The expo is also a local event and this year was no exception and more than 60,000 free tickets were distributed throughout the city.
First held in 1929, the West Lake Expo was regarded as the biggest exhibition the country had seen in modern times, a milestone of China's booming domestic industry.
It was suspended after 1929. In 2000, the Hangzhou government revived the expo, which today has become an annual extravaganza of leisure, tourism, culture and business.
Source: SHINE Editor: Su Yanxian Special Reports