Exhibit lifts lid on haipai art history
18:10 UTC+8, 2019-05-31
0
A historical documents exhibition on haipai art education in Shanghai has opened at the city's Liu Haisu Art Museum. 
18:10 UTC+8, 2019-05-31
0
A historical documents exhibition on haipai art education in Shanghai has opened at the city's Liu Haisu Art Museum. Haipai, literally meaning "Shanghai style," refers to the avant-garde but unique East-meets-West culture which first emerged in the city in the 1920s and 1930s.
Themed on "Birthplace of Emerging Art," the two-month show chronicles a powerful public art education story in Shanghai over the past decades, and its immense role in producing engaged and career-ready students and professionals in the field of Chinese art history. The exhibition runs through July 20.
Visitors get a rare chance to see news clips of school opening announcements dating back 100 years, as well as enrollment requirements, students' rules and regulations, class demo sketches, manuscripts of teaching plans, and archive collections of works of renowned teachers and students' homework.
Many are newly collected or donated by former teachers and students, and on show to the public for the first time.
Courtesy of Shanghai Academy of Fine Arts
"As the birthplace of Chinese modern art education, Shanghai is closely related to the development of Chinese art in the 20th century," said Feng Yan, president of Shanghai Academy of Fine Arts, which was officially spun off from Shanghai University in December 2016.
SAFA has three masters degree courses, three national top-tier doctoral majors, namely the Fine Arts Theory, Design Science and The Artistic Theory, and one post-doctoral mobile station.
Founder of art schools in Shanghai and Nanjing, including the Shanghai academy, the first art college in modern China, Liu Haisu was a pioneer and monument that can not be neglected in the history of Chinese art education.
Born in 1896 in Changzhou, Jiangsu Province, Liu loved painting from a young age. He came to Shanghai alone for professional studying at the age of 14.
One day in 1912, Liu, then 16, was having dinner with his artist friends, Wang Yachen, 18, and Wu Shiguang, 27, at a restaurant by the north end of the Zhapu Road Bridge. They looked at the beautiful scene over the Suzhou River and came up with an idea to set up a public art school in Shanghai to teach and practice what they had learned.
Named the "Shanghai School of Chinese Painting," it was inaugurated in February the following year in a rented room at 8 Zhapu Road. The first two classes of students came in August, with one main course in Chinese painting and a minor in other fields, such as sketching or graphic design. The school also offered correspondence courses for part-time students.
Courtesy of Shanghai Academy of Fine Arts
In 1915, the school moved to 100 Xilinheng Road, near today's Baiyun Taoism Temple complex.
In the same year, it received approval by the Shanghai government as an institution of higher education in art, and students could earn a degree after three years' study.
In 1919, the 23-year-old started to serve as the school's principal and renamed it the "Shanghai School of Fine Arts." He modified the academic system by setting up a series of art majors, including Chinese painting, Western painting, industrial design and sculpture, and two majors for art teacher education — thus making it a full-fledged, specialized academy of fine arts.
As a teacher, Liu maintained that painters should combine a knowledge of formal art theory with their natural talent and personal judgment, a departure from the Chinese tradition of copying the compositions and techniques of old masters.
His reputation as a progressive and controversial figure was soon established. He was the first man to use nude models in classroom settings in China and some people called him a traitor of the arts. However, he got support from Cai Yuanpei, then principal of Peking University.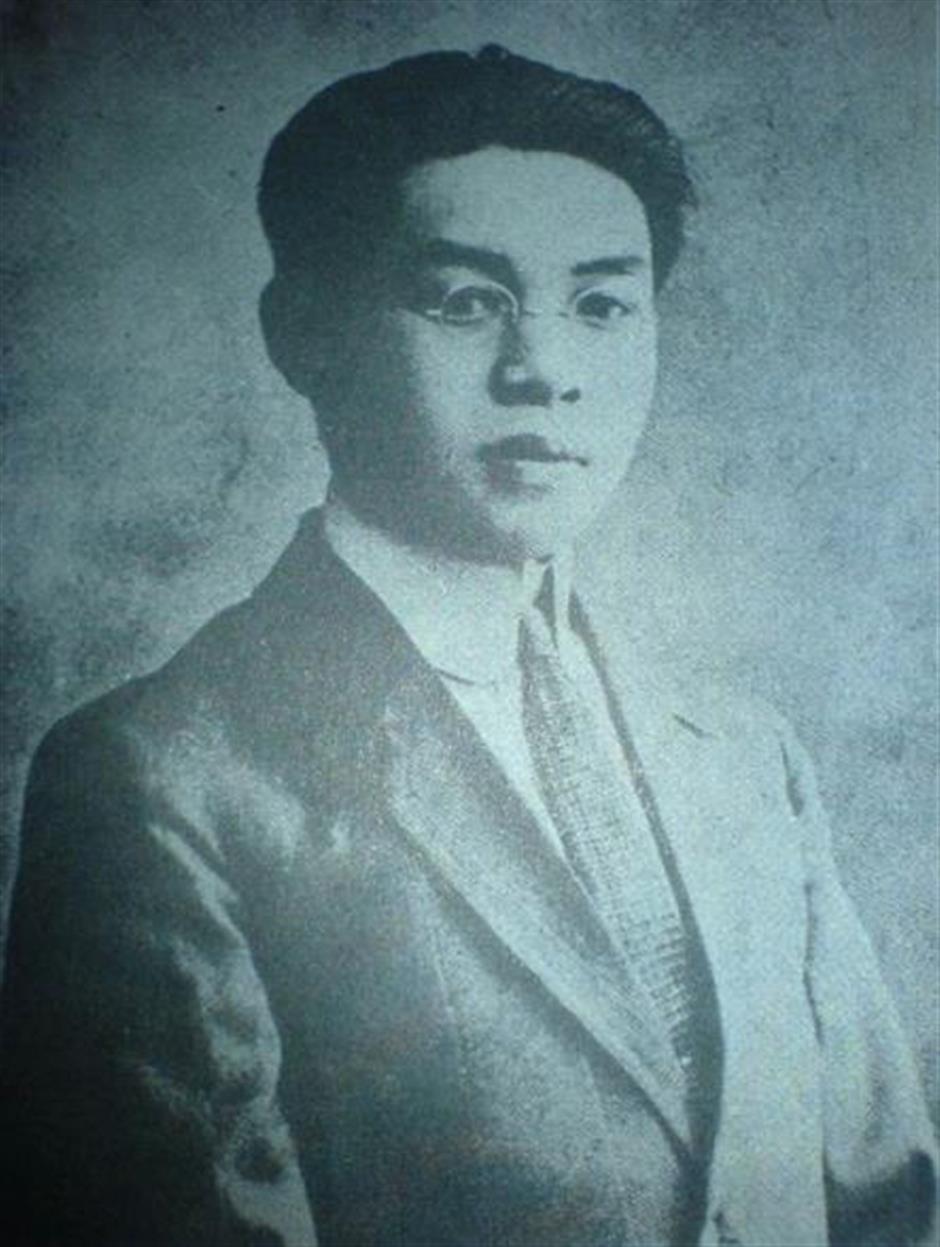 Courtesy of Shanghai Academy of Fine Arts
Courtesy of Shanghai Academy of Fine Arts
Throughout the 1920s and 1930s, Liu organized a number of national and international exhibitions, traveling first to Japan and then Europe, where he studied Western oil painting techniques. He combined traditional Chinese painting methods with Europe-an techniques and advocated for this style as a means of modernizing art education in China.
He communicated with famous painters, such as Pablo Picasso and Henri Matisse, and made great contributions to the development and spread of Chinese painting. He also founded the first art magazine in Shanghai.
Five years later, having resolved its finance problems, the academy opened its second campus on Route Pere Dugout (today's Yongnian Rd in the Laoximen area) with more than 200 rooms for the teachers and students. It also bought three bungalows in the front row on the nearby Caishi Road (today's 560 Shunchang Road) as its learning and teaching buildings, with an auditorium reconstructed on the ground floor and a gallery to show model works of teachers and students on the first floor.
In 1930, the school acquired its present name, the Shanghai Academy of Fine Arts, with calligraphic characters inscribed by famous educator Cai, who was then a member of the board, on the front gate.
Courtesy of Shanghai Academy of Fine Arts
Courtesy of Shanghai Academy of Fine Arts
Between 1922 and 1952, the academy nurtured a great deal of big-name artists who carved out their place in the history of Chinese art in the 20th century, such as Pan Tianshou, Lin Fengmian, Pan Yuliang, Zhang Yunren, Li Keran, Wu Zuoren, Zhao Wuji, Chen Shifa and Mu Xin.
After 1952, the Shanghai academy moved to Nanjing, and the teaching buildings were transformed into living quarters for the locals. Today, the Shunchang Road community is littered with run-down lane houses and miscellaneous lodgers. And like many of the old neighborhoods in Shanghai, it will get demolished one day.
Li Chao, curator of the exhibition, says despite the turmoil of the times, nearly 40 fine art schools were opened in the early 20th century in Shanghai, which were later merged to be part of the academy, then nicknamed as the "Whampoa of Art" to match the Whampoa Military Academy in Guangzhou, which produced many prestigious Chinese commanders.
Courtesy of Shanghai Academy of Fine Arts
Courtesy of Shanghai Academy of Fine Arts
Li said the buildings at 560 Shunchang Road is one of the few relic sites that remain to this day. There, the first national art exhibition was initiated in 1929. There, nearly three-quarters of the art books were published to be used as the country's teaching materials. In 1936, on the 25th anniversary of the establishment of the Shanghai art academy, 366 students lived there, who came to study art from across the country due to its popularity, according to school records.
"Through chronicling the historical documentaries and relics of Shanghai art schools, this exhibition aims to arouse public interest in the century-old context of haipai art education in Shanghai," Li said.
"It also serves as a rare opportunity for art teachers and students to reflect upon how to better contribute to the country's cultural development through art-based education and activities in the future."
Courtesy of Shanghai Academy of Fine Arts
Source: SHINE Editor: Fu Rong Special Reports