Xiju Opera stars bring the art back to life
10:50 UTC+8, 2019-07-30
0
In the 1950s and 1960s, there was an opera that almost everyone in Jiading knew about. It was Xiju Opera. 
10:50 UTC+8, 2019-07-30
0
Chen Qiyu / Ti Gong
In the 1950s and 1960s, there was an opera that almost everyone in Jiading knew about. It was Xiju Opera.
The older generation can recall that when the Jiading Xiqu Opera Troupe went to the countryside to perform, at least 3,000 people came to the theater each time. Before the troupe arrived, all the tickets were sold out.
The troupe, founded in 1952, traveled almost everywhere in Jiading. It was common for members to walk two or three hours to put on a performance.
Zhu Chenxiao remembered that the longest walk was from Malu Town to Huating Town, some four hours.
At that time, there was no sound equipment. Actors and actresses all had good voices. When they performed at night, they had to rely on gasoline lamps.
Although the troupe has long been dissolved, the backbone of the troupe and the inheritors of Xiju Opera are still active and continue to perform for the people of Jiading.
"As long as people watch, the performance will go on," they say.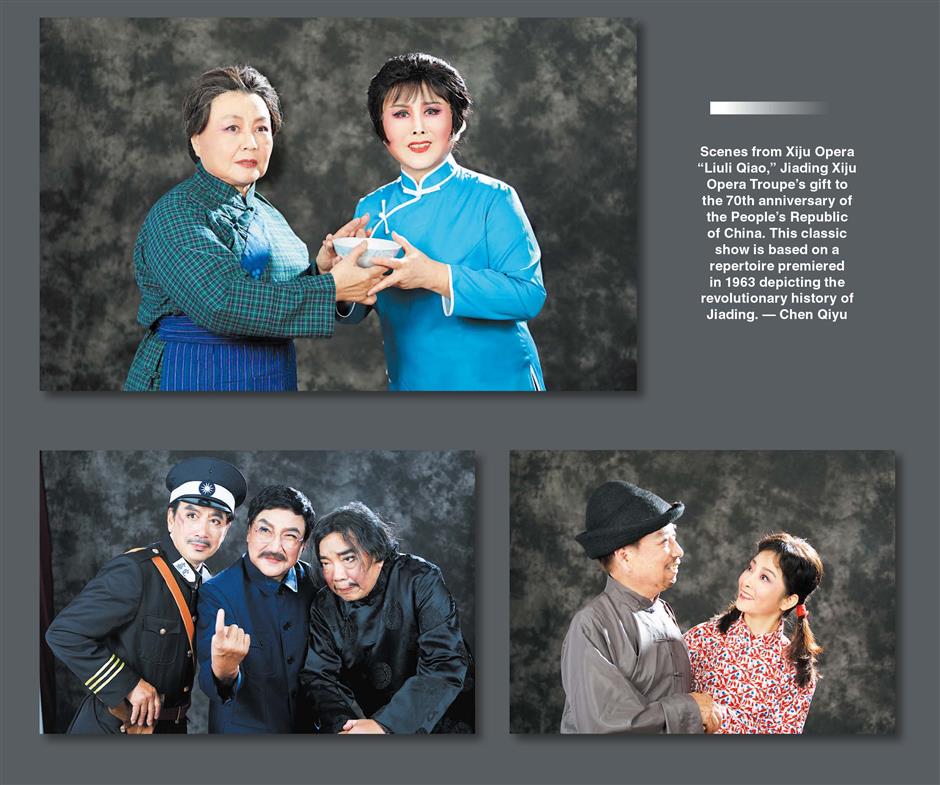 Chen Qiyu / Ti Gong
The Jiading troupe was previously known as the Fanghelin Xiju Opera Troupe. It was founded by Pu Yang, Wang Hejin and Lin Yuezhen in 1948. It moved to Jiading in 1952 and was renamed the following year.
At that time, it was rated the best in the country, even better than troupes in Wuxi, birthplace of the opera. It not only produced a number of state-of-art performers, but also produced a number of films.
As most of the audience are local farmers, performances were always held outdoors, such as in a village's threshing yard or barnyard.
Performers traveled on foot or by boat. They often slept at locals' homes or even in a pigsty after an evening performance.
Many performers quit because of the hardship. Only a few of them went through all of that. Zhu was one of them.
In its first 10 years, the troupe held 5,510 performances in the Jiading countryside, attracting a total audience of 432,000.
Chen Qiyu / Ti Gong
In the late 1950s, during a visit of Chairman Mao Zedong and Premier Zhou Enlai to Shanghai, Pu and Lin were praised by the state leaders for their performance.
In the early 1960s, the troupe was awarded as a model troupe throughout the country.
Jiading Xiqu Opera features not only a unique singing style, but also excellent action scenes.
It absorbs the martial arts movements in Peking Opera and Kunqu Opera, and makes its performances particularly brilliant.
From 1954 to 1961, the Jiading troupe sent many of its performers to attend various classes for further study. In July 1960, it even established its own school. Wang Jixin, Yuan Jialan, Zhu Chenxiao and other new generation performers stood out to carry forward the development of Xiju Opera in Jiading.
However, the troupe dissolved in 1988. Later, Wang Jixin, a young actor with the troupe, led the establishment of an opera salon in Jiading.
Every week, he held activities in the district workers' club with more than 100 participants.
Wang often taught opera fans how to sing Xiju Opera.
After the troupe dissolved, its members moved to new jobs. It wasn't until 2004 that five members of the troupe — Zhu, Lu Weiqing, Wu Zhencong, Xu Jiaqi and Xu Xiao, got together and decided to rebuild the troupe.
It often creates modern dramas based on stories from local people. Some fans even became members. Zhu said: "We have two salon events every week. Fans can show on stage. If they sing well, they may join us."
Wang Qingqiu, a fan turned actress, said:"When I first came in, I didn't know how to make up, let alone stand on the stage. It was the teachers who initiated me into the craft."
At the same time, there is also a performance group in Jiading — Jiading District Seniors Art Association. The association is led by Zhu.
It consists of retired opera performers and volunteers — some among them are Zhu's peers and some are huge fans. They go to nursing homes and the community to perform for the elderly people as their "full-time job" after retirement.
Last year, they presented 170 performances which attracted 50,000 senior viewers, accounting for one third of Jiading's elderly population.
Chen Qiyu / Ti Gong
The troupe is now busy rehearsing a big show "Liuli Qiao" or literally "Six Mile Bridge" as a gift to the 70th anniversary of the People's Republic of China.
It is a repertoire premiered in 1963 depicting the revolutionary history of Jiading.
"After the establishment of the crew, we spent six months streamlining the original script and compressing the length of the script," remembered Zhu.
"In order to restore history, we visited the district archives bureau and the Party history office to collect materials," he added.
The premiere and tours decades ago had a strong social impact, which prompted people to recall the revolutionary martyrs.
Production supervisor of the show Guan Hukui said: "As it's a repertoire, we think a lot and change a lot. We compressed the length of time and recreated the music.
"While putting other ideas in, we still adhere to the principle of 'never change from its origin.' The singing style and the art noumenon of the Xiju Opera cannot be changed."
Guan played a "landlord" in rehearsal. In his eyes, it was as if he had returned to his first play when he joined the troupe in 1973. He enjoyed the moment, no complaints and no regrets.
The troupe is like a family. Although rehearsals are not easy, the feeling of reunion after a long time makes everyone's effort lead to the same goal. "The troupe has never been so united. It feels so good," one said.
About Xiju Opera
Xiju Opera was once very popular in southern Jiangsu Province. After 1949, it spread from the Lake Tai area to the Yangtze River Delta region. The 1950s and 1960s was the "golden age" for the development of Xiju Opera. There were more than 40 troupes in Shanghai's Jiading, Jinshan, Qingpu and Fengxian districts as well as some parts of Zhejiang Province. It has become one of the three major dramas in East China.

The growth of Xiju Opera originated in the countryside. It features splendid feelings, vivid language and strong local ties. It is a popular peasant opera and a form of peasant literature and art.
Ye Shengtao, an influential Chinese author, watched a performance of Xiju Opera and praised it as a "Red Plum" of Lake Tai.
Pu Yang, one of the founders of Jiading Xiju Opera Troupe, is among the best Xiju Opera actors, dedicated to the prosperity of Xiju Opera in Jiading for decades.
Source: SHINE Editor: Chen Xingjie Special Reports