West Bund sanctuary to cleanse your soul
00:00 UTC+8, 2019-11-09
0
There are dozens of art fairs, exhibitions and events this week in Shanghai so you might need a new pair of sneakers to run through them all.
00:00 UTC+8, 2019-11-09
0
Pablo Picasso once said, "Art washes from the soul the dust of everyday life," which meant that art cleanses the soul, stimulates the mind and gives one a refreshed point of view. And this is exactly what November art week will do.

There are dozens of art fairs, exhibitions and events this week in Shanghai so you might need a new pair of sneakers to run through them all.
Undoubtedly, the West Bund area is the first priority on the art map. Modeled on the left bank of Paris' Rive Gauche and London's South Bank, Shanghai's West Bund area has been developed into a world-class waterfront center for culture, arts and design.
The whole West Bund neighborhood is poised to become the city's premier arena for world-class art. Situated in the southeast part of Xuhui District, the area along Huangpu River stretches 9.4 square kilometers and used to be a cradle of so many leading national industries, such as the Shanghai Cement Plant and a hub of modern transportation.
When Zhou Tiehai, one of China's best-known contemporary artists, was invited to open the international fair at the West Bund six years ago, he hesitated.
At that time, it was a "cold winter" for the city's contemporary art scene, especially due to the closure of the ShContemporary International Art Fair, which frustrated a lot of industry leaders and art lovers. However due to Zhou's wide art community social network, a solid background in operating an international art fair and a determined heart to "save the local contemporary art scene," Zhou and his team invested their time in West Bund Art & Design. Soon after the whole neighborhood developed into an incredible art scene buzzing with life.
Zhou emphasized that West Bund Art & Design "focuses on running an international standard art fair."
The rise of ART021 Shanghai Contemporary Art Fair was another crucial factor in the surge in art popularity along the West Bund.
ART021, established in 2013, now has a clear brand image among a cluster of art fairs in China, which is young and chic.
"Last year, we received nearly 80,000 visitors for ART021 within four days," said Kylie Ying, one of the company's founders. "This year several delegations from important art museums and institutions will come to our art fair."
The strategy for ART021 is clear.
"ART021 is an art fair in China, so it should reflect the Chinese contemporary art scene," she said. "This year about 60 percent of the participating galleries are from China. We all know the 'discourse power' of contemporary art still belongs to the West, and we tried to decentralize it with something new."
Ying and her team frequented many galleries along the "Ancient Silk Road," including Iran, the United Arab Emirates, Romania, Indonesia, Thailand and the United Kingdom, in hope they could map out a renewed sensibility and influence from the regions for an alternative visual experience.
"In my eyes, an art fair is not only to display all artworks from different galleries around the world," she said. "We are always curating an art fair. It's more than simply hanging artworks onto walls."
Another attraction of ART021 lies in the cluster of celebrity visits such as Jay Chou and Carina Lau who are big buyers.
"Sometimes it is a headache if there are about 100 fans following inside," Ying said.
Although November is the late autumn season it becomes a "reviving spring" for the local contemporary art scene, as there will be a series of outdoor exhibitions and art events.
Let's hope there is plenty of bright and sunny weather during this weekend.
Courtesy of Massimo De Carlo Gallery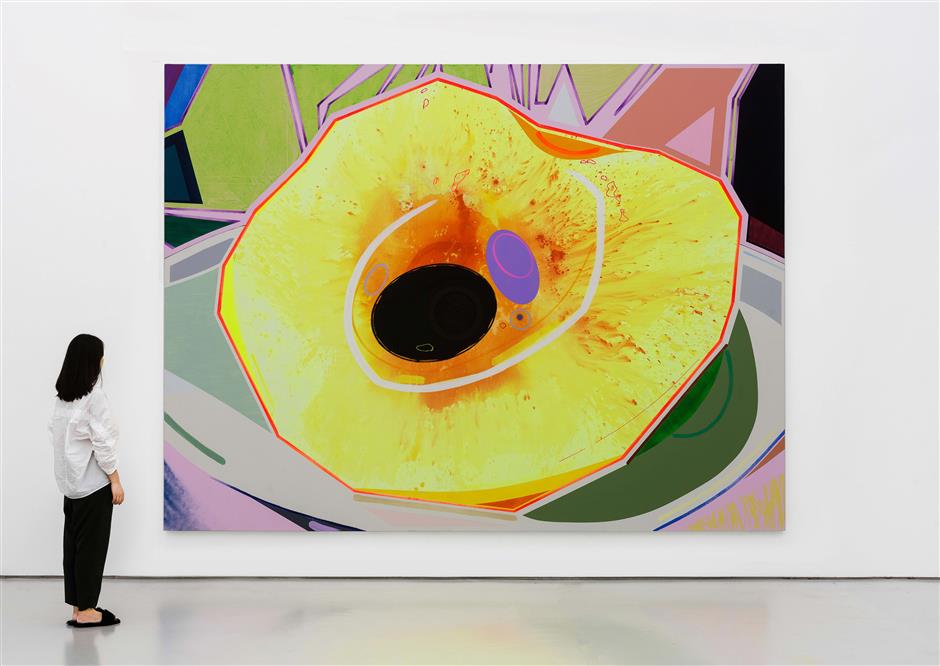 Courtesy of White Space Beijing
Source: SHINE Editor: Zhang Liuhao Special Reports