Warrior monks dancing? Whoever imagined that!
15:56 UTC+8, 2019-11-15
0
Chinese Shaolin warrior monks doing kung fu on a modern theater stage with violin, cello and piano accompaniment? What's going on?
15:56 UTC+8, 2019-11-15
0
Chinese Shaolin warrior monks doing kung fu on a modern theater stage with violin, cello and piano accompaniment? What's going on?
Belgium choreographer Sidi Larbi Cherkaoui, giving full play to his creativity and imagination, created a unique contemporary dance called "Sutra," with the help of sculptor friend Antony Gormley and some 20 monks from the Shaolin Temple on Songshan Mountain in Henan Province.
The show, which premiered in Europe in 2008, explores the philosophical wisdom behind the Shaolin tradition and the relationship between man and kung fu in the modern era.
After more than 240 performances around the world, the dance finally made its debut on the Chinese mainland. Better late than never. It was widely praised by Shanghai audiences during the 21st China Shanghai International Arts Festival.
Ti Gong
The inspiration for "Sutra" came from Cherkaoui's "journey to the East" in 2007, a trip to shake the then 31-year-old choreographer out of his comfort zone. He visited the Shaolin Temple at the suggestion of Japanese producer and friend Hisashi Itoh.
Cherkaoui is a fan of martial arts and yoga, and also a strict vegetarian. Born in Belgium to a Flemish mother and a Moroccan father, he describes himself as "an Arab who doesn't eat meat and a Belgian who doesn't drink beer."
It's probably his self-definition of "an outsider" and the sense of apartness that kept Cherkaoui exploring foreign cultures to find links between people and the world.
The Shaolin Temple, located on the western edge of Songshan Mountain in central China's Henan, was the birthplace of Zen Buddhism dating back to AD 495.
"I had an image in my head of what the monks' lives would be like," Cherkaoui said. "But when I was there, my understanding grew much deeper. It must have been an emotional journey for someone who wanted to be a monk. Every one had their journey, and I had mine, which carried me there."
During his conversations with Shaolin Master Shi Yanda, Cherkaoui asked why monks prayed in quiet, then fought like madmen. Shi explained how meditation stills the mind and kung fu stills the body.
Ti Gong
Shaolin kung fu has hundreds of movement sequences, and its warrior skills include wrestling, capturing, disjointing and touching vital points to cause injury. Initially, the skills were practiced for defense, but they later became a daily regime of the warrior monks. Some sequences borrowed inspiration from animals, copying the movements from the likes of eagles, monkeys and scorpions.

"That made me feel even more connected," said Cherkaoui, "because when I choreograph, I feel increasingly inclined to let dancers think of themselves as animals rather than a human being."
A new idea started to germinate in the choreographer's mind. He turned to Gormley for support, knowing that the celebrated British sculptor had previously traveled extensively in Asia to study Buddhism. Gormley showed great interest and took charge of visual creation and the design of "Sutra."
Gormley's greatest design for the show was 21 tailored wooden boxes. The proportions of the oblong, five-sided boxes are 60cm x 60cm x 180cm. In the show, they are used separately or assembled, forming cupboards, coffins, Stonehenge, a forest of steles or even a lotus flower.
Ti Gong
For music, Cherkaoui turned to Polish composer Szymon Brzoska, who was 27 at the time and had just finished composition study in Antwerp.
Bearing great affection for Cherkaoui's works, Brzoska created a melancholic score for violin, viola, cello, piano and percussion, which contrasted with the bracing physicality of the monks' movements in the show.
Brzoska said in an earlier interview that he didn't want to use predictable Chinese music formulas in "Sutra," though he did want to retain a certain motif of Chinese music.
"We used some percussion instruments from China, from the temple, to be specific," he said. "But it was more about creating an atmosphere. The strings helped me to create the harmony I wanted, and the piano brings in rhythm, too."
According to Cherkaoui, the early stages of rehearsals were all about movements.
"I love their animal incarnations, moving like a panther or a snake," he said. "It's similar in dance. You dance Swan Lake and believe that you are a swan. Both kung fu and dance need imagination."
Ti Gong
In the show, there is one foreign character — an explorer, an invader, a person who sometimes stands closer to the audience than to performers.
"Among the collective movements of the monks, I felt the need to have someone go against the stream," said Cherkaoui. "This character could give my narrative perspective. That's probably why a lot of people like this work. They can feel themselves going along with that character."

The foreign character was performed by contemporary dancer Ali Thabet, who is also the assistant choreographer of "Sutra."
"The reason 'Sutra' has been liked by audiences around the world is that the creator presented what he actually saw and experienced at the Shaolin Temple instead of just drawing on his own assumptions about Chinese cultural symbols," said Thabet. "My assumptions about China came from Bruce Lee movies I watched in childhood. But later you realize Chinese culture is much more than that."
He added: "I was very curious about how Chinese audience would react because 'Sutra' is actually a work about China, and it's finally coming home after 11 years."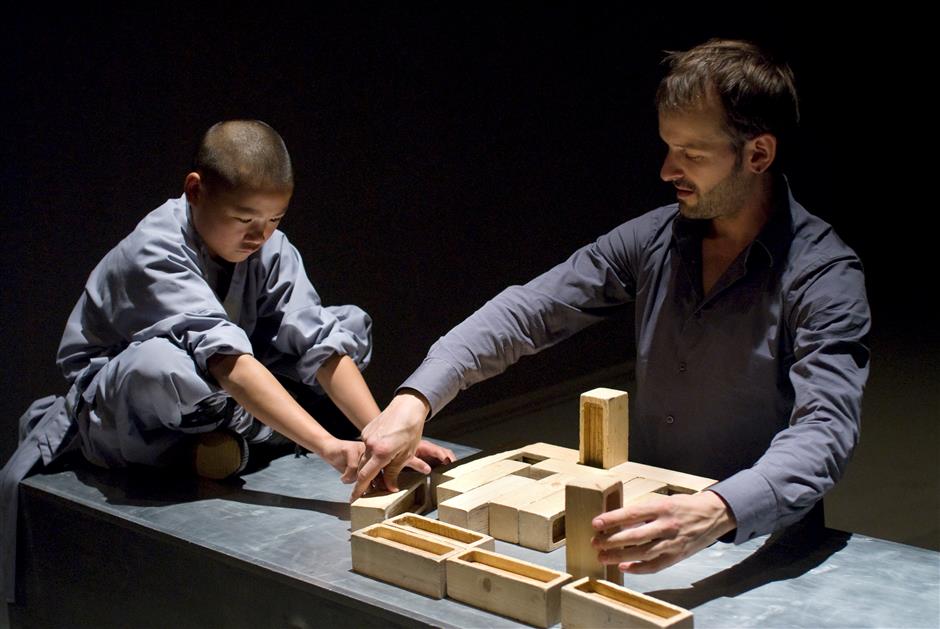 Ti Gong
Though the birth of "Sutra" is quite a story, the work itself doesn't have a very clear storyline. There are frequent interactions between Eastern and Western cultural elements throughout the performance. For example, the monks display their kung fu skills wearing Western suits.
"At first, I didn't quite understand why there was such sad background music," audience member Li Siqi told Shanghai Daily after watching the show. "But later in the performance, I kind of understood. If you take away the music, the Shaolin kung fu movements would look very aggressive and even offensive. The music kind of 'held it back,' presenting the more introverted power of kung fu and balancing strength and tranquility. It was a great combination of Western music and Eastern movements."
Cherkaoui said he found "inner balance" after the creation of "Sutra."
"It's important to keep reaching over to the other shore, to understand that there is someone there who is like you and can inspire you," he said.
"I had to go all the way to China to find myself again," he explained. "In the temple, I learned to care about myself more. The monks gave me that strength to do that by welcoming me and by asking questions that were, on one hand, so naive, and, on the other hand, essential. For example, they asked me what a choreographer is. I thought that was perhaps the best question I've ever been asked."
Source: SHINE Editor: Zhang Liuhao Special Reports