Women wear their hearts on their sleeves
14:05 UTC+8, 2020-05-15
0
Embroidered costumes on display at the China Craft and Art Museum open a window into the lives and feelings of upper-class women in ancient China. 
14:05 UTC+8, 2020-05-15
0
Hangzhou Arts and Crafts Museum / Ti Gong
Ancient times, upper-class women in China lived a life of luxury and were well-educated. Many were talented in arts and crafts, leaving an abundance of cultural heritage in history.
Nonetheless, these cultured women were often confined to the house and had no social life, since the then feudal society held that women shouldn't have contact with the outside world and must devote themselves to their husbands and children.
Women's emotions were fermented in such confinement. They had no choice but to express their sentiments through arts and crafts.
An exhibition at Hangzhou Arts and Crafts Museum provides visitors with a window to view these women's ingenuity and inner world through their art.
Some 199 exhibits, including 19 costumes, 12 ink-wash paintings and calligraphy and 76 embroideries, are on display in "The Hidden World Behind the Door" exhibition through July 26.
Highlights include traditional jackets, coats and robes.
In the Qing Dynasty (1644-1911), costumes were much fancier than those in previous dynasties, but still divided according to social class. Upper-class women wore ornate clothing with loose sleeves and hems.
The edges of collars and sleeves were often embroidered with patterns of peony, camellia, plum blossom and chrysanthemum. These floral motifs epitomized auspiciousness in ancient culture.
Hangzhou Arts and Crafts Museum / Ti Gong
If a costume was made for an older person, it was usually decorated with patterns of cranes, birds and traditional stories of filial piety, with the hope of praying for longevity.
As for young women, the costumes were often stitched with love stories and cute infants, which were expected to bring them a happy marriage.
The apparel for middle-aged women was in the theme of zhuangyuan (状元), who were the top scholars in the highest imperial examinations. This kind of pattern suggests a mother's hope placed on her son and devout pray for good luck through her needlework.
A time-consuming craft, embroidery found favor with women. Needlework not only killed time, but was also believed to be a standard to judge a woman's morality.
They used a needle to display themselves rather than using a brush pen. Sometimes, their inner world and talent were hidden under the embroidery, even though they had tons of thoughts to express.
Their aesthetics were also reflected in the embroidery. If a man wanted to learn about a woman, he could turn to her sophisticated embroidery.
Most women started to learn embroidery when they were very young. To showcase their skills, they often applied tens of different stitching methods in a single sleeve edge.
A beige-colored coat in the exhibition is decorated with horizontal landscapes with a poetic ambience. The designer stitched cranes flying high in the top half, and then portrayed mountains, pavilions, bridges and flowers in the middle part. Lastly, she depicted a man fishing at a lake in the lower part. The thriving natural environment is in sharp contrast to the man's loneliness, which indirectly conveys the woman's inner feelings.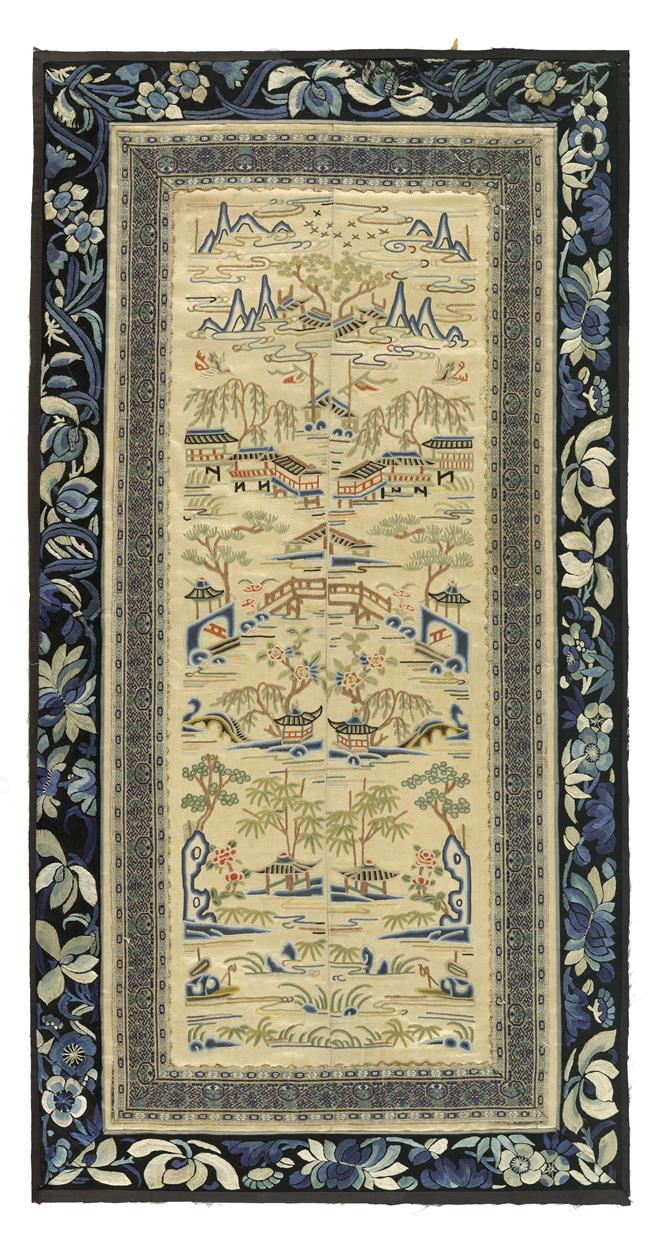 Hangzhou Arts and Crafts Museum / Ti Gong
Visitors can also see precious kesi (缂丝), an old craft of "cut silk." This is the visual illusion of cutting threads that is created by changing shuttles between colors and wefts.
There can be up to 8,360 color changes during the intersection of a warp and weft per square centimeter. It requires a weaver's rich artistic sense and exquisite skill to pull it off.
The technique first appeared in Suzhou in neighboring Jiangsu Province during the Tang Dynasty (AD 618-907) and survived through the end of the Qing Dynasty. It is the best for copying calligraphy and paintings in silk because it allows a very smooth change between colors.
At the time, silk had already developed into many types, including brocade, damask and satin, according to different weaving techniques and methods.
The flimsy, smooth silk varieties that can breathe in summer were popular among the nobility.
Some of the exhibits are made of light, transparent silk. Though the original glitzy texture is gone, its embroidery reminds visitors of its ornate look centuries ago.
In ancient times, costumes were used to divide people into different classes.
In the Qing Dynasty, a woman's social class could be presented from sleeve edges which were decorated with layers of linear patterns. The number of layers suggested her social status. The more, the higher.
Hangzhou Arts and Crafts Museum
Date: Through July 26 (closed on Monday)
Admission: Free
Address: 334 Xiaohe Rd
小河路334号

Source: SHINE Editor: Su Yanxian Special Reports