A bird's-eye view of the front-line battle against COVID-19
17:02 UTC+8, 2020-05-29
0
Medical documentary "Life Matters" recently released its special season about medical workers' courage and bravery in the fight against the novel coronavirus.
17:02 UTC+8, 2020-05-29
0
Medical documentary "Life Matters" recently released its special season about medical workers' courage and bravery in the fight against the novel coronavirus.
Produced by Shanghai Media Group's Documentary Center, the six-episode documentary debuted on Dragon TV on Thursday. It is also available on streaming websites iQiyi, Tencent and Bilibili.
The documentary focuses on 100 medical professionals from local hospitals sent to Wuhan, the epicenter of China's COVID-19 outbreak, to support coronavirus control and treatment.
Chief director Fan Shiguang sees the production as a way to pay tribute to life and the devotion of the medical workers.
"They are the unsung heroes of the moment," said Fan. "With their courage, conscience and expertise, they saved lives — at great personal risk."
The first four episodes are focused on Shanghai medical workers at Wuhan hospitals while the last two episodes highlight how quickly the Shanghai public sanitary system responds to the outbreak, rolling out measures to prevent and reduce the infection while improving the admission and cure rates of patients in the city.
Viewers will be impressed by how the Shanghai medical team in ICU wards saved the lives of those suffering from severe cases of COVID-19, as well as their caring for and encouragement of patients.
With heavy and multi-layer protective suits, doctors and nurses worked long shifts every day. They also had to overcome the uncomfortable feelings of fatigue and hypoxia, since prolonged use of heavy-duty respirator masks can lead to breathing in too much exhaled carbon dioxide.
Ti Gong
Shooting for the documentary lasted more than two months, from the end of January to the end of March. More than 30,000 minutes of visual sequences were recorded.
In one scene, a patient in her 80s has refused to eat anything since arriving at the hospital. To offer hope for surviving the virus, nurse Yu Ying calls the patient's family many times so the patient can talk to her children.
Peng Daihui, a psychiatrist from Shanghai Mental Health Center, is a native of Wuhan. He planned to spend the Spring Festival with his mother, but as a member of the city's medical team sent to Wuhan, he is too busy to arrange for the visit. He chooses to talk to his mother via WeChat during his two-month stay.
The documentary scored 9.3 out of 10 on China's film and TV review website, Douban. Many viewers consider it a sincere and thought-provoking work, an ode to life and courage. Some say they are moved to tears with the beautiful and touching stories about human kindness when life matters.
One Netizen, Una, was deeply impressed by the fact that all patients in China are treated equally. Medical workers show due respect for all people, no matter old or young. They give their all to help every patient, whether they asked for it or not.
In the past few months, the Shanghai Media Group has produced an array of acclaimed documentaries chronicling China's battle against COVID-19 with heartwarming scenes of people willingly joining the fight.
SMG News has presented two documentaries, "Life Shelters" and "Life Breathing." "Life Shelters" features Wuhan's 16 mobile cabin hospitals, converted or renovated from the city's sports stadiums and convention centers, to treat coronavirus patients with mild symptoms. "Life Breathing" records the life and death, stress and anxiety in ICU wards.
SMG Documentary Center's 45-minute documentary "Un Repas Chaud," literally meaning "A Warm Meal," has also received high marks from viewers.
Almost every sequence in the documentaries was shot by netizens in Wuhan during the lockdown, covering food preparations for Spring Festival, spending time at home and other cultural aspects of the city.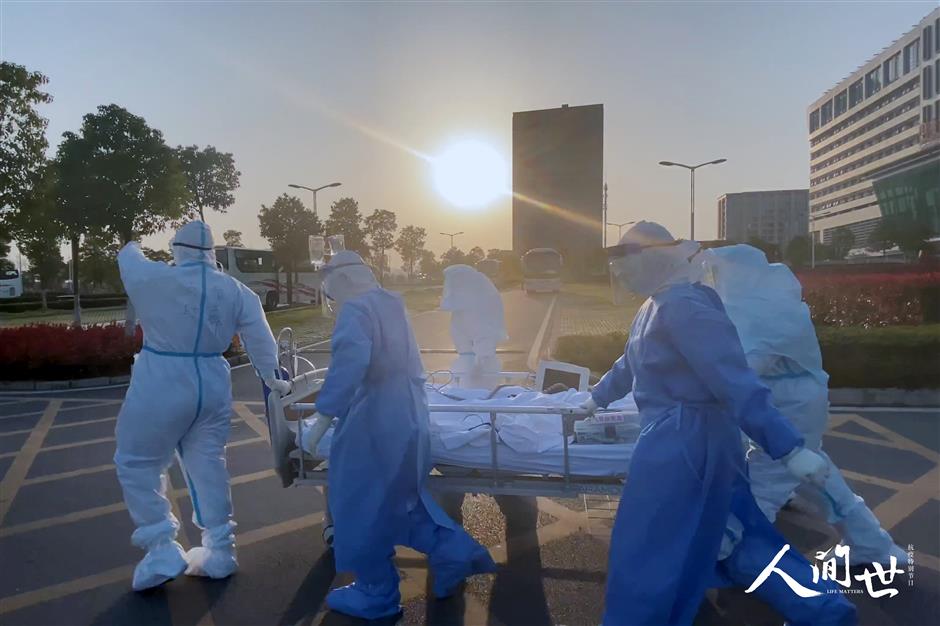 Ti Gong
Source: SHINE Editor: Zhang Liuhao Special Reports