Her life's true calling in 3 million embroidery stitches
09:00 UTC+8, 2020-08-29
0
Zou Yingzi's solo exhibition, with the theme "Tracing back to the Origin and Creation – Zou Yingzi Embroidery Art," is on display at Suzhou Museum through October 22.
09:00 UTC+8, 2020-08-29
0
Mogao Grottoes and its Library Cave always haunt the dreams of embroidery artist Zou Yingzi. In 2011, she stepped into this mysterious land and has never left it behind.

Her solo exhibition, with the theme "Tracing back to the Origin and Creation — Zou Yingzi Embroidery Art," is on display at Suzhou Museum through October 22.
An important Silk Road outpost, Dunhuang's Mogao Grottoes are in northwest China's Gansu Province and have always been considered ground zero for ancient Chinese art.
Marc Aurel Stein (1862-1943), a Hungarian-British archaeologist, brought worldwide notoriety to Dunhuang more than 100 years ago. Stein's made his greatest discovery at Mogao Grottoes in 1907 — the Diamond Sutra along with 40,000 other scrolls. He succeeded in excavating them by gradually winning the confidence of, as well as bribing, Mogao Grottoes' Taoist caretaker. He also acquired 25 trunks of ancient books in different languages and four trunks of paintings, textiles and various relics.
Many of these treasures now reside in the British Museum, including "Sakyamuni Preaching on the Vulture Peak" from Cave 17, Dunhuang, Tang Dynasty (AD 907-618). It is one of the largest known examples of Chinese embroidery.
But for Zou, her emotional link to this ancient masterpiece began long before she ever saw it in person.
"Dunhuang is a pious and mysterious name for me," she said. "Every time I think of Dunhuang, I feel spiritually close to it yet physically distant."
Wearing a grey silk qipao, Zou's eyes shined brightly when recalling her journey to the opening exhibition at Suzhou Museum.
Zou's mother taught her Su Embroidery when she was 6 years old. Today, she is the youngest China Arts and Crafts Master of Su Embroidery.
"Su Embroidery features a strong, folk flavor and its weaving techniques are very specific — the surface must be flat, the rim neat and the needles thin," she said. "The lines must be dense and the colors harmonious."
Dating back more than 3,000 years, Su Embroidery is the general name for embroidery products from areas around Suzhou. The craft originated in the Three Kingdoms Period (AD 220-280), and Suzhou became known as the "City of Embroidery" during the Qing Dynasty (1644-1911). Double-sided embroidery is an excellent example of Su Embroidery.
"As a Su Embroidery artist, I searched for the ancient embroidery work found in Dunhuang for a long time," she said. "One day as I chatted with a friend, a collector who knew about my admiration of and interest in the Dunhuang Library Cave relics showed me a precious album containing 'Sakyamuni Preaching on the Vulture Peak.'"
Like an act of fate, Zou could hardly believe she was finally looking at the ancient embroidery she had dreamt about for so many years.
"You can't image how excited and exhilarated I was," she said. "The powerful lines, the intricate needlework and the images mesmerized me. Without a moment of hesitation, I made up my mind to replicate this work despite the difficult challenges."
Courtesy of the artist and Suzhou Museum
Courtesy of the British Museum
Since 2011, she has visited Dunhuang several times and sought advice from experts at Dunhuang Academy with the intent of replicating the work based on the print copy in the album shown to her.
The original embroidery is 2.41 meters long and 1.6 meters wide.
"However, when I enlarged the print copy, all the images blurred, and the embroidery requires an extremely accurate draft," she said. "After countless experiments and failures, I knew I had to go to London to see the original embroidery."
On March 22, 2016, she wrote a letter to the British Museum, asking for an opportunity to see the embroidery.
"But there was no reply," she said. "One month later, I visited London as part of a government delegation. I rushed to the British Museum's Chinese Hall but was told the ancient embroidery was stored in a warehouse and rarely exhibited."
After returning to China, Zou then wrote a second letter to the museum. In the letter, she pointed out that one of her embroidery pieces was acquired by the British Museum in 2013.
"I wanted the museum staff to know I'm an actual embroidery artist with an earnest desire to replicate this masterpiece," she said. "Guess what? I finally received a letter from the museum informing me the original embroidery would be displayed at a special Dunhuang exhibition at the Getty Museum in Los Angeles."
In October 2016, Zou flew to Los Angeles and finally saw the ancient embroidery.
"Every day I was the first to come and last to leave," she said. "I spent five whole days trying to memorize every minute detail of the work, because I knew it might be my only chance to see it."
At last, Zou started working on the draft and experimented with different embroidery techniques.
"Su Embroidery is well known for overlapping layers of silk threads with a simple technique, but this work is different," she said. "It has a nice, flat surface. The technique's complexity is rooted in mixing the colored threads prior to stitching them."
"I felt like a martyr on an impossible mission," Zou said. "Someone at the exhibition asked if I had a financial backer, which I didn't."
Every day, Zou tackled the project at 5am and sat silently at her table working stitch by stitch.
"I even mortgaged my apartment during the most difficult period," she said. "Because I had no time to do other things, all my energy and money were poured into this work. My mom cooked for me every day, because she was afraid my health would deteriorate. But this was my life's calling! It required nearly 3 million stitches and took more than four years. I'm proud I persevered and achieved my goal."
In 2018, on loan from the British Museum, the original embroidery was exhibited in Nara, Japan, so Zou flew there to see if there was any difference between it and her replica.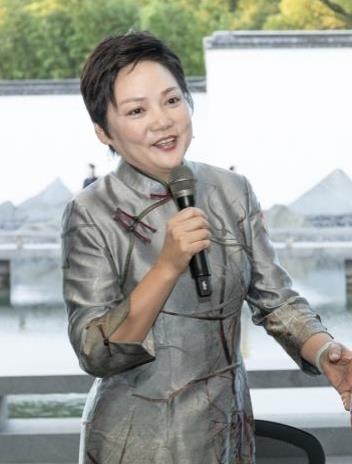 Ti Gong
Zou said the biggest moment in her life came when she donated the replica to Dunhuang Academy last year.
"It was a simple ceremony, but I spread the replica out in front of the Library Cave and said, 'Today is the day it's found a home.'"
Different from the replica of the original work she saw at the two overseas exhibitions, the new replica displayed at Suzhou Museum is a completely restored version truer to the original.
"I tried to restore the colors and incomplete patterns of the original work with my threads," Zou said.
In addition to the work "Sakyamuni Preaching on the Vulture Peak," the exhibition also features other replicas of Buddhist images in Dunhuang she's created, including a modern, double-sided portrait and a landscape of Jiangnan, reflecting her quest to advance the aesthetics of Su Embroidery.
"Su Embroidery needs to be improved, so this is my mission," she said. "Unlike canvas and rice-paper artworks signed by artists, embroidery artists have their own special signatures — the bloodstains of fingers pricked by needles."
Exhibition info
Date: Through October 22 (closed on Mondays), 9am-5pm
Venue: Suzhou Museum
Address: 204 Dongbei Street, Suzhou
Source: SHINE Editor: Zhang Liuhao Special Reports