Hurun Report launches global art top 50 list
00:00 UTC+8, 2020-12-26
0
Who is No. 1 in the world? Who is the top artist in China? The inaugural SICA-Hurun Global Art List 2020 has given its verdict based on the total turnover at auctions in 2019.
00:00 UTC+8, 2020-12-26
0
Who is No. 1 in the world? Who is the top artist in China? The inaugural SICA-Hurun Global Art List 2020 has given its verdict based on the total turnover at auctions in 2019: British artist David Hockney, No. 1, with US$130.64 million, and Chinese artist Cui Ruzhou, No. 10, a long way behind with a total of US$48.81 million.

Released by Shanghai International Commodity Co Ltd and the Hurun Research Institute, this is the first such global art list and comes after the Hurun Art List which has ranked the most successful living artists in China for 13 consecutive years.
Hockney, 83, an English painter, printmaker, stage designer and photographer, is considered one of the most influential British artists of the 20th Century.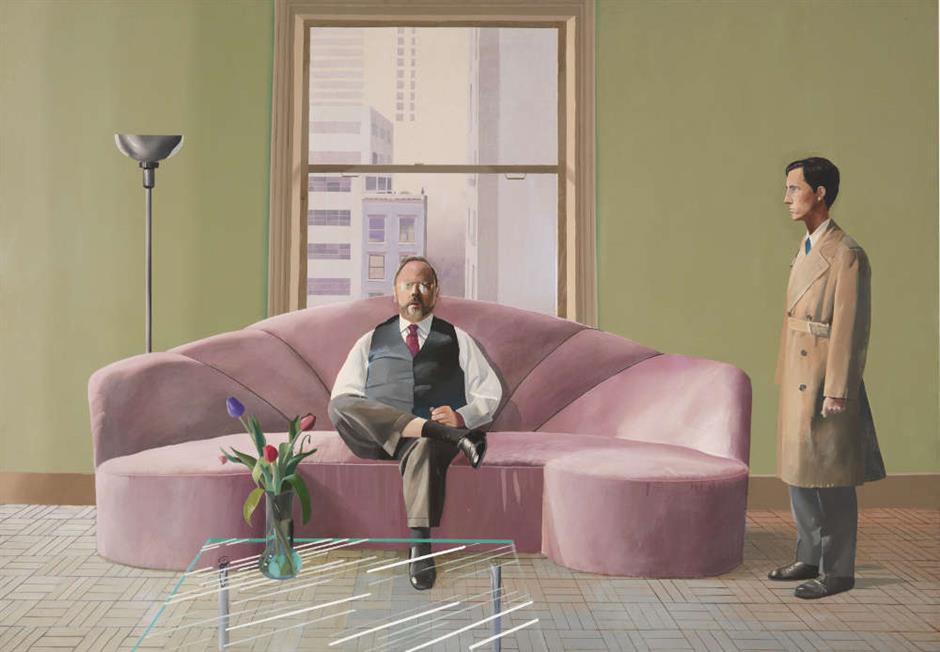 Much of his subject matter is autobiographical including portraits and self-portraits and quiet incidental scenes of his friends and his home.
One of his best-known paintings, "Portrait of an Artist" (Pool with Two Figures, completed in 1972), depicts two figures: one swimming underwater and one clothed male figure looking down at the swimmer.
In November 2018, it sold for US$90.3 million, the highest price ever paid at auction for a painting by a living artist. Critics say the work reflects a casual elegance and tranquil luminosity predominating in the work with a mundane realism derived from Pop Art and photography.
Gerhard Richter, the 88-year-old German artist, ranks second on the global art list with a total of US$130.57 million.
His visual spheres are characterized by a unique originality and quality, in which the abstract and the figural intertwine and permeate each other.
The third is 83-year-old American Pop artist Ed Ruscha with a total of US$116.88 million.
Cui, a 76-year-old ink-wash artist, though ranks 10th on the global list, is known as a contemporary Chinese ink painter.
He paints with his fingers through a fusion of reality and imagination, capturing the spirit, spatiality and temporality of the landscape he paints.
His "Lotus Pond in Autumn" fetched US$19.60 in 2019, knocking Zeng Fanzhi out of the top spot to become the most expensive living Chinese artist at auction.
Also on the global art top 50 are Liu Ye, Huang Jiannan, Zhou Chunya, Fan Zeng, Leng Jun, Zeng Fanzhi, Zhang Xiaogang, Zhu Yaokui and Liu Xiaodong.
Cui's ranking surprised some Chinese art experts.
"Frankly speaking, I don't know him very well. But Liu Ye who traced him right behind on the list is an internationally acclaimed Chinese contemporary artist," said Christine Liu, a local art lover.
Besides the global 50 art list, national art lists for the most successful living artist in China, America, Britain, Japan, India and Australia were also compiled, based on the sales figures from Artprice.com for non-Chinese artists and CAiPA for Chinese artists.
"Cultural confidence is very important for each country," said Rupert Hoogewerf, whose Chinese name is Hu Run. He is the chairman and chief researcher of Hurun Report, a research, media and investments business, best known for its Hurun Rich List.
The Hurun China Rich List has been published since 1999 and ranks the wealthiest individuals in China's mainland.
"It's hard to say whether an art piece sold at auction for 10 million yuan is 100 times better than that for 100,000 yuan," he said.
However, I believe that the auction price, to some extent, mirrors the level of the artwork.
"Our Global Art List 2020 reveals who is the most successful living artist in the world. Chinese collectors must have a good knowledge of their art in China. However, with globalization, they might be considering collecting some overseas artworks, because art and culture have no boundaries.
"Some collectors might be more interested in the artists of a certain country. So we have other art lists for six different countries in the hope of helping them focus on the artists of a particular country."
But the price gap between different countries sometimes is huge.
Prices for Chinese artists far exceed those living in India.
The total turnover at auction for the top Indian artist was US$6.5 million, which would place him at No.15 in China's ranking.
Hoogewerf admits the lists are not perfect, relying on auction prices from major auction houses. It is almost impossible to get the exact figures from galleries around the world.
"Auction prices really promote the value of an artist in the market. But this is certainly not a list that represents everything, certainly," he said.
The Global Art List 2020, as a new ranking list, might not be so perfectly convincing and comprehensive.
"But at least it has created an indicator for art collectors and buyers," said Liao Liao, editor-in-chief of China's National Art Magazine.
Source: SHINE Editor: Zhang Liuhao Special Reports