Chinese and foreign publishers are singing from the same page
12:00 UTC+8, 2017-11-25
0
For the past five years, the interest of international publishers has shifted from a general curiosity about China to more specific requests and a desire to explore further.
12:00 UTC+8, 2017-11-25
0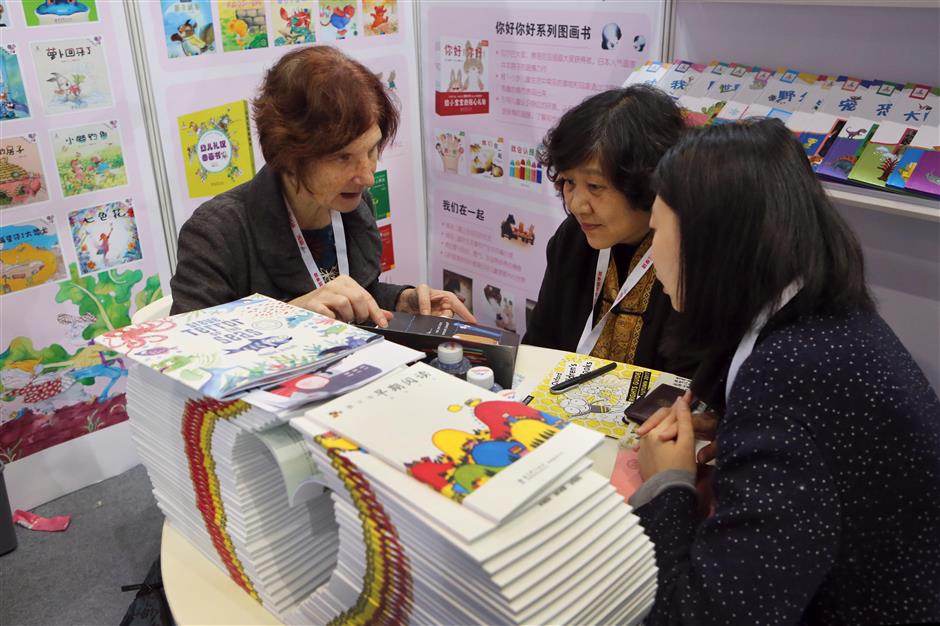 Wang Rongjiang / SHINE
Italian publisher Alessandro Gelso finished a six-day international publishers' exchange program in Shanghai and went home with orders for books he publishes and with Chinese books he wants to introduce to Italy.
He was quite overwhelmed by his experience in the city, as were his 11 publishing colleagues who flew in from the likes of Colombia, France, Georgia and India for the event.
The fellowship exchange was part of the 5th annual Shanghai International Children's Book Fair that concluded last weekend.
"We select the fellows from 100 applicants from all over the world — from big countries and small, from publishers to book companies," Carolina Ballester, manager of the international program and director of the fair, tells Shanghai Daily.
In the five years Ballester has managed the program, she says she has witnessed a shift in the interest of international publishers, from a general curiosity about China to more specific requests and a desire to explore further.
"Some want to know more about the creative arts scene, while others want to work with Chinese illustrators but don't know any," she says. "The participants are now more open to discovery, and not merely obsessed with selling into this market."
Gelso, editor-in-chief for children's books at Italy's biggest publishing group Mondadori, came both to sell and acquired publishing rights. His company publishes about 500 children's books every year, holding about a fifth of the market in Italy. Half of the sales are international books.
"We have never published a Chinese children's book because we didn't know what they were like," he says. "We don't read Chinese, and there are very few translators from Chinese into Italian. I applied for the exchange program because I was curious to come and see what the books here look like, especially the picture books that are easier to understand without translation."
He found them to be quite different from what he had expected. He described them as somewhat traditional in terms of aesthetics and story value. Yet among them, he discovered some of high quality that were beautifully illustrated and eminently exportable.
Ti Gong
For London-based German literary scout Daniela Schlingmann, who recently started working with Chinese publishers, the exchange may have been less surprising but it was equally informative. Matching books with publishers around the world, she works in varied literary genres and sees great potential in China.
"It is now really part of the world of publishing," she says, noting that many international best-sellers are now published in China at the same time as in the rest of the world.
"Publishing in the world is becoming more and more international," Schlingmann says. "My Chinese editor speaks very good English and has a very international profile. What I like about my job is working with people who want to take the world to others through books."
Colombian publisher John Naranjo says he was most impressed by the attention Chinese publishers pay to the educational value of children's books, which is very different from Western publishers who tend to be more interested in entertainment.
"It's not good or bad, but a very different perspective on how to look at children's books," he says. "It's a very healthy market in the sense that it has a variety of books in different genres and the government is very concerned about culture and education."
This was Naranjo's first visit in Asia, and he found plenty to learn. The publishing market in Spanish-speaking Latin America is in "permanent crisis," he says, noting that "many people can't read and don't even have access to books. Governments are not encouraging people to read."
Naranjo says he is primarily interested in illustrated fiction, for both children and adults who are illiterate. During his visit, he said he had a few offers from Chinese publishers for a pictorial biography of the Colombian Nobel laureate Gabriel Garcia Marquez, whose novels like "Love in the Time of Cholera" are best-sellers in China and have influenced a generation of Chinese writers
Ti Gong
In China, children's literature is the fastest-growing segment of the book industry, comprising about a quarter of sales. Also popular are illustrated books, which grew 58 percent last year, according to a survey by Beijing OpenBook Information & Technology Co.
About 30 percent of all children's books in China are imported, including international bestsellers like "Maps" by Polish couple Aleksandra and Daniel Mizielinska, who also attended the book fair as guests.
"I used to buy the best-selling international children's books, the most famous ones, especially from countries like America, Britain, or France," says Lu Fang, a 32-year-old mother with a 5-year-old son.
"But as my son grows more interested in the world and in the different cultures, I have deliberately widened his reading range," she says. "I look for books that are distinct from what we have at home, especially books with great humor."
Her preference in books may be reflected in how Chinese publishers are choosing international books nowadays, especially when most Chinese books don't focus on reading as fun only.
Italian publisher Gelso brought a book to the fair that tells the story of a zombie girl and how she manages to come to grips with how different she is from others in her village.
The tale, to some degree, reflects the social reality of multicultural Europe, where a melting pot of nationalities exists. Its whimsical style and focus on the universal importance of friendship appealed to many Chinese publishers.
"I am definitely coming back to China," Gelso says.
Ti Gong
Source: SHINE Editor: Liu Qi Special Reports