Puppetry students join teachers to portray classic mythological tale
17:21 UTC+8, 2023-05-23
0
Students and teachers from the Shanghai Theater Academy Minhang Lianhua Road campus, staged "The Legend of White Snake" original puppet show recently.
17:21 UTC+8, 2023-05-23
0
Ti Gong
The Legend of White Snake," an original mythological puppet show adapted from its namesake Peking Opera script, was staged at the Shanghai Theater Academy Lianhua Road campus in Minhang District by a group of puppetry students and teachers recently.
"We're using fantastic puppets, along with traditional Chinese theater elements, to stage this unique modern Chinese puppet show," said Yin Wuwei, head of the puppet department of the school and director of the show.
A household name folk story in China, "The Legend of White Snake," has a celebrated Peking Opera version that was compiled by contemporary Chinese playwright Tian Han (1898-1968). Another recorded version was written by Ming Dynasty (1368-1644) literati Feng Menglong (1574-1646), and titled "The White Snake Fairy Subdued Under the Lengfei Tower."
The legend tells a love story between a white snake spirit and her human husband.
"The ancient Chinese created the folk tale to persuade people to do good and believe in Buddhism. In our puppet show, we portrayed the white snake spirit with a forever developing character. She was a demon at first, then gradually approached being human, and finally she was almost a godlike figure with a benevolent Buddha nature," Yin said.
Puppeteers learn acting techniques as well as puppetry.
Xu Qian, a national secondary-level puppet show actress and a leading teacher in the puppet department, said the activity was a treasured experience in which she was not only able to interact with her students in their roles, but also receive firsthand feedback about what skills they needed help with.
Ti Gong
Niche art category
"The puppet major is a niche category compared with other performing art majors at Shanghai Theater Academy. When the youths enrolled into school in their first semester, we would first help them reconcile through their trials, to encourage them to settle down to the puppet performing art," Xu said.

Basic training in the puppet major involves holding a stick puppet non-stop for one hour to increase one's arm strength. To relieve the monotony of the practice, teachers usually introduce a particular play to make learning fun and at the same time integrate a dozen varieties into the basic training.
"We would teach students to manipulate a puppet to do a 7-meter-long red silk ribbon dance. They had about 10-15 minutes' practice of honing their arm strength during the dance. Meanwhile, the dance requires skill. So when they were able to perform it, they felt accomplished," Xu said.
"Performing arts are about letting loose our nature, so we have an interest in performing in front of others. So are our puppet performances.
"Through a puppet show, an actor transfers his way of dealing with emotions to the puppet. He may have difficulty grasping the essence of a character, but when he is hiding behind a puppet, he feels it easier to let loose his nature, pour out emotions and portray the character well."
The puppets, however refined and subtly made, are dead objects brought to life by human actions.
The actors and actresses learn vocal music, lines, body shaping, performance, as well as puppetry skills. They then transfer their performance to the puppets, using their hands to control the puppets, part of their brains to think about the emotions and part to control the motions.
Ti Gong
Ti Gong
Learning transference
Students of a puppet major at the theater academy usually spend at least one or two years in learning about transference, or "how to allow the puppets to breathe."

Zhang Jinshuo, a junior student in the puppetry major, played the role of Xu Xian with a fellow student.
"We were on the stage for about 50 minutes during the 1.5-hour performance. I have a boisterous personality and my partner is an introverted person," Zhang said.
"Yet we matured during our collaboration and portrayed the character well."
The students rehearsed through drama performances, dubbing and finally fitting the puppet performance into the play.
They attend puppet making lessons and are able to address a host of topics relating to Chinese puppets.
"Shanghai Theater Academy was the nation's first institute of high learning to open the puppet major, in 2004," Yin said.
"It preserves and develops the nation's four intangible culture heritage puppet categories – the stick puppet, glove puppet, string puppet and shadow puppet, and meanwhile launches exchanges with international schools with puppet majors in the US, Russia and East European countries," she added.
Each year, the school enrolled about 20-25 puppet major students.
"We aspire for more possibilities for puppet performances and place our hopes on the new generation of talent in puppetry. After graduation, they may become a puppetry actor or actress, or lead a career relating to puppetry. We just hope we as teachers will be benchmarks for them to excel," Xu, who used to be an actress in a puppetry troupe, added.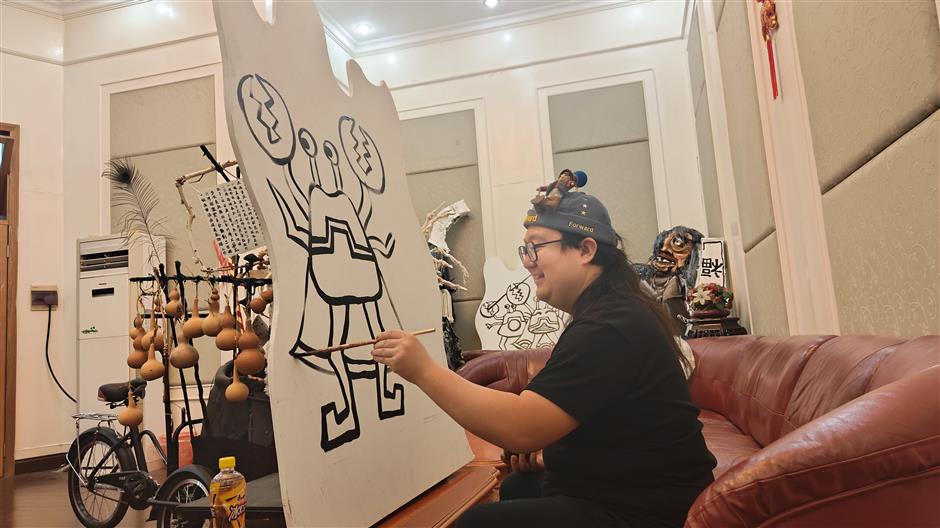 Ti Gong
'The Legend of White Snake'
Ti Gong
Source: SHINE Editor: Su Yanxian Special Reports