Welcome November with stars, music fest
15:30 UTC+8, 2017-10-30
0
It will soon be November.Joan and Sophie have chosen some unique exhibitions, a music festival, excellent concerts, impressive musicals and drama to celebrate the season of autumn.
15:30 UTC+8, 2017-10-30
0
It will soon be November. As usual, Joan Zheng and Sophie Wang have chosen some unique exhibitions, a music festival, excellent concerts, impressive musicals and drama to celebrate the season of autumn. Don't stay at home, instead, head out with your friends and experience the beauty of November.
Hollywood superstars come to Shanghai
★ Highlights: a tribute to superstars in the golden age of Hollywood
The exhibition, which will open on November 11 at Global Harbor, pays tribute to Hollywood superstars of the golden age. It will display the handwritings and collections of more than 60 superstars for the first time here.

The superstars include Audrey Hepburn, Katharine Hepburn, Charlie Chaplin, Elizabeth Taylor, Clark Gable, Vivien Leigh, Ingrid Bergman, Marlon Brando and Gregory Peck.
The collections involve signed letters and photos, old film magazines, picture books, original stills, news photos, costumes and private clothing. There are also collections of the founders, directors, producers and scriptwriters of famous Hollywood film companies.
The collections come from auction houses, galleries and the descendants of those stars. There will also be a series of lectures to throw light on some of the unknown stories behind these collections.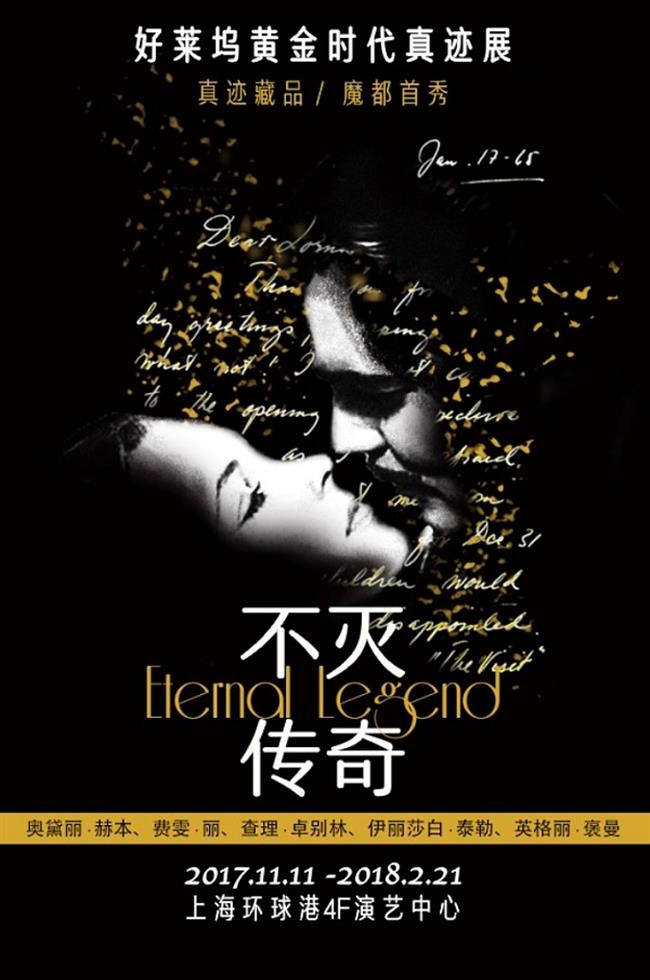 Date: November 11,2017-February 21, 2018
Venue: Global Harbor
Address: 3300 Zhongshan Rd N.(near Ningxia Rd)
Ticket: 78-388 yuan
Expo Park to host Corona Sunsets Festival
★ Highlights: an amazing music festival featuring some of the best DJs music with some awesome food, great scenery and plenty of drinks
The 2017 Corona Sunsets Festival will hit Shanghai with a two-day event at Shanghai Expo Park on the first weekend of November.

Originally from Mexico, the festival has toured over ten countries including Dubai, Chile, Ibiza, Japan and South Africa. This amazing beach music festival attracts music fans every year with its excellent music cast, beautiful scenery, and tasty local food.
For this year's tour, Corona is ready to amaze Shanghai music lovers with a host of outstanding DJs and musicians from all over world, including Russian music group Swanky Tunes, Dutch Duo Chocolate Puma, French DJ Oshi, Byelorussian DJ Rikaya and musician Krono among others.
Date: November 4 - November 5, 2017

Venue: Shanghai Expo Park
Address: 1700 Shibo Avenue
Ticket: 220-1580 yuan
Development and transformation of print
★ Highlights: Discover the transformation of print in modern world.
The exhibition titled "Capacity & Tension" will be inaugurated at China Art Museum on November 15 and will run till April next year.

Although new technology has been applied widely in print innovation, there are still some people who prefer using ancient methods to produce refreshing black-white woodcut pictures.
"Capacity & Tension" aims to discover the development and transformation of print in modern world.
The exhibition will invite woodcutters and modern artists who are active in the field of modern prints to provide their representative works for audiences. About 120 pieces of works will be displayed during the exhibition.
Date: November 15, 2017- April 15, 2018
Venue: China Art Museum
Address: 205 Shangnan Rd
Grammy winner Perlman to perform classical works
★ Highlights: Fifteen-time Grammy winner Itzhak Perlman will perform for Shanghai audiences.
Fifteen-time Grammy winner Itzhak Perlman will give a concert at Shanghai Oriental Art Center next month as part of the 19th China Shanghai International Arts Festival.

Perlman, who was born in Israel, is a famous violinist and conductor. He has performed for many world leaders, and has cooperated with a number of notable musicians including Yo-Yo Ma, Jessye Norman, Isaac Stern and Yuri Temirkanov.
In this concert, he will perform a series of classical works including "Schubert: Rondo for Violin and Piano in B minor," "Strauss: Violin Sonata" and "Debussy: Violin Sonata in G Minor."
Date: November 11, 2017

Venue: Shanghai Oriental Art Center
Address: 425 Dingxiang Rd
Ticket: 80-1280 yuan
Israel's top pianist set to dazzle local audiences
★ Highlights: a pianist with "golden hands"
A piano recital by Yaron Kohlberg will be held on November 14 at Shanghai Concert Hall.

Yaron Kohlberg, who was born in Jerusalem, is among the top Israeli pianists today. He played in major halls in about 40 countries over five continents and has won over ten prestigious international prizes.
His performances also won critical acclaim, and he was described by international media as "the pianist with the golden hands."
Kohlberg shot to international fame mainly by winning top prizes from many competitions including the prestigious Cleveland competition, the international Grieg competition in Oslo and the Shostakovich competition (Hanover). Between 1992 and 2008 he won annual scholarships from the America-Israel Cultural Foundation (with distinction).
Date: November 14, 2017

Venue: Shanghai Concert Hall
Address: 523 Yan'an Rd E.
Ticket: 80-350 yuan
Brook's 'Battlefield' will prompt us to reflect on reality
★ Highlights: an epic drama related to war and life
"Battlefield" by Peter Brook and Théatre des Bouffes du Nord will be staged at STA Experimental Theater next month.

The play is based on an Indian epic "Mahabharata" and adapted by Brook and Marie-Hélène Estienne. It was premiered in France in 2005.
The original play "Mahabharata" tells the story of a great war of extermination, which tears apart the royal family. They use terrible weapons of destruction. In the end, millions of dead bodies lie on the ground. The richness of the language and the astonishing plots allow us to think deeply about the disaster and reality, and make people reflect on our ideas about family, life and love.
Date: November 1-November 2, 2017

Venue: STA Experimental Theater
Address: 630 Huashan Rd
The outrageous and funny "Producers" are coming
★ Highlights: An original classic Broadway Musical
The musical "The Producers," which has been adapted by Mel Brooks and Thomas Meehan from Mel Brooks' film of the same name in 1968, will hit the stage at Shanghai Culture Square from November 1 to 12.

Premiered in the US in 2001, the musical became an instant sensation among audiences and won 12 Tony Awards the same year. It tells the story of two men — one is a former Broadway producer and the other is an accountant — who choose the worst play and actors and make a huge success of it.
The show will combine jokes and ridiculous performances — all of which promise to bring laughters to the audiences.
Date: November 1- November 12, 2017

Venue: Shanghai Culture Square
Address: 36 Yongjia Rd.
Ticket: 380-950 yuan
Inner Mongolia's vibrant culture comes alive in song and dance
★ Highlights: a vivid display of the Inner Mongolia Autonomous Region's various cultures
"The Beautiful Prairie, My Sweet Home" will be held on November 13 and 14 at Shanghai Grand Theater.

It is a vivid display of Inner Mongolia Autonomous Region's various national cultures. Audiences from home and abroad can enjoy the region's honest, colorful and rich artistic charm in this production.
The cast mainly consists of young people, including the group "Three Prosperity Gems," which is familiar to the national audience. It also includes a young generation band called "Naire," which used to be active in the reality show "Chinese idol." The performance promises to be a lively art festival in the form of music and dance among others.
The show will open a gateway to the grasslands. It will not only review the familiar and traditional past of Inner Mongolia, but also show the future, innovation and diversification of the region, making the audience appreciate the abundantand excellent achievements of the Inner Mongolia in the field of arts and culture.
Date: November 13- November 14, 2017

Venue: Shanghai Grand Theater
Address: 300 People's Ave
Ticket: 80-580 yuan
Source: SHINE Editor: Wang Haoling Special Reports