Musical tribute to fire-scarred Notre-Dame
11:55 UTC+8, 2019-07-26
0
For the creators of the French musical "Notre-Dame de Paris," the work has become a tribute to the famous cathedral, which was ravaged by fire in April.
11:55 UTC+8, 2019-07-26
0
Ti Gong
For the creators of the French musical "Notre-Dame de Paris," the work has become a tribute to the famous cathedral, which was ravaged by fire in April.
The musical, based on the classic novel "Hunchback of Notre-Dame" by Victor Hugo, is being performed at the SAIC Shanghai Culture Square through August 11. According to the venue, all scheduled 30 shows have been sold out.
Fire gutted parts of the 13th century cathedral in April. Reconstruction expected to take years has begun.
"For us, to keep singing with even more devoted emotion is the best way to memorialize the French national symbol," said Italian singer Angelo Del Vecchio, who plays the role of Quasimodo in the Shanghai performances.
Canadian Robert Marien, who plays Frollo, the archdeacon of Notre Dame, agreed.
"I have been asked by a lot of people whether the show would go on after the April incident," he said. "I'm not French, but I was grieved to hear of the news because Notre-Dame de Paris is a cultural treasure of all humankind."
Marien last visited Shanghai in 2011, touring with the English version of "Notre-Dame de Paris." The French version debuted in Shanghai back in 2003, when Western musicals were just starting to appear locally. The two visits of the musical still linger in the minds of some theatergoers in Shanghai.
"I was still a college student when I watched the performance in 2003, which was an eye-opener for me because I had never watched a live musical before," Dong Xiaoqing, a primary school teacher, told Shanghai Daily.

"I bought tickets immediately when I heard the musical is coming back. I like it simply because almost all songs in this musical are pleasing to the ear."
Composed by Riccardo Cocciante, with lyrics by Luc Plamondon, the musical debuted in Paris in 1998 and has been performed in nine languages, including English, Spanish, Italian and Russian. Songs such as "Le Temps des Cathedrales," "Belle" and "Vivre" have been released as singles and enjoyed great popularity.
"For the last 20 years, I never made and refuse to make any changes to the music because I think it's perfect," said Cocciante. "To create a great work, you have to abandon all commercial thoughts and concentrate on how to tell a story with music."
Ti Gong
He explained how his creative process works.
"I sit in front of the piano with a story in mind," he said. "It usually starts with a short piece of melody, and I let the music flow and I sing along. When what I sing expresses my emotion to fullest, I know that it will work for the performers, too."
As a sung-through musical, there is no dialogue in the show. The plot is carried forward by songs segueing into one another. Cocciante calls his work a "modern opera."
"There is no dialogue in 'Notre-Dame de Paris,' only songs, which is a common practice in opera," the composer said.
"Originally, opera singers didn't use microphones so they had to sing everything very loudly. Now our singers have headsets, and their arias can be presented softly. To me, this is a modern singing style."
Cocciante said he added elements of rock-and-roll and blues into the work to showcase its modernity.
"The original story has a deep cultural background," he said. "I used rock-and-roll to cloud its epochal character. Modern elements also feature in costume and lighting. We use harmonic techniques in major arias to get the audience more involved, which was an innovation from the late 1990s."
Cocciante added: "The fact that our performers are of varied nationalities also shows that this is an international piece that transcends borders of countries and eras."
The international line-up includes Lebanese singer Hiba Tawaji as Esmeralda, who is visiting Shanghai for the first time.
"For audiences, this is a classic show, but after what happened to the Notre-Dame de Paris cathedral, I bear different emotions when approaching it, especially when singing the arias honoring the architecture and public feelings toward it," said Tawaji. "I hope Shanghai audiences will like what we are presenting."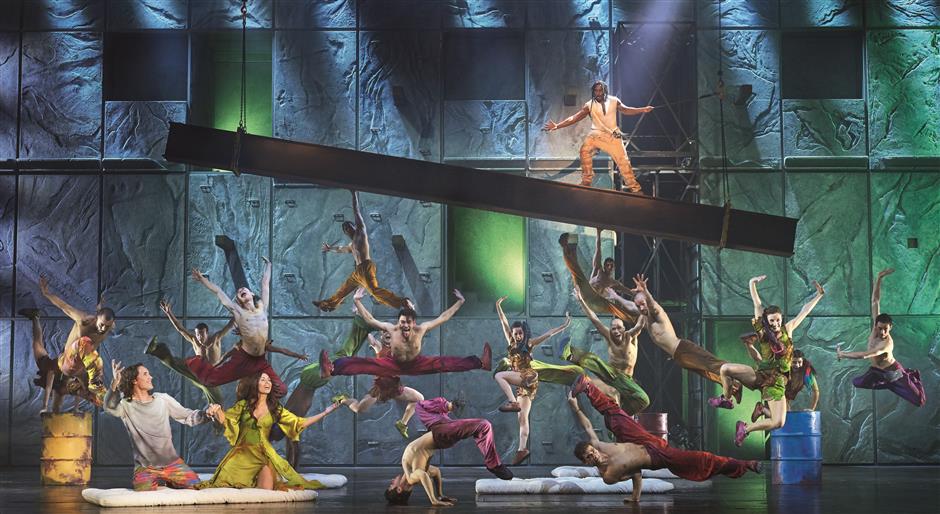 Ti Gong
Source: SHINE Editor: Zhang Liuhao Special Reports