Hit drama chronicles Tang conspiracy plot
11:56 UTC+8, 2019-10-31
0
The golden epoch of the Tang Dynasty recently served as backdrop for a hit web series. The production owes its success to historical authenticity and modern computer arts.
11:56 UTC+8, 2019-10-31
0
The smash hit drama of the summer didn't play in local theaters or on TV. "The Longest Day in Chang'an" was aired online to rave reviews, rapt audiences and accolades for adapting new technologies to tell an old story.

The action-packed web series, set in the Tang Dynasty (618-907), follows the exploits of Zhang Xiaojing, a former army officer now on death row, and Li Bi, a royal courtier. Zhang is freed from prison to team up with Li to thwart a rebel group scheming to destroy the ancient imperial capital of Chang'an during the Lantern Festival.
Veteran Chinese actor Lei Jiayin and pop idol Jackson Yee portray the protagonists. Both have been praised for their performances.
The 48-episode web series, based on a novel by Ma Boyong, chalked up 5 billion clicks during its run on the streaming online video platform Youku Tudou. Other production partners were Liu Bai Entertainment and Yuyue Film Co.
What sets this series apart from the standard costume period dramas of the past is its elaborate production and attention to historical detail. The crew spent seven months building the street scenery of Chang'an, which is Xi'an today.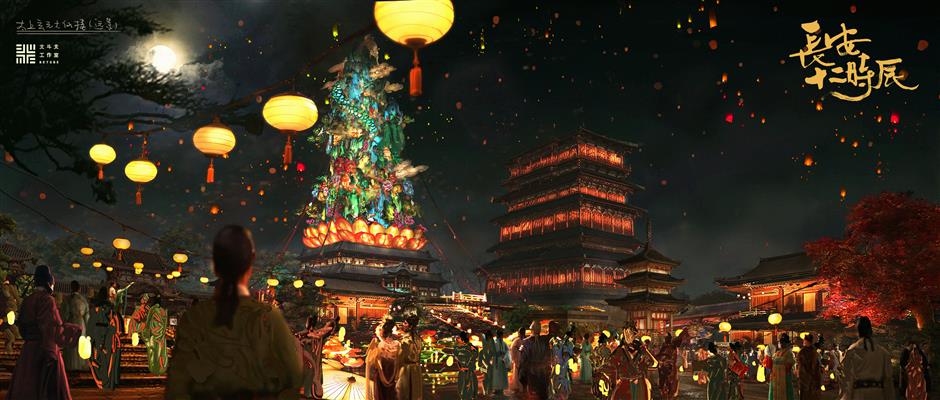 Ti Gong
One key participant was the up-and-coming design studio Betobe. Its founder He Fan used research, imagination and cutting-edge technologies to recreate the Tang Dynasty for modern audiences.
"Our design shows the truth of a modern vision, while fully respecting history with reasonable special effects," He told Shanghai Daily.
The design is in line with the vision of series director Cao Dun and other artistic staff in rendering the drama authentic.
The efforts paid off.
Each series episode attracted at least 100 million clicks. Douban, a major Chinese media rating site, awarded the drama a score of 8.3 out of 10. The Western rating site IMDB gave it 7.6 out of 10.
Betobe's rising status comes from its role in the production of popular titles based on legends and novels in China. It connects Chinese culture and history with modern technologies.
According to the novel, an observation and communication system, or wang lou, existed in the Tang Dynasty, with several towers in the downtown of Chang'an and a code system for communications.
To recreate the towers, Betobe worked for several months to develop the towers and a visual code system, based on books, relics and ancient buildings.
The crews also adapted patterns on ancient relics for costumes, and used details depicted in famous artworks and ancient architecture to recreate props and scenes, including a traditional papermaking process, a historical timekeeping instrument and a big lighting building, where major elements of the plot play out.
Ti Gong
"The recreation and production are beyond visual effects," said He.
Social mannerisms, clothing and cuisine, geography, science and technology, and economic conditions of the period go into the mix, according to Betobe. Also, the beauty of traditional values.
"I wanted to blend traditional Chinese culture into the series and let the audience appreciate its beauty and discover its fun," He added.
Technologies, especially recent developments such as artificial intelligence processing and real-time ray tracing, helped He bring the look and feel of the ancient Tang Dynasty alive.
"Technology provides new means for art," he said. "Every step of digital art is inseparable from the development of modern computer technology."
Latest computing graphic technologies are used to automate repetitive tasks that consume creators' time, such as upscaling images, tagging photos or color matching videos. Meanwhile, it also lent support on accelerating rendering, video editing and processing, 2D vector animation and other tasks, said Nvidia, the world's biggest computing graphic firm.
In the last stage, Betobe depended on Studio PC with Nvidia RTX GPU and related software tools. Nvidia Studio Driver also provides optimizations for popular creative apps.
Nvidia Studio PC recently unveiled a platform to improve performance and reliability for the world's 40 million online and studio-based creators who depend on high-performance PCs for their craft. Betobe's creator also used a Nvidia-featured RTX studio laptop for work on mobility.
Looking forward, He said he expects future technologies to liberate the technical limitations of creators, trigger new creative ideas and aesthetic concepts, and help digital art become more diversified.
The Chang'an drama has its eyes set on overseas markets.
It has been aired in Vietnam, Singapore, Malaysia and Brunei. Overseas video platforms, including YouTube and Amazon, are streaming to paid subscribers for the drama.
As a promising Chinese studio, Betobe has been contributing to titles based on Chinese culture since it was founded in 2014.
It was involved in producing art effects for the TV series "The Disguiser" (2015) and "Tribes and Empires" (2017), which was also directed by Cao Dun. Betobe was also was involved in film work for "Chronicles of the Ghostly Tribe" (2015) and "The Great Wall" (2016) with famous Chinese directors such as Lu Chuan and Zhang Yimou.
Betobe is among the studios and film firms that have produced blockbuster titles based on Chinese novels.
The latest examples include "Nezha: Birth of the Demon Child" (2019) and "The Wandering Earth" (2019), which became the top two best-selling movies this year. Each had a box office of more than 4.5 billion yuan (US$640 million) by the end of August.
"Beidou (the studio's Chinese name), pointing to the sky and stars (in the Chinese galaxy system)," He said, "represents the team's vision and imagination of the vast sky."
After the Chang'an drama, Betobe will be involved in several TV and film series, again based on Chinese culture and novels.
Source: SHINE Editor: Zhang Liuhao Special Reports