Harvesting China's rich mythology for film
00:00 UTC+8, 2019-12-21
0
Production is already under way on the epic fantasy of "Fengshen Trilogy," based on a 16th-century Chinese novel "Fengshen Yanyi" (The Investiture of the Gods).
00:00 UTC+8, 2019-12-21
0
Ti Gong
Chinese mythology has become an abundant source of inspiration for film productions, and this year is no different.
Production is already under way on the epic fantasy of "Fengshen Trilogy," based on a 16th-century Chinese novel "Fengshen Yanyi" (The Investiture of the Gods). The series is considered to be China's answer to "The Lord of the Rings."
The series will be directed by Wu Ershan, whose credits include popular fantasy movies such as "Painted Skin: The Resurrection" and "The Ghouls."
Famous actors Chen Kun, Xia Yu, Huang Bo and Li Xuejian have been pencilled in for starring roles.
The first installment of the series will hit cinemas across China in the summer next year.
The original novel follows a group of immortals fighting against demons more than 3,000 years ago.
The movie intends to use Oriental aesthetics and incorporate traditional ancient Chinese paintings and bronze wares to present the distinctive visual effects of myth and fantasy.
Director Wu said he was fascinated with the imagination and appealing plot of "Fengshen Yanyi," a novel from his childhood. And the idea of a film adaptation of the book has been in incubation for many years.
In preparation, the director and his team visited several museums and the historical site of the Chinese imperial palace to replicate artwork authenticity for the movie series.
The film's actors received training in martial arts, horsemanship, ancient Chinese etiquette and ancient musical instruments.
"Fengshen Trilogy" will become the first epic fantasy film trilogy in the history of Chinese cinema.
"We're exploring a modern way of interpreting Chinese culture and history," director Wu said. "Chinese mythology and historical stories can inspire a lot of epic movies with spectacular scenes. We can have our own superheroes. Chinese culture will be introduced to a global audience with these blockbuster movies."
Award-winning producer Barrie M. Osborne, who produced "The Lord of the Rings" and "The Matrix," is the trilogy's production advisor.
In his eyes, a successful epic film should be a combination of romance, theater and fantasy. He also suggested the trilogy should develop its own tourism resorts and museum after the film finishes shooting.
The film franchise is also an ambitious attempt in the history of Chinese cinema to improve its professionalization and industrialization.
Shooting all three movies will take approximately 18 months and will involve a crew of around 7,000 people. Spin-offs like a theme park and video game have been pencilled in for development in the future.
"Professionalization and industrialization can make filmmaking and management in China more efficient, organized and standardized," said producer Song Ge. "I hope that our franchise can provide production and technological experience, and cultivate more professionals in the domestic film industry."
On January 25, when the Chinese Lunar New Year falls, the highly anticipated animated film "Legend of Deification," which also draws inspiration from "Fengshen Yanyi," will hit cinemas across China, following the success of the high-grossing animated blockbuster "Ne Zha."
The film is centered on the mythological figure Jiang Ziya, who loses his power after a battle and embarks on a journey to embrace his true self.
Both Jiang and Ne Zha are famous characters in "Fengshen Yanyi."
Another ancient Chinese book "Shan Hai Jing" (The Classic of Mountains and Seas), which is a compilation of mythic geography, has also contributed to the stories and characters of many popular Chinese TV and fantasy movies, such as "Monster Hunt," "The Journey of Flower" and "Once Upon a Time."
Animated films "Monkey King: Hero Is Back," "Big Fish and Begonia" and "White Snake" amazed movie buffs with distinctive Chinese elements and stunning visuals.
They draw inspiration from timeless myths such as "Journey to the West," "In Search of the Supernatural" and "The Legend of White Snake."
The characters of Phoenix, Zouwu and Taotie in the movies "Harry Potter and the Order of the Phoenix," "Fantastic Beasts: The Crimes of Grindelwald" and "The Great Wall," respectively, all come from Chinese mythology.
Profound ancient Chinese civilization and culture provide an endless amount of possibilities for high-quality film and TV. However, in the eyes of some movie enthusiasts, Chinese filmmakers still need to improve their script and storytelling method instead of neglecting it for stunning visuals and stunts.
Kevin Fan, a 30-something IT worker and movie buff, believes storytelling in some domestic fantasy movies are too rigid and stereotyped. Although there are spectacular magical fight scenes, he does not feel much attached to the story and the destinies of the characters.
Moviegoers are also concerned about the recent announcement of a Sino-US animated series collaboration featuring Ne Zha and Transformers, who will team up to fight evil. Some film fans are shocked and wonder whether it is right to make a parody or a "fast food" mashup production on mythology.
Professor Gu Xiaoming, a film expert from Fudan University, said that a lot of foreign blockbuster films, TV series and video games have been produced taking story ideas from mythology, but the genre in China is still fresh.
"Compared with historical stories, filmmakers have more freedom in creating their own stories based on mythological figures and scenes," Gu said. "Chinese mythology provides a rich resource for good stories as we can see Chinese traditions, folk customs and beautiful romances in it."
Gu said he also expects to see a big flourishing market for this movie genre, as well as a complete franchise of video games and comics in the near future.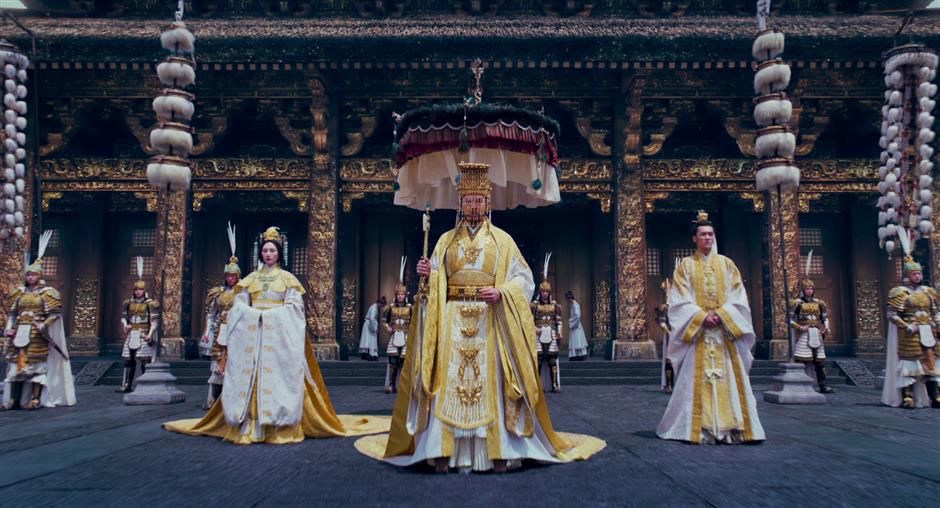 Ti Gong
Ti Gong
Ti Gong
Source: SHINE Editor: Zhang Liuhao Special Reports