In stages, live theater makes a tricky return
17:52 UTC+8, 2020-05-22
0
Getting the show on the road means navigating potholes that give theater productions a big headache. The aftermath of coronavirus has rewritten the script for theater reunion.
17:52 UTC+8, 2020-05-22
0
The lights have been out, the stages empty and the audiences absent. But the harsh effects of coronavirus on the performing arts are ending, albeit very slowly.
On Wednesday evening, 100 people walked into the Shanghai Oriental Art Center for the first live performance in four months.
With the easing of the epidemic in China, the entertainment sector, including theaters and cinemas, have been authorized to resume operations, with some restrictions in place to ensure health and safety. Audience numbers may be limited in what is a tentative return, but people who have sorely missed live performances are delighted nonetheless.
"I have never missed live theater so much," said Ge Siyue, who attended the performance.
Shanghai Oriental Art Center became China's first venue to welcome audiences back for a live performance. That same day, another venue, SAIC Shanghai Culture Square, announced it would begin selling ticket for two original musical concerts scheduled for May 29 and 30.
Ti Gong
Shanghai Oriental Art Center's revival performance was a splash of art forms. The two-hour performance of domestic artists and troupes was a collage of symphony and folk music, dance, Kunqu Opera and street dancing.
Violinist Lu Siqing and renowned pianists Lang Lang and Li Yundi could not make it to venue, so they recorded performances that were shown to the audience during intervals in live acts.
The 100 attendees won free tickets to the event from an online application and draw process. They watched from staggered seating in the center's 1,015-capacity opera hall. Everyone had to submit to a body temperature check and show green health code when entering the venue. Wearing masks during the performance was advised.
Theatergoer Ge was among the 100 lucky ones chosen from 1,000 applicants. She told Shanghai Daily her favorite part of the evening program was a dance piece from Shanghai Dance Theater's national award-winning creation "The Eternal Wave."
"I have watched some online, or so-called 'cloud performances,' presented by theaters and troupes during the epidemic," she said. "But nothing compares with a live theater experience."
Ti Gong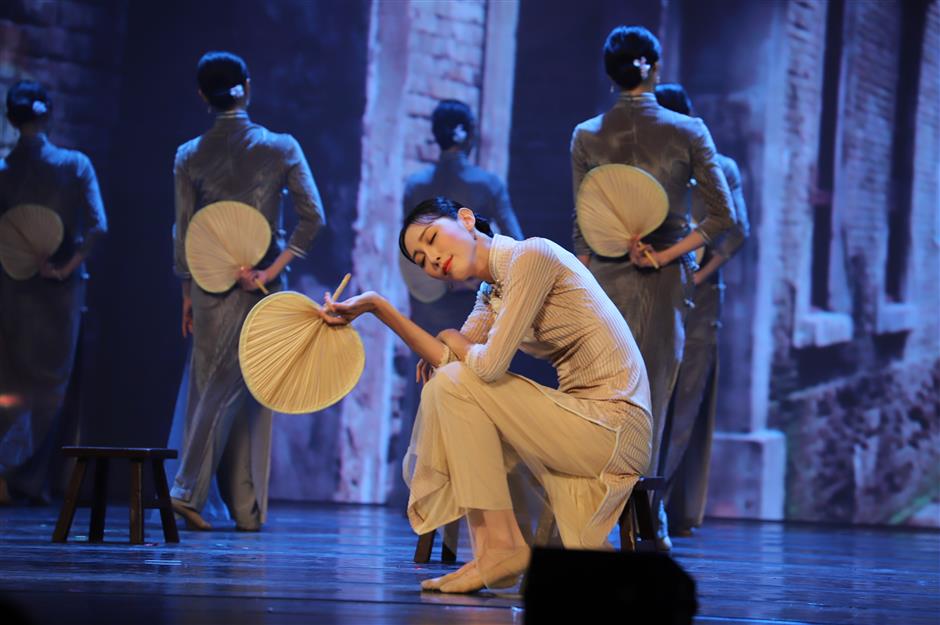 Ti Gong
Performers also are happy to be back on stage in front of live audiences.
"I was so excited about the evening that I could hardly wait to put on my performing dress," soprano Huang Ying told the media before the performance. "Performers are alive only when they are on stage. The applause, the theater atmosphere and the emotional communication between performers and the public always inspire us."
Kunqu Opera artist Zhang Jun agreed that live performances have no equal.
"Performers and audiences interact in a theater, just like waves on the ocean," said Zhang. "Every single performance of mine is different, even when the content is the same. That's because we respond to audiences, who react differently at each performance."
Ti Gong
According to work-resumption guidelines from China's culture and tourism authority, performance and entertainment venues must limit audience numbers to no more than 30 percent of capacity.
That's a bit of a dismal figure for theater operators, who usually need to fill up to 70 percent of seats to cover the cost of a performance.
"Every performance we organize will turn a loss with the 30 percent limitation," a Shanghai Grand Theater staffer told Shanghai Daily. "We are still hoping authorities will ease those restrictions and we can start scheduling performances by the end of June."
Fei Yuanhong, vice general manager of SAIC Shanghai Culture Square, said in an earlier interview that the venue normally has to sell over 70 percent of tickets for a commercial performance to make a profit.
The two musical concerts the culture square has scheduled for May 29 and 30 will follow the 30 percent audience restriction. Performances will be presented by its contract performers, who will sing selected pieces from the musicals "Rachmaninoff," "My Bucket List" and "Maybe Happy Ending." All are original shows presented by the culture square in the past four years.
The venue is considering the two concerts as a warm-up for fuller work resumption. The ticket price has been set at 80 yuan (US$11), with a charity element involved.
Shanghai Dramatic Arts Center is staging an original production "Taste of Hot Dry Noodles" on June 13-15 as its first performance after the hiatus. The play focuses on the life of a divorced couple quarantined together in the city of Wuhan during the epidemic.
Shanghai Oriental Art Center has yet to announce a date for resumption of performances. Most theater operators agree that it would be very difficult to invite foreign troupes to the city this year.
Tang Yihong
Tang Yihong
But for the time being, the 30 percent audience limitation is the most vexing concern for theaters.
"If we carry on with the 30 percent limitation and other restrictions, some private troupes won't be able to survive the summer," actor Sun Douer wrote on his Weibo account. "Compared with restaurants and bars, theaters are safer, considering that audiences can wear masks and keep a distance from one another."
He added: "Private theater companies are not getting any subsidies. As a theater worker myself, I call for more support and better tailored work guidance from authorities to protect our cultural industry."
China's finance and tax authorities issued preferential policies for cinema operators this month, including the 2020 cancelation of value-added tax and the tax on advertising income. The temporary policies are expected to increase cinema income by about 8 percent. Such beneficial tax policies haven't been extended to theaters yet.
Some theater industry insiders say the 30 percent audience limitation might work for charity performances but is "meaningless" for market-oriented commercial shows.
"For commercial performances, net profit can reach 10 percent of box office income when 90 percent of the tickets are sold," said Liu Hongtao, general manager of Mahua Fun Age, a domestic theater known for its comedy shows.
"The 30 percent policy leaves us with an awkward choice," he said. "We lose money if we stage shows under the current restrictions. We lose money if we don't."
Musical and drama director Hu Xiaoqing is also calling for more support from the government.
"I am hoping for some subsidies to troupes and performance companies," Hu said.
"Maybe theaters could cut stage rental fees they charge troupes. If cost pressures are shouldered only by investors and performance providers, no one in the business can stay financially sound."
Source: SHINE Editor: Liu Qi Special Reports