A woman's epic odyssey portraying fantasy
19:47 UTC+8, 2023-04-27
0
Lisa Lu has led a legendary life. She made history as the first actress from the Chinese mainland to break into Hollywood.
19:47 UTC+8, 2023-04-27
0
Editor's note:
The 96-year-old Chinese-American actress Lisa Lu, or Lu Yan, is widely known as the "Light of China" for her remarkable performances in cinema, theater and cultural exchanges. The versatile actress has portrayed a number of impressive roles on the big screen, garnered many film awards and introduced many other talented Chinese film professionals to the world.

In a recent exclusive interview with Shanghai Daily, the elegant and amiable artist talked about her deep love of Shanghai, the cultural roots she treasured in the brilliant traditional culture of China, and her keen faith in the younger generation of Chinese filmmakers and actors.
Lu also wrote sincere messages in both English and Chinese for our readers, such as "Arts illuminate life. Loving cinema. Loving Shanghai."
"艺苑之燕,海天任飞" – this calligraphy which translates as "The swallow of art soars freely in the sky" hangs in Lu's living room in Los Angeles, and perfectly captures her busy and fruitful life. Despite her advanced age as she approaches 100, one cannot detect any hint of weariness in her, only a youthful energy and hopeful anticipation for more great works in her future.
On March 13, the 95th Academy Awards ceremony concluded with "Everything Everywhere All At Once" as the grand victor, winning an impressive seven awards. Among the highlights of the evening was Chinese-Malaysian actress Michelle Yeoh's momentous Best Actress win, marking the first time an Asian woman has achieved this historic milestone.
However, the rise of Asian actresses did not happen overnight.
The success of today's trailblazers, such as Anna May Wong, Lisa Lu, Joan Chen and Lucy Alexis Liu, was built upon the persistent efforts of generations before them.
Lisa Lu, or Lu Yan in Chinese, affectionately known as the "Light of China," has led a legendary life. She made history as the first actress from the Chinese mainland to break into Hollywood, and became the first Chinese member of actors branch in the Academy of Motion Picture Arts and Sciences. Her countless classic screen roles have touched the hearts of many and inspired countless aspiring actors, while also shining a spotlight on the rich Chinese culture and heritage.
Lu offered her heartfelt congratulations to her friend Yeoh, acknowledging the significance of Yeoh's Oscar win as the result of years of hard work and dedication. Lu expressed her belief that the win would inspire more Asian women to rise to the challenge and make their marks in the world of cinema.
At 96 years old, Lu, whose impressive career spans decades, continues to be active in her field with great passion. She recently attended the premiere of her latest film "In Pursuit of Light" in Los Angeles.
Throughout our conversation, the legendary actress remained graceful, modest and friendly. When talking about her childhood in Shanghai, Lu's eyes sparkled with deep emotion.
"I've always had a strong attachment to this city," Lu said. " I still remember the Bund, Yuyuan Garden, the Grand Cinema, and its delicious food. I miss my old friends in Shanghai and hope to visit them soon."
Lu closely follows Shanghai's development and takes great pride in the city's rapid growth in technology and filmmaking.
"As an actress, I hope to contribute my own power to the cinema there," she said.
Lu's life has also followed an epic journey, which all began in Shanghai, a city that embraces diversity and creativity. No wonder that wherever she goes, Lu always proclaims proudly, "Ala (I am) Shanghainese."
Deep love of traditional Chinese opera
Born in Beijing and growing up in Shanghai, Lu was the daughter of famous businessman Lu Jialai and well-known Peking Opera artist Li Guifen, who was dubbed the "Queen of Opera."

Influenced by the artistic atmosphere of her family since childhood, Lu formed a deep understanding and knowledge of Chinese culture. During China's War of Resistance Against Japanese Aggression (1931-1945), Lu and her mother stayed with family friends Mei Lanfang and his wife Fu Zhifang.
Mei, a Peking Opera master, refused to perform for the Japanese invaders and spent most of his time at home. During this period, he took the initiative to teach Lu the vocal and performing skills of Kunqu and Peking operas.
In addition, Lu's mother was also a strict teacher, helping her perfect her performance techniques and build a solid foundation for her art. Lu's passion for performing arts led her to participate in drama performances at Huizhong High School and Shanghai Jiao Tong University, as well as working at the Grand Cinema as a Miss Earphone, a simultaneous translator for English-language movies.
In 1947, Lu and her mother moved to the United States, and she began a new chapter in her life. Despite leaving her hometown, the deep imprint of her Chinese cultural roots and her love for Shanghai remained throughout her brilliant career in film and theater.
From Shanghai to Hollywood: a young woman's trailblazing acting career
When Lu first arrived in the United States, she switched roles as a librarian, newspaper reporter and broadcaster to support her family, and it wasn't until 1957 that her US acting career took off.

She starred with James Stewart in "The Mountain Road" (1960), becoming the first Chinese actress to speak dialogue in a Hollywood film. As a native Chinese, she also tried her best to change Westerners' early stereotypes about Chinese people through her dedication and talents.
American writer Henry Miller described Lu as a combination of "beauty, glamor, opulence and majesty." Former US President Ronald Reagan called her the "China pearl" of Hollywood. Her impressive screen performances stunned Hollywood with many facets of the charms of Chinese people, adding new opportunities for the Chinese actors who followed her steps.
Lu's career took a new turn in the late 1960s when she starred in "The Arch," "14 Amazons" and "The Empress Dowager," earning two Golden Horse Awards for Best Actress and one for Best Supporting Actress. These firmly established her in the film industry. Since then, she has continued her prolific cross-cultural acting career, appearing in American and Chinese films, TV series and stage plays.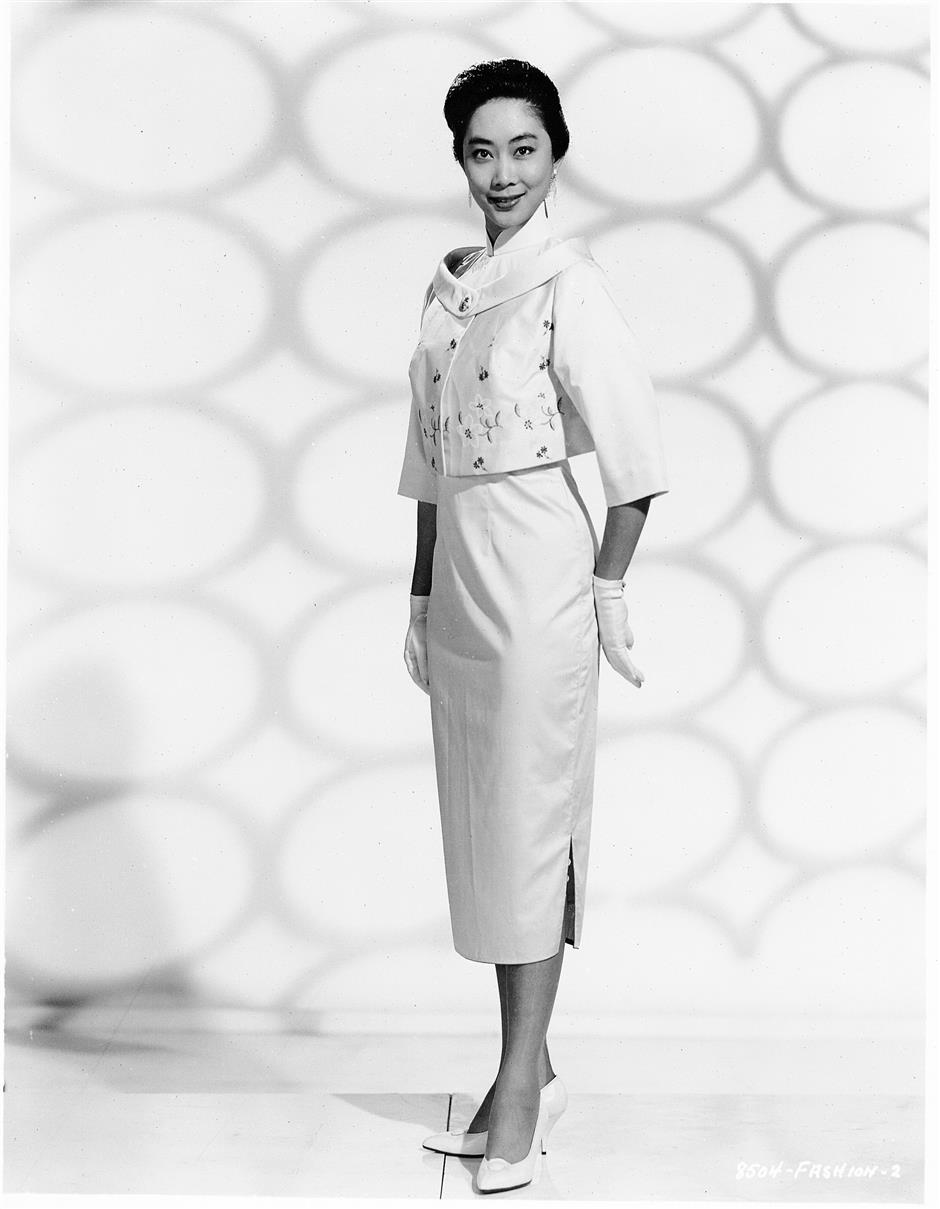 Beyond borders: a diverse career uniting East and West
"I was impressed by Mei's patriotism and his principles of personhood," Lu recalled, speaking of the Peking Opera master she studied with when young. "He often said that if a person comes to your home and you perceive that he is in need, don't wait for him to ask for help, go and help him."

Because of this, Lu is always humble and courteous, and she treats people with sincerity. She was the first to discover Ang Lee's directorial talent. She introduced actresses Gong Li, Joan Chen and Vivian Wu to Hollywood, assisted China Central Television to cover the Oscars for the first time and helped the Shanghai International Film Festival to invite prestigious international jury members.
For decades, she personally interviewed a host of Hollywood stars and introduced Western films to Chinese audiences. Some say that without Lu, the prosperity of the Chinese film industry might have been delayed by years.
In the late 1970s, Lu gradually focused on cultural exchanges between China and the United States. She indigenized the Western plays of "The Gin Game" and "Plaza Suite," which were then performed by the Beijing People's Art Theater. She made three trips to China's Tibet Autonomous Region to produce the TV series "The Lost Kingdom of Guge," which shows the world the real and beautiful area of China.
Lu and her fellow Peking Opera enthusiasts also established the Luo Anqi Chinese Opera Club and gave lectures and performances on Chinese culture at US universities. She translated popular Chinese plays into a book, "The Romance of the Jade Bracelet and Other Chinese Operas," which was very well received. She recently put a reprint of the book on her agenda with some new elements, hoping to attract more young Americans to appreciate traditional Chinese culture.
Soaring ahead: an artistic swallow flying across the seas
Lu's performances have spanned more than half a century and covered both the Eastern and Western hemispheres. She has participated in over 300 films, TV shows, stage plays and dramas, earning numerous awards and honors. Despite her past successes, she continues to look eagerly for good scripts and roles.

Lu said that she now lives with her daughter, Loretta, in Los Angeles, and spends her time cultivating herself and translating scripts. Her current goal is to finish translating Tracy Letts' play "August: Osage County" and stage it in theaters in China.
"Occasionally, I receive invitations to perform in plays, cinema and TV programs, which brings me great joy to continue working," Lu added. "I remain passionate about the future and I am eager to keep acting as long as I am able."
She was excited and proud to talk about the development of Chinese cinema.
"The continuous rapid growth of China's film market cannot be achieved without the support of the government and the long-term efforts of Chinese film companies and filmmakers," Lu said.
"I am very optimistic about the future of Chinese cinema and look forward to young Chinese filmmakers taking their achievements to the world. I hope that young people will work hard and win for China! The Shanghai International Film Festival is also coming, and I look forward to more surprises that this year's festival will give us."
(Wang Xincan is a PhD student at the Shanghai Film Academy of Shanghai University and a research scholar at Dartmouth College, the US.)
Source: SHINE Editor: Liu Qi Special Reports